Iran's New Narrative: The Regime Is Not in a Hurry, But Washington Should Be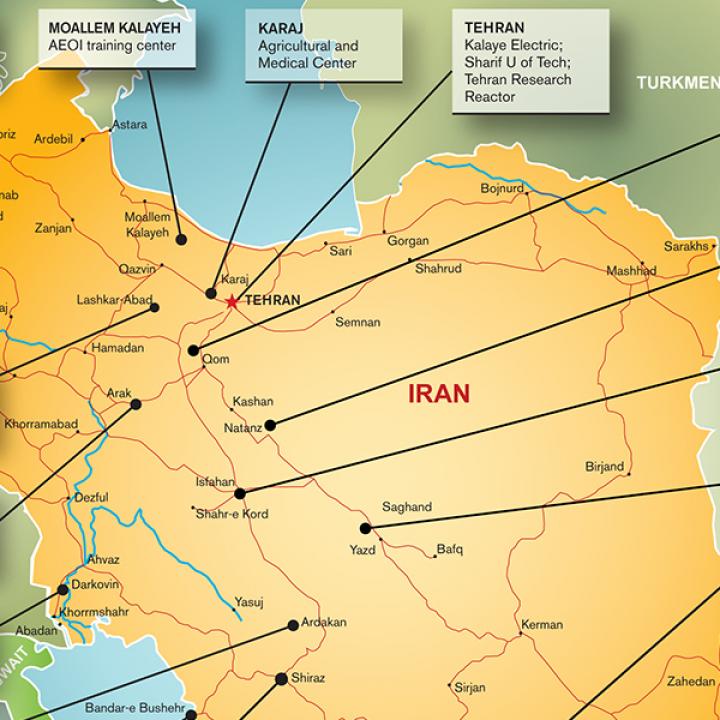 By steadily implementing parliament's anti-JCPOA law and making public statements about "cornered cats" and "closing windows," Tehran has sought to give Washington a sense of urgency, but this approach could be a double-edged sword.
On January 8, Supreme Leader Ali Khamenei explained that Iran is not "in a hurry" for Washington to return to the nuclear deal, and that if sanctions are not lifted beforehand, then a U.S. return to the Joint Comprehensive Plan of Action "may even be detrimental" to the Islamic Republic. He further hardened this stance in a February 7 speech, refuting proposals for any sequencing mechanism in which both countries make incremental moves back to the JCPOA. Instead, he emphasized that after Washington agrees to remove sanctions, Iran "will check if [they] have truly been lifted," and only then resume its nuclear commitments. President Hassan Rouhani fell in with this narrative three days later, declaring that he supports "negotiations with enemies" in the framework of the Islamic Republic's national interests, and noting that Tehran will fulfill its commitments once the United States and other parties implement theirs.
These remarks are just part of a broader regime campaign to show Washington that Iran will not arrive at the negotiating table from a position of weakness, but rather with clear unity of purpose. Days after his January 8 speech, Khamenei's office published a series of interviews with members of the "JCPOA Monitoring Council," a body whose members he selected to supervise Iranian activities related to the nuclear deal. The interviews were conducted with parliamentary speaker Muhammad Baqer Qalibaf, former speaker Ali Larijani, Foreign Minister Mohammad Javad Zarif, Ali Akbar Salehi from the Atomic Energy Organization of Iran (AEOI), former Supreme National Security Council secretary Saeed Jalili, and former foreign ministers Kamal Kharazi and Ali Akbar Velayati. The scope and seniority of this list were meant to demonstrate that the regime is in full consensus with Khamenei's line of thought.
The specific messages given in these interviews were almost identical: Iran's final goal is not a deal with Washington, but rather the removal of all sanctions. And since the regime is not in a hurry to reach a deal, it can wait and see how the Biden administration acts before making further decisions about its nuclear policy. Qalibaf and Zarif's remarks provided a prelude to the Supreme Leader's February 7 speech by explaining that a U.S. return to the JCPOA "on paper" will not suffice—rather, they will need to see proof that Iran can once again sell oil, import and export goods, access its frozen financial assets abroad, and use the international banking system.
Such rhetoric persisted after President Biden took office. When the new administration maintained that Iran must return to its nuclear commitments before sanctions can be lifted, Islamic Revolutionary Guard Corps chief Hossein Salami responded on January 31 that Iran is in "no hurry" to return to the deal and can continue living under sanctions. And when reports emerged on February 5 that Biden's team was thinking about easing some of the country's financial pain points without lifting sanctions, Iranian media pundits lashed out. The hardline Javan newspaper pilloried the idea as giving "chocolate instead of lifting sanctions," while Kayhan, a newspaper widely considered to be Khamenei's mouthpiece, concluded that "Biden is not going to lift sanctions."
Zarif has delivered several notable statements along these lines as well. On February 6, he reminded Washington that the campaign season for this year's Iranian presidential election will start in a few weeks; "Time is running out," he warned, and "the more they hesitate, the more the United States will lose." And on February 10, he stated, "With a new administration in the United States, there's an opportunity to try a new approach, but the current window is fleeting. Soon my government will be compelled to take further remedial action...It can be averted only if the United States decides to learn from Trump's maximum failure rather than lean on it."
Zarif's "window" warnings echoed those delivered by other officials. On January 25, Iran's ambassador to the UN, Majid Takht Ravanchi, emphasized that Washington must act quickly before Tehran takes another step to reduce its JCPOA commitments; he then warned that "the window is closing." The next day, government spokesman Ali Rabii stated that "Washington will not have all the time in the world" to engage with Iran, and that "the window of opportunity is very limited."
Talk Deadlines and Carry a Big Stick
On December 2, the Guardian Council approved a Majlis bill titled "Strategic Action Plan to Lift Sanctions and Protect the Iranian Nation's Interests." Under this law, Rouhani's government is required to reduce Iran's commitments to the JCPOA if its demands for sanctions removal are not met. These demands include eliminating all obstacles to Iranian oil exports, foreign exchange access, and normalized banking relations.
Initially, Rouhani's team tried to stall implementation of the law, but they capitulated in the end, reportedly after Khamenei's intervention. The law's first requirement was then set in motion: recommencing uranium enrichment up to 20 percent, far beyond the JCPOA's mandated limit. When Qalibaf visited the Fordow enrichment plant on January 28 to oversee the law's implementation, he stated that Iran had already accumulated 17 kilograms of 20 percent enriched uranium. During the same visit, AEOI spokesman Behrouz Kamalvandi declared that the regime would install 1,000 advanced centrifuges at the Natanz plant within the next three months per the law's prescriptions.
A few hours after Khamenei's February 7 speech, Zarif warned that if sanctions are not lifted by February 21, Tehran will take the next mandated step and limit inspections by the International Atomic Energy Agency (IAEA). According to the new law, if the remaining parties to the JCPOA—Europe, Russia, and China—fail to "fully deliver on their commitments," Rouhani's government is required to "stop allowing inspections beyond the [IAEA] safeguards agreements." Practically speaking, this would mean halting implementation of the Additional Protocol, an IAEA measure that extends the scope of a member state's commitments and increases the agency's ability to investigate undeclared nuclear facilities and activities. Under the JCPOA, Iran agreed to "voluntarily implement" these additional requirements.
Tehran's warnings took a harder edge on February 8, when Intelligence Minister Mahmoud Alavi noted that Khamenei's past fatwa against developing nuclear weapons might be reversed if the regime is pressured too much. "When you corner a cat," he said, "it may do something that it wouldn't do if it was free." Alavi's remarks were criticized by the conservative Tasnim News Agency, which claimed that they ran counter to Iran's national interests and could be used by the West to justify further pressure.
Policy Implications
Throughout its "we're not in a hurry" campaign, Tehran has repeatedly emphasized that it learned its lessons from the "JCPOA experience." Judging by Khamenei's recent comments, one such lesson is that lifting sanctions is far from an easy process with immediately discernible effects. Thus, he will likely be suspicious of any complex mechanism the West proposes for choreographing sanctions removal in parallel with Iran's return to nuclear compliance, seeing it as another potential trap.
In Khamenei's view, the best alternative for now may be displaying a facade of indifference to U.S. policy while setting a high threshold for rejoining the nuclear deal. This puts the ball in Washington's court and spares Tehran the risk of damaging its future negotiating position on sanctions removal.
By playing this variant of hardball, Khamenei may make it more difficult for himself to save face with domestic and external audiences if he later chooses to compromise—a risk he had to navigate in 2015 when he softened his public redlines and took the pragmatic route of allowing the nuclear deal to happen once it was in his interests to do so. Yet it should be remembered that he held firm to his hardline stance against a deal for a full decade prior to 2015, even after the Iranian file was referred to the UN Security Council and initial sanctions were imposed. Khamenei may change his mind again, but it seems he is not there yet, and any attempt to put a timetable on his next shift carries significant risk of error.
In the most immediate, practical terms, if Iran halts implementation of the Additional Protocol, it could substantially hinder the IAEA's ability to monitor the nuclear program, investigate suspected clandestine activity, and address the many concerns raised over the years—including recent reports that traces of radioactive material were found at sites where Tehran had blocked inspections in the past. Such a move may create more damage than value for the regime, however, provoking the West and possibly alienating Russia and China.
Omer Carmi, a former visiting fellow at The Washington Institute, previously led IDF analytical and research efforts pertaining to the Middle East.