Iran Nuclear Watchdog Report Suggests Impact of Suspected Israeli Sabotage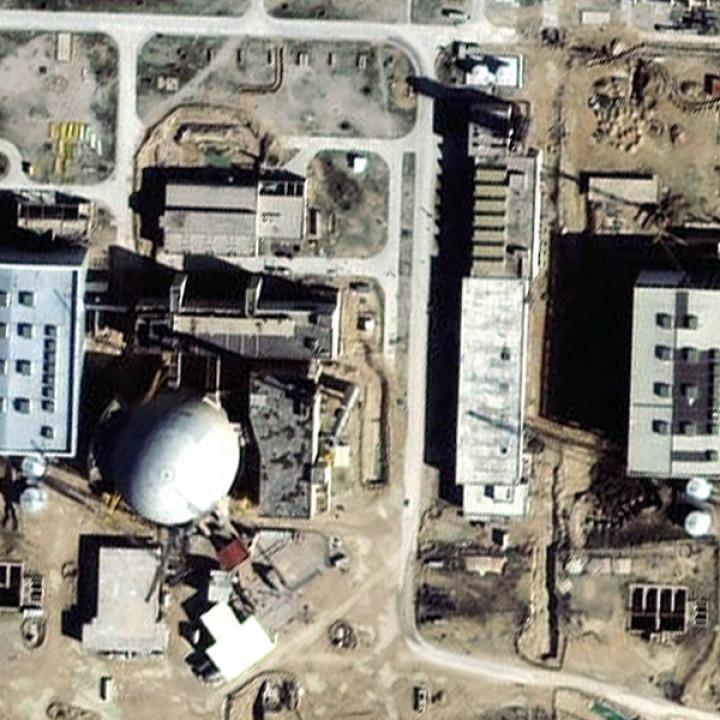 News of apparent enrichment setbacks has been offset somewhat by troubling developments in other aspects of the program, not to mention sharp Israeli warnings, diplomatic uncertainty in Vienna, and a pair of sobering nuclear anniversaries.
Although the International Atomic Energy Agency's latest quarterly monitoring report on Iran will not be presented to the organization's board of governors until later this week, copies have been shared with journalists, so news of its findings is already trickling out. This trickle may soon grow to a stream because the IAEA's deliberations coincide with several significant dates and developments.
In Israel, June 1 marks the retirement of Mossad intelligence chief Yossi Cohen, who recently warned, "Activity against the Iranian regime must be stepped up so that it understands that crossing lines will cost immense damage." His replacement—David Barnea, a Mossad veteran who has reportedly played a central role in operations against Iran—struck a similar tone when taking up his new post, stating, "With lies and concealments, Iran is making constant progress toward a weapons of mass destruction program."
Meanwhile, June 7 will mark the fortieth anniversary of Israel's successful air attack against Saddam Hussein's nascent nuclear program outside Baghdad. That operation was the definitive example of the still-extant Begin Doctrine, which holds that countries who take hostile actions against Israel and call for its destruction must not be allowed to develop nuclear weapons at any cost.
So what do early indicators of the IAEA's findings tell us about the status of Iran's nuclear program? The answer is mixed. On the one hand, the parameters of the IAEA board discussions in Vienna will probably be influenced by what Director-General Rafael Grossi told the Financial Times last week about Iran's troubling violations of enrichment limitations in the 2015 nuclear deal: "A country enriching to 60 percent is a very serious thing—only countries making bombs are reaching this level...This is a degree which requires a vigilant eye." Separately, he told the Guardian that the absence of credible explanations for uranium found at two undeclared sites is "a big problem."
Grossi's concerns are no doubt exacerbated by the breakdown in his agency's ability to monitor certain aspects of the program after Tehran partially withdrew cooperation. Without proper monitoring equipment, the IAEA can only estimate the size of the country's nuclear stockpile. The latest estimate, according to the Associated Press, is 7,145 pounds of mainly low-enriched uranium, an increase of about 600 pounds from the previous quarterly report. Even more concerning, Iran has produced nearly 5 pounds of 60 percent enriched material, an important figure because bomb-grade uranium (90 percent) can be obtained with just slightly more enrichment work. Ultimately, the country would need around 33 pounds of 90 percent enriched material for an actual weapon. (For more on these technical matters, see the author's primer on nuclear breakout and The Washington Institute's Iran Nuclear Glossary.)
On the other hand, the 600 pounds of enriched uranium that Iran reportedly added to its total this quarter is only about half the amount it added in the previous quarter. This suggests that it is operating fewer centrifuges (typically arranged in groups called cascades). Indeed, Reuters reported that in late May, technicians at Iran's main underground enrichment facility at Natanz were feeding gaseous uranium hexafluoride into twenty cascades—a decrease from the 35-37 cascades said to be in operation before April 11, when the plant suffered a major power failure widely attributed to Israeli sabotage. Such blackouts can have catastrophic effects on high-speed centrifuge cascades.
Israeli involvement was also suspected in a July 2020 explosion at Natanz that set back centrifuge assembly by many months. The program may have just fully recovered from that incident when the April 11 blackout occurred. Another significant setback came last November, when senior nuclear official Mohsen Fakhrizadeh was killed in a motorcade ambush.
It is unclear to what extent this mixed news and the IAEA's deliberations will influence the other big discussions in Vienna—namely, the separate negotiations aimed at reviving the Joint Comprehensive Plan of Action (JCPOA), which Iran's enrichment activity has repeatedly violated and from which the Trump administration withdrew in 2018. But nuclear officials on all sides are presumably aware of an additional reference point that fell on May 28: the twenty-third anniversary of Pakistan's first nuclear test, which used high-enriched uranium produced by centrifuges whose design was later transferred to Iran. Viewed through that lens, the near-term deliberations in Vienna may prove crucial to the future of the entire Middle East, especially with Israel undergoing a leadership transition as soon as this week and Iran holding a presidential election later in the month.
Simon Henderson is the Baker Fellow and director of the Bernstein Program on Gulf and Energy Policy at The Washington Institute.