Using Microgrids to Provide Energy Security for U.S. Bases in the Middle East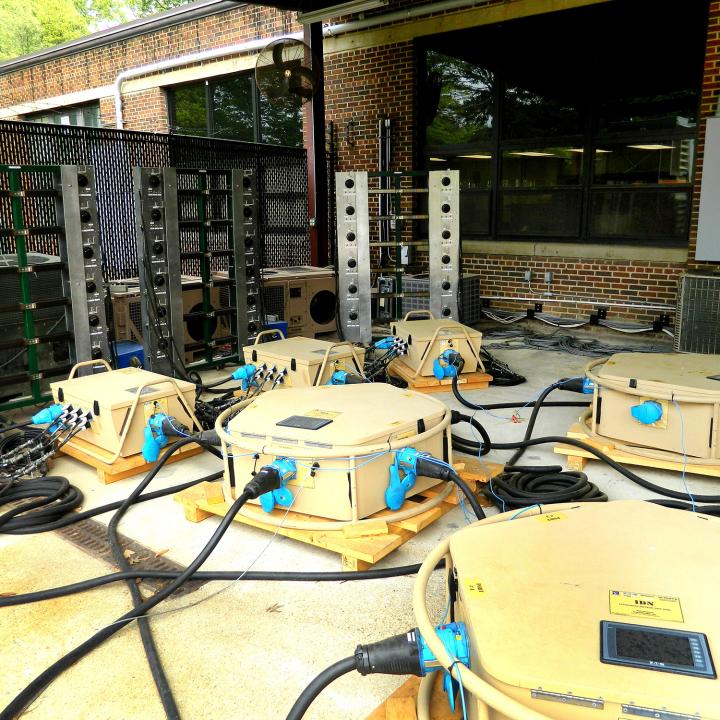 The Ukraine war has shown how vulnerable military facilities are to potential attacks on a host country's energy infrastructure, but Washington has cost-effective renewable options to mitigate this risk, especially in the Middle East.
In recent weeks, the targeting of Ukraine's power grid using Iranian drones has become the decisive line of operation in Russia's military campaign there, underscoring the vulnerability of critical infrastructure and electrical systems. The 2021 National Defense Authorization Act calls on the Department of Defense (DoD) to "promote installing microgrids to ensure the energy security and energy resilience of critical missions." This reflects a growing realization that U.S. bases must be fully self-sufficient in order to endure extreme weather events, energy market volatility, and threats from adversary attacks—which seem increasingly likely in future conflicts. The 2022 National Defense Strategy took this realization a step further and pledged to double down on efforts to increase the resiliency of military installations. Yet to date, the DoD has made only minor progress in this effort. In the Middle East, this lack of progress could have a significant impact on U.S. forces.
The United States retains a footprint of roughly 40,000-60,000 military personnel deployed across approximately eighteen bases throughout the Middle East. Installations operate partially through power provided by the host nation's grid, with the remainder coming from diesel generators. This creates a situation in which U.S. bases are entirely dependent on host-nation and local energy supplies. Diversifying energy sources and moving toward a localized, U.S.-run energy source—a microgrid—would nullify this vulnerability and increase overall reliability and resiliency. Congress and DoD should work together to accelerate current efforts to establish microgrids abroad, focusing their initial efforts on the Middle East.
Microgrids in Action
A microgrid is a localized group of electricity generators that has the ability to operate independently from the host nation's electric grid. The combination of electricity generators, advanced controls, and an energy storage system make up a single independent, integrated power system. The electricity generators in a microgrid come from a variety of sources, including emergency generators, prime generators, combined heat and power plants, renewables, and batteries. A microgrid with renewable energy as its primary source and the national grid and emergency generators as a backup source is perfect for the military because it reduces reliance on fossil fuels and provides a way to overcome energy security vulnerabilities.
The Middle East has a number of potential energy sources for microgrids. The most cost-effective, reliable, and abundant renewable energy source in the area is solar photovoltaics. A standard medium-size U.S. base similar to those in the Middle East has a peak critical load of ten megawatts. Installing a forty- to sixty-acre solar panel field (the size of approximately forty American football fields) with a battery-storage system could provide 100 percent of the base's overall electricity demand.
Solar photovoltaics are attractive because they offer a payback on investment in two to fifteen years. Generally, the more electricity used on the site and the higher the price for traditional electricity in the area, the shorter the payback period. Costs for photovoltaic systems have decreased nearly 70 percent in the past ten years, making them even more attractive. Furthermore, solar photovoltaic systems typically require very little maintenance, and while they might be targeted by enemy strikes, solar panel fields can be dispersed and hardened to limit their vulnerability.
Waste disposal and management are critical issues at U.S. military installations, and therefore another attractive potential source of energy. Recent progress in the waste-to-energy field provides the military with multiple ways to generate energy from waste with minimal impact on health and the environment. The most common way is by incinerating waste with energy recovery. This process generally involves burning waste to boil water, which powers steam generators that make electricity and heat. This regulated method to generate electricity could help resolve security and safety issues caused by transporting waste from the base, while also providing a waste solution that is not harmful to military personnel.
Another autonomous power option for the U.S. military is a nuclear microreactor. Microreactors use a small amount of low-enriched uranium to boil water and create steam, which spins a turbine to produce electricity. Placing a small microreactor—the size of a standard shipping container—into a microgrid would likely provide all the power needed for an entire base. A study conducted on the feasibility of nuclear power at U.S. military installations estimated a forty-megawatt microreactor could meet the electricity needs of about 90 percent of all military installations.
Microreactors gained significant momentum in January 2021 after President Trump signed Executive Order 13972, which promotes the advancement of small modular reactors to support national defense and energy security. As a result, the DoD is working with private energy companies to install microreactors at its facilities and has initiated a pilot program at Eielson Air Force Base. Yet while this may be a potential source of energy for microgrids at U.S. bases, it may be politically unfeasible overseas, where proliferation concerns are paramount (though the use of low-enriched uranium limits the risk) and the potential for a direct strike by adversaries exists even if the microreactor is hardened.
Microgrids in the U.S. Military
The DoD is working diligently to gain energy security through microgrids, and in 2012, it initiated the Smart Power Infrastructure Demonstration for Energy Reliability and Security Programs (SPIDERS) to aid in the process. Since its inception, more than forty bases have carried out a preliminary study on installing a microgrid or developed plans for installation, or else have a microgrid already in place. One major project, commissioned in 2018, was implemented at U.S. Army Garrison Kwajalein in the Marshall Islands. The project, which integrated generators and photovoltaics to produce 2,000 kilowatt hours of energy, provides the base with a microgrid fully independent of the island's energy grid. After seeing the success of this project and others, the U.S. Army identified microgrids as a priority in its strategy to address the impact of climate change on the force. The current goal is to install a microgrid on every installation by 2035 and to pursue enough renewable-energy generation and battery-storage capacity to make the Army's critical mission self-sustaining on all its installations by 2040.
The military has already started looking at the prospect of microgrids in the Middle East as well. The Army initiated a $500,000 microgrid demonstration project at Camp Arifjan, Kuwait, which uses three types of solar photovoltaics along with advanced controlled battery-storage capabilities. Similarly, the Army developed a microgrid project for Camp Buehring, Kuwait, where it installs photovoltaic and battery-storage systems aimed at reducing generator fuel consumption. Both of these projects provided a microgrid for a portion of the Army's bases and set the stage for its request of $27 million in fiscal year 2023 to install a larger microgrid and power-generation system at Camp Arifjan.
Critics of the proposal to install microgrids on military installations say the military's budget should be spent on other priorities to modernize the force and keep pace with China. However, significant long-term savings in transmission costs and energy efficiency outweigh the short-term costs of installation. Furthermore, the United States can look at potential cost-sharing ventures with host nations. Many military installations in the Middle East are shared, with U.S. and host-nation forces occupying portions of the base. Creating a microgrid for all of these forces would bolster national security capabilities for each country.
Conclusion
The conflict in Ukraine highlights the vulnerability created by relying on nonrenewable energy sources for national security. Russia is using energy as a weapon to undermine the resolve of the European Union and its partners. If key U.S. bases around the world are not able to access power, they will not be able to support the defense of U.S. national interests or the safety and security of allies and partners. The best way to overcome this glaring vulnerability and bring innovative energy technologies to scale is to quickly establish microgrids at U.S. overseas bases. Given local environmental and security factors in the Middle East, the region is the most logical location for increased emphasis on microgrids.
Lt. Col. Nathan Olsen (USAF) is a 2022-23 Military Fellow at The Washington Institute. The views expressed in this article represent the personal views of the author and are not necessarily the views of the Department of Defense, the Department of the Air Force, or Air University.