UAE Leader Visits Qatar: An Advance, Not a Breakthrough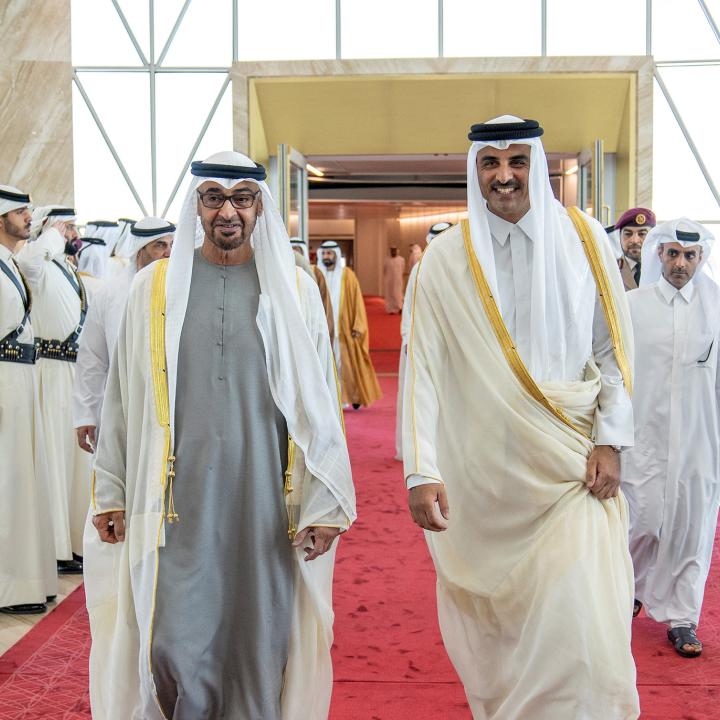 Sandwiched between meetings with a Taliban leader and Israel's president, the Doha trip reflects the scope and versatility of Emirati diplomacy.
Earlier today, Emirati president Muhammad bin Zayed (aka MbZ) traveled to Qatar in the midst of the latter's World Cup spotlight, a short trip that his advisor characterized as "another step toward strengthening Gulf solidarity and joint action." Since 2017, their relations have been vexed by a range of tensions both historical and political, with Abu Dhabi previously joining Saudi Arabia, Bahrain, and Egypt in a nearly four-year diplomatic and trade embargo against Doha. Although the embargo was officially lifted in January 2021, Emirati officials have remained cool toward Qatar until now. Even as recently as the soccer tournament's November 20 opening ceremony, MbZ was notably absent despite the presence of de facto Saudi leader Muhammad bin Salman and Egyptian president Abdul Fattah al-Sisi.
Yet today's visit appears to be MbZ's way of acknowledging that changed realities require policy shifts. Emirati state media quoted him as saying that Qatar's hosting of the World Cup was "a success and honor for all" Gulf countries and the wider Arab world. Despite ample controversies and human rights concerns surrounding preparations for the event, television coverage of the matches has captivated millions across the world, and Doha has received high-profile praise for handling the local logistics well (e.g., British prime minister Rishi Sunak tweeted on December 4, "Hats off to Qatar for hosting an incredible World Cup so far").
Emirati diplomacy can be multifaceted and confusing to outsiders. On December 4, MbZ hosted the acting defense minister of Afghanistan—Taliban official Mullah Yaqub, son of the organization's notorious former leader Mullah Omar—for talks on strengthening relations. And an Emirati company recently beat Qatari and Turkish competition for a contract to run Afghanistan's airports.
Then, after the quick Doha trip, MbZ returned home for informal talks with President Isaac Herzog of Israel. Among other things, the two men discussed efforts to advance their countries' 2020 normalization agreement, with Herzog stating, "The Abraham Accords are a national consensus [issue] in Israel on all sides of the political spectrum...[N]ow we have to reach cruising altitude."
Herzog was also greeted warmly during his landmark visit to Bahrain a day earlier, where he met with the king and the leaders of the island's small Jewish community. Yet unlike the UAE, Bahrain has retained its frosty stance toward Qatar. For example, it still does not allow direct flights to Doha, so it was unable to profit from soccer fans who might have stayed in the island's hotels and commuted to games, as many did from the Emirati city of Dubai. It will be interesting to see whether MbZ's trip to Qatar spurs any shift in Bahrain's policy.
For Washington, MbZ's trip will help its continuing diplomatic efforts to improve relations with and between Gulf Arab partners. One priority has been to improve the network of radars and air defenses protecting these states from their bellicose neighbor just across the Gulf, Iran. The latest bout of diplomacy will probably facilitate that task. Overall, though, recent events seem more like an advance than a major breakthrough.
Simon Henderson is the Baker Fellow and director of the Bernstein Program on Gulf and Energy Policy at The Washington Institute.