Trump, Qatar, and Shifting Sands in the Gulf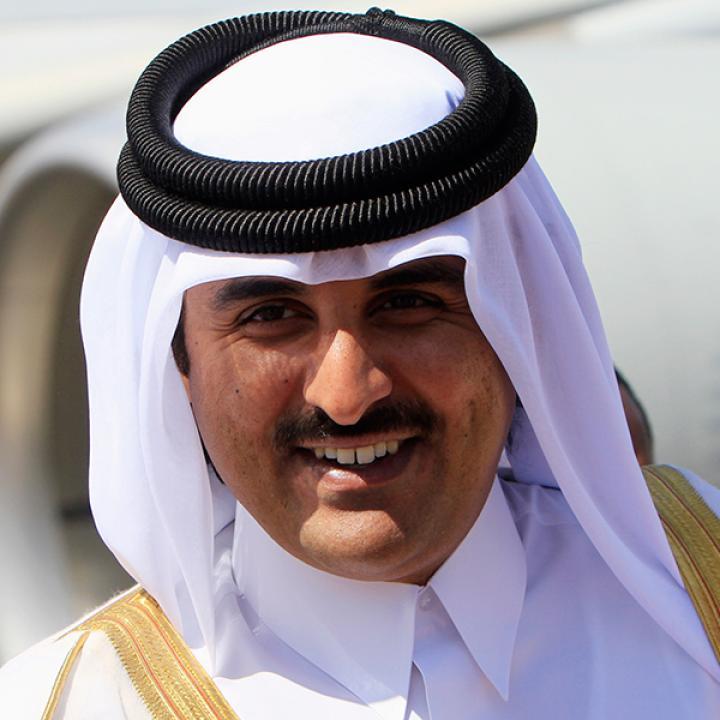 Some U.S. officials share Saudi and Emirati concerns about Qatar's policies toward Islamist groups, Iran, and other destabilizing regional forces.
Since the Riyadh summits were held on May 20-21, power has been shifting quickly and dramatically in the Gulf, creating new political realities. This is happening inside Gulf countries like Bahrain. It's occurring between Gulf states like Saudi Arabia and the United Arab Emirates on the one side and Qatar on the other. And it's apparent in Gulf regional policies, like the prosecution of the Yemen war. 
It's no coincidence that in all of the aforementioned regional arenas, the Saudi-backed position has gained ascendancy. Trump's participation in the Riyadh summits, as well as his official statements, placed the new U.S. administration firmly in the Saudi camp when it comes to many regional fault lines. 
Trump has made it clear that he supports shifting more responsibility for the region's security to local actors. "A better future is only possible if your nations drive out the terrorists and extremists. Drive. Them. Out.," he declared in a speech to dozens of leaders of Muslim-majority nations gathered in the Saudi capital for the Arab Islamic American summit. 
Although the Trump administration may not have expected that the President's Riyadh trip would have an immediate impact on regional power dynamics, it's fair to say that some aspects of the new developments may not be unwelcome, from the administration's perspective. One consequential development in terms of U.S. security interests has been Riyadh and Abu Dhabi's growing rift with Doha over highly controversial comments attributed to the Qatari emir, Shaykh Tamim bin Hamad al-Thani. Doha has maintained that reports of the alleged comments were fabricated. Still, the rift continues to widen on both sides. Saudi Arabia and the UAE seem eager to persuade Doha to alter its regional policies regarding Tehran, Islamist groups, and more violent, destabilizing regional forces, so that Qatar's policies are more in line with those of other GCC countries. Tensions over Doha's policies have existed for some time, and in March 2014, culminated in Saudi Arabia, the UAE, and Bahrain withdrawing their ambassadors to Doha for an eight-month period. 
Riyadh and Abu Dhabi's latest approach to Doha may create the perception of a contrast with U.S. policy. Top officials in the new administration have expressed appreciation for the strategic relationship with Qatar, including its support for the counter-ISIS coalition via the Combined Air and Operations Center at Al Udeid Air Base. This includes Secretary of Defense James Mattis, who met with Shaykh Tamim and Qatar's defense minister in Doha in April, and Secretary of State Rex Tillerson, who met with Qatar's foreign minister in Washington in May. In a photo opportunity with Shaykh Tamim during the Riyadh summits, Trump stated "our relationship is extremely good."
Yet some in Washington have concerns that mirror those of Saudi Arabia and the UAE. Especially troubling in the U.S. capital has been Qatar's political and other support to various strands of political Islamists throughout the region. Such support has increased Doha's regional influence, given it leverage over its larger neighbors, and allowed it to play a high-profile role in mediating international conflicts with actors of all stripes. It's also been a key reason why the new administration is coming under growing pressure from various quarters to consider a reduction or withdrawal of the U.S. military presence in Qatar, which has functioned to date as important security protection for the Qataris. 
In recent months, there has been much discussion specifically about the extent of Doha's progress in countering private terrorist funding activity inside its borders. This is viewed as a measure of any change in approach toward the terror financing challenge. Under the Trump administration, the issue of countering terrorist financing has been a reoccurring theme in high-level discussions with the Qataris. Addressing terror funding was also a top priority on Trump's Riyadh agenda, leading to the announcement of a new U.S.-GCC Terrorist Financing Targeting Center. 
One of the difficult aspects of assessing progress has been that the Qataris have wished to keep their actions under the radar. The upshot seems to be that Doha indeed has been addressing the activity of select terrorist financiers with greater effort than seen previously. Doha has implemented sanctions and completed criminal prosecutions of some designated terrorist financiers. At the same time, progress on making Qatar a hostile environment to terrorist financing is understood as very slow. To the Qataris' credit, senior officials charged with the counter-terrorist financing portfolio recognize that this is an area on which Doha needs to improve.
The terror financing challenge with Doha is longstanding. Though Washington has made vigorous efforts to influence its partner to take a more holistic approach to this important slice of the terrorism problem, success has been confined to specific cases and new laws on the books. The progress thus far -- limited in practice and quiet as it is -- appears to reflect most of all an interest in continuing to work closely with the United States and other international partners. Fortunately, Qatar has not been victim to the kind of recurrent terrorist attacks like Saudi Arabia that have compelled that country to be an aggressive counter-terrorist financing actor. 
If American engagement has had limited success on counter-terrorist financing activity and related policies, will intense pressure from Gulf neighbors prove more effective? Washington can work with Riyadh and Abu Dhabi, along with Doha, to identify specific steps that Qatar can take to remedy critical differences, in line with the counter-terrorism and other regional security initiatives announced during the Riyadh summits. The ultimate goal should be to push U.S.-Gulf and intra-regional relationships toward closer cooperation. The United States would welcome Doha into the family of Gulf partners who see eye to eye on counter-terrorist financing work and additional regional interests on which they are apart. 
Lori Plotkin Boghardt is the Barbara Kay Family Fellow at The Washington Institute.