Targeting the Islamic State: Jihadist Military Threats and the U.S. Response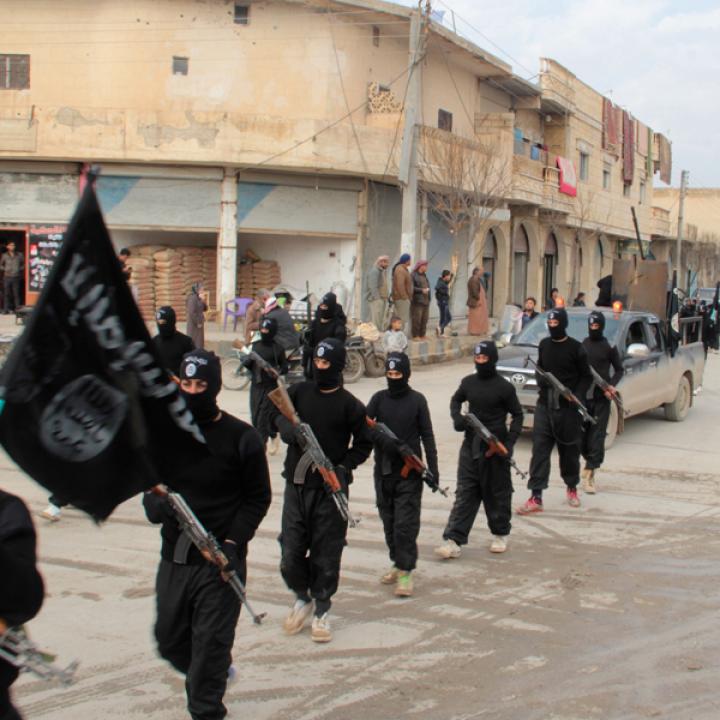 Two scholars of jihadism assess the group's evolving approaches to conventional and insurgent warfare, and U.S. options for combating them.
On February 16, The Washington Institute held a virtual Policy Forum with Ido Levy and Craig Whiteside. Levy is an associate fellow in the Institute's Military and Security Studies Program and author of its recent study Soldiers of End-Times: Assessing the Military Effectiveness of the Islamic State. Whiteside is an associate professor of national security issues at the U.S. Naval War College. The following is a rapporteur's summary of their remarks.
Ido Levy
Alongside its activities as a terrorist organization, the Islamic State (IS) has long acted as a military force that wages conventional warfare to control and govern vast swaths of territory. Early on, the group created bureaucracy and institutions, developed standardized training programs, recruited technical specialists, and absorbed knowledge from foreign fighters. It was able to combat conventional armies successfully for four main reasons: innovative organization and tactics, careful shaping operations, a strong will to fight (based in part on its apocalyptic ideology), and a proven ability to retain the initiative.
Initially, the group fought using the most conventional of means: amassing large numbers of soldiers on the battlefield. During the fight for Kobane, for example, it fielded as many as 12,000 fighters. As coalition forces launched their air campaign, however, the group shifted tactics. Taking advantage of U.S. legal constraints regarding military operations around civilians, IS frequently used noncombatants as human shields, hid underground, and built networks of tunnels through residential buildings. In one instance during the Iraqi army advance toward Mosul, IS fighters withdrew en masse from towns along the route, rounding up large numbers of civilians to accompany them as they retreated in the open. Iraqi and coalition forces could not respond for fear of harming the civilians.
The group was also able to increase its battlefield effectiveness by pioneering the use of suicide bombers as a conventional weapon. Suicide vehicle improvised explosive devices were employed extensively as shock or breaching weapons, enabling IS to launch more destructive operations that mirrored the effects of airstrikes or artillery. Simultaneously, the group's strong bureaucratic and institutionalized nature insulated it from coalition decapitation operations.
IS also built a network of strong relationships with adherents in countries such as Libya, the Philippines, and Nigeria. It would send expeditionary scouting teams to areas ripe for establishing new branches (most notably Libya), then bolster their conventional warfare capabilities via "advise and assist" programs. The results were clearest in those "provinces" where IS invested the most. For example, the Libyan branch received the most such attention, and it was there that IS fighters achieved the most battlefield success outside Iraq and Syria. In contrast, fewer investments were made in Nigeria during the "caliphate" period, resulting in fewer conventional advances.
Regarding local tribes in Iraq, some might argue that Baath influence is the best explanation for how IS was able to engage them. Yet if the Baath factor was truly essential, then earlier incarnations of IS (e.g., al-Qaeda in Iraq; the Islamic State of Iraq) should have been more successful at engaging the tribes years beforehand. Instead, tribal groups turned against the jihadists during the 2007 U.S. troop surge and the "Sunni Awakening" in Iraq; it was only after a process of introspection that IS improved its tribal engagement.
In short, IS revolutionized the jihadist way of war, and this way of war is here to stay—jihadist groups will continue their long-running efforts to seize and govern territory as an ideological imperative. To prevent a military resurgence by IS or other organizations, the United States should focus on three steps: maintain close ties with partner forces; keep fostering their innovative capacity, development, and determination; and use cutting-edge technology and airpower to maintain a strategic advantage. A particularly important area to watch is Syria's Badia region, the central desert zone where IS enjoys significant freedom of movement despite nominal control by the Assad regime.
Craig Whiteside
Levy's new study provides a comprehensive and detailed look at IS strategy, tactics, and operations across multiple case studies, including the far "provinces." The group has been extremely innovative, using irregular tactics for conventional means, employing special operations teams, maintaining the ability to skillfully manage capabilities, and building a global insurgency.
IS also established a conventional structure at the unit level in order to indoctrinate its foot soldiers, using religious advisors to school them in the broader mission of ideologically transforming society. In fact, IS became one of the most ideological armies the world has seen in a long time. About 80 percent of its training effort for new recruits took the form of religious indoctrination. This heightened focus on the organization's long-term goals fostered a high degree of ideological loyalty and kept troop desertion to a minimum—IS has never had substantial problems with its forces fleeing during combat or suffering major ideological breaks. Combined with the group's well-organized structure, this deep emphasis on ideology enabled it to become a self-propelling movement.
IS also sought to exhaust the resources and motivation of its enemies through a phased insurgency. Perhaps its most innovative tactic was the use of expeditionary advising to provide in-theater support and integrate experienced jihadists into the group. The progenitors of IS began advising foreign cells in the early stages of the post-2003 Iraq war and have honed these skills over the years.
Meanwhile, IS organizational capabilities have allowed for the collection and swift transfer of knowledge. The movement's media teams have maintained a large archive of materials since at least 2005. This information warehouse enables the group to retain expertise and organizational knowledge even during periods of high attrition.
Such capabilities were illustrated most recently in a series of IS prison break operations. Some of these operations succeeded, and although the latest attempt in northeast Syria was a failure that resulted in the deaths of hundreds of IS fighters, it raised an important policy question: why were such large numbers of dangerous individuals held in a facility that was so easy to breach? The operation's propaganda value should not be ignored either—some IS supporters likely view the large-scale attack on the prison and surrounding community as a win on that basis alone. Although the coalition scored a propaganda win of their own around the same time—the targeted killing of IS leader Abu Ibrahim al-Hashimi al-Quraishi—the group's top and mid-tier echelons are largely low-profile and built to be replaceable.
This summary was prepared by Margaret Dene. The Policy Forum series is made possible through the generosity of the Florence and Robert Kaufman Family.