Rijal Allah Claims the Baghdad Airport Attack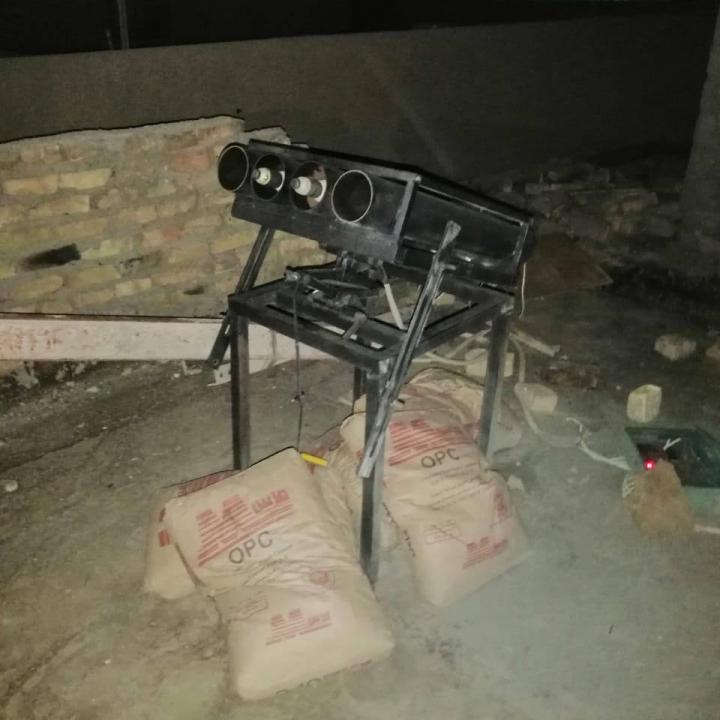 A new online facade group has undermined Kataib Hezbollah's conspiracy-laden narrative blaming the April 22 rocket strike on Iraqi Kurds.
At least three rockets landed in the perimeter of Baghdad International Airport on April 22, 2021. According to Iraqi security officials, they landed near the area that houses U.S. forces but caused no casualties. Although the attack was quickly covered by muqawama (resistance) media, no group claimed it at first. In fact, a number of attacks on coalition forces have gone unclaimed in recent weeks (including an April 14 strike on Erbil airport), while reports of fake attacks are on the rise in militia social media accounts.
The earliest "claim" attributing the April 22 attack came on April 24. At 05:22 local time, the Unit 10,000 Telegram account posted that Baghdad Airport had been struck by a Kurdish group. Unit 10,000 is an influential media account believed to be affiliated with Kataib Hezbollah (KH) and privy to insider information on the muqawama. It also known for spreading disinformation. 
The Arabic-language post read: "Kurdish armed groups calling themselves the 'Protectors of the Kurdistan State' claimed responsibility for the attack at Baghdad Airport yesterday, they consider it a response to the targeting of Erbil Airport and vowed more attacks on Baghdad!" A document written in Sorani Kurdish was attached, with a logo at the top depicting the shape of the Kurdistan Region of Iraq (KRI) in the colors of the Iraqi Kurdish flag, with the words "parezarani gal-i Kurdistan" ("protectors of the people of Kurdistan").  
The Unit 10,000 claim was repeated by a handful of smaller Telegram channels, several of which are likely Unit 10,000 proxy accounts. 
Later on April 24, a competing claim emerged. At 19:42 local time, a new Telegram channel, "Fasail Rijal Allah" ("Faction of the Men of God") posted a Quranic verse, followed a minute later by an Arabic statement claiming the April 22 attack:
"In the name of Allah, the Most Gracious, the Most Merciful, it is they who will suffer a dreadful torment [note: this Quranic quote is from Surat al-Naml, verse 5]. 
Trust in God Almighty.
At exactly 23:50 hours on 4/22/2021, your sons in the Men of God [Rijal Allah] faction were able to target the American occupation base in Baghdad (Victoria) with eight 107mm rockets that hit the targets with high accuracy. This is the base in which the U.S. occupation takes refuge from our anger, and we promise you we will pursue them so that its protection is no protection from God's command." [note: "Victoria Camp" is the preferred muqawama term for U.S. forces at Baghdad Airport, recalling the pre-2011 U.S. labeling of segments of the airport as "Camp Victory"]
The statement inaccurately claims that eight rockets hit targets. Although the perpetrator attempted to fire eight rockets, only three were successfully launched, the remainder failed to fire.  
Just minutes after this post, at 19.53 local time, Sabereen News and the "Team of Brothers of Electronic Jihad" Telegram accounts simultaneously rebroadcast the Rijal Allah claim. Despite Sabereen's prominence as a source of militia information, only a handful of accounts reposted or commented on the attack, perhaps indicating some kind of dissonance about the validity or wisdom of making the claim.
This is not the first time Sabereen has posted claims that other muqawama media fail to echo. Although some of its claims are rebroadcast by many militia media accounts, including high-profile outlets like Unit 10,000, at other times Sabereen will post a claim by a facade group (with an accompanying unique Telegram channel and logo) that others largely ignore. This was the case with the February Erbil attack, where Sabereen broadcast claims by Saraya Awliya al-Dam while KH-affiliated channels ignored them.
In the Baghdad Airport case, Rijal Allah's claim undermined the rather poor effort to blame the attack on Kurdish militants, which would have been an unprecedented development. Instead, that narrative was clearly the invention of muqawama groups seeking to foment anger toward Iraqi Kurds and justify rocket and drone attacks against the KRI.
This episode may also suggest an effort by KH-affiliated channels to push the Kurdish angle, while Asaib Ahl al-Haq (AAH) preferred to have its channel Sabereen announce that a muqawama faction was openly claiming the attack. This would fit with AAH's penchant for independent action that undermines KH's leadership of the muqawama. 
As for the wider trend of rocket attacks on U.S. forces going unclaimed, it is possible that militias have moved to a model of deception in which they saturate the information environment with fake attacks. Fake and unclaimed attacks are not new, but they have become increasingly common ever since the April explosion at Iran's Natanz nuclear facility (read more about the potential connections between that incident and Iran-backed activities in Iraq). In all likelihood, the muqawama and Iranian elements recognize that named facade groups are increasingly helping with attribution rather than hindering, even as Iranian officials protest the increased attribution of militias as "Iran-supported." A similar "fake saturation" model was previously used with convoy attacks, though facade groups continue to openly claim these types of attacks in both Syria and Iraq.