Putting the Hamas Massacre, and Hamas Denials, in Context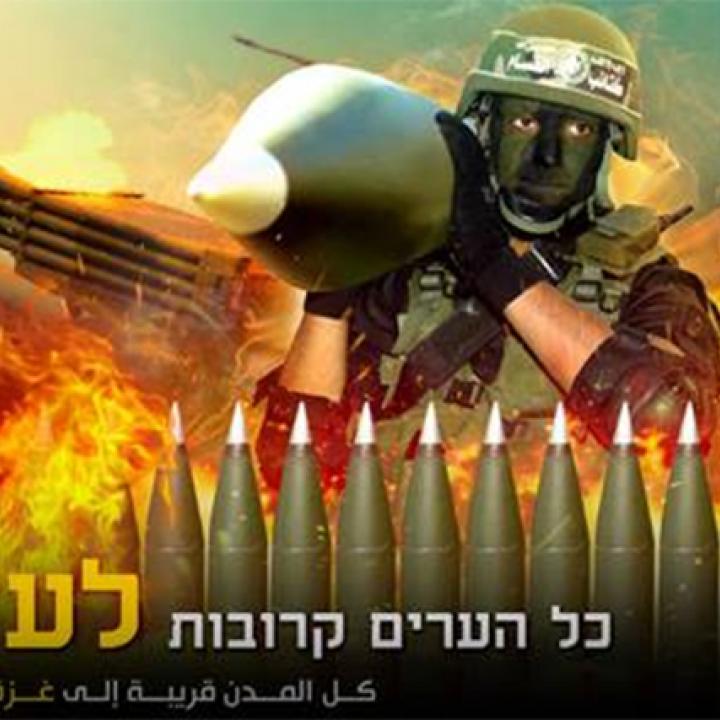 The group's own documentation of atrocities belies its claims that it did not target civilians.
Hamas leaders are beginning to understand the implications of executing one of the worst acts of international terrorism on record. This is why they now deny that their operatives attacked civilians in southern Israel on October 7. Hamas leader Khaled Mashal, for example, rejected such accusations, stating, "We have nothing to apologize for." This is a far cry from the bloodcurdling speech by another Hamas leader, Ismail Haniyeh, on the day of the attacks, when he crowed about the group's "dazzling triumph" and described it as the "ultimate jihad" that would end in "victory or martyrdom."
Mashal is desperately attempting damage control as the world comes to terms with Hamas brutality. The assault on Israeli civilian communities is an indelible stain, permanently branding the group as baby killers, not freedom fighters. Unfortunately for Mashal, Hamas itself produced some of the most damning evidence of its atrocities, including documents found on the bodies of attackers instructing them to kill and kidnap civilians, footage from the GoPro cameras they wore to document their carnage, and videos and photos posted on the group's Telegram channels during the attacks.
The Hamas Attack in Context
U.S. Secretary of State Antony Blinken, after viewing evidence of the attackers' brutality, stated that it "brings to mind the worst of ISIS." The secretary was painfully blunt in describing the attack: "Babies slaughtered. Bodies desecrated. Young people burned alive. Women raped. Parents executed in front of their children, children in front of their parents." The dead include citizens of at least thirty-five countries. Hamas kidnapped over 200 people from some twenty-two countries, including children as young as ten months old. On October 23, the Israel Defense Forces (IDF) updated the number of hostages in Gaza from 203 to 222 but have not released information on the additional nineteen hostages' nationalities. Hamas claims the number is closer to 250.
By any measure, the attack is one of the worst acts of international terrorism on record. Hamas operatives, aided by small numbers of terrorists from other groups such as Palestinian Islamic Jihad, murdered some 1,400 people in Israel and wounded over 4,200. Regardless of Hamas's framing, the number killed on October 7 is similar to the number who died when al-Qaeda crashed United Airlines Flight 175 into the World Trade Center's south tower two decades ago: 1,385 of the nearly 3,000 deaths caused on 9/11, according to the Global Terrorism Database.
Very few terrorist attacks have killed that many people, other than the April 1994 attack by Hutu extremists in Rwanda, who killed 1,200 Tutsi civilians seeking shelter in a church outside Kigali, and the Islamic State's June 2014 massacre of an estimated 1,700 unarmed Iraqi Shia military personnel fleeing Camp Speicher after the group seized control of Tikrit.
The Hamas attack is also unusual in the number of hostages taken. In this regard, Hamas joins the Taliban, which in January 2018 seized 160 hostages during its siege of the Intercontinental Hotel in Kabul, Afghanistan; Boko Haram, which in April 2014 kidnapped 276 girls from a secondary school in the village of Chibok, Nigeria; Chechen terrorists, who in September 2004 took 1,200 hostages, most of them children, in the Beslan school siege in North Ossetia; and the Lord's Resistance Army, which in October 1996 kidnapped 139 students at a Catholic boarding school in Aboke, Uganda.
The Hamas attack was also devastating for the United States: at least thirty-two Americans were killed and at least ten are missing (Hamas released two Americans on October 20). Not since 1979, when Iranians seized sixty-six Americans, have so many U.S. citizens been taken hostage in a single incident. And not since Hezbollah al-Hejaz (aka Saudi Hezbollah) bombed the Khobar Towers in 1996—an operation that killed nineteen and wounded 372—have so many Americans died in a single attack on foreign soil. The FBI's extraterritorial squad will now be opening a staggering number of international terrorism cases related to the Hamas attack.
Hamas's Self-Indictment
As the depravity of the attack became clear, Hamas began to feel the pressure of comparisons to the Islamic State, al-Qaeda, and other notorious terrorist groups. Speaking a few days after the assault, Hamas deputy secretary-general Saleh al-Arouri insisted his group did not target civilians and claimed kidnapped Israelis were taken by random Palestinians who followed Hamas into Israel: "The truth is that our mujahideen do not target civilians...It is inconceivable that they would perpetrate the kind of crimes mentioned by the occupation, like rape, killing children, or killing civilians."
But all these things they did, and Hamas has provided some of the most damning evidence. When asked about the massacre at the Tribe of Nova music festival, a Hamas spokesman described documentation of the event as a "fake story." But these denials fall flat given images Hamas posted on its Telegram channels as the attack was unfolding, footage from its operatives' GoPro body cameras and phones, and the detailed instructions they carried directing them to attack civilians.
Hamas used Telegram to amplify the attack's impact (largely because it is banned on most other mainstream platforms), posting videos from the perpetrators and glorifying their acts. In one clip, a Hamas operative points his phone at the body of a dead Israeli whose blood is running down the sidewalk and says, "Time for photographs." On October 7 alone, the official Telegram channels of Hamas and its Izz al-Din al-Qassam Brigades released 110 and 50 items, respectively, of textual, pictorial, and video propaganda highlighting the attacks.
Additional GoPro footage recovered by first responders documents terrorists preparing to launch an RPG into a civilian home, shooting out the tires of an ambulance, and killing a woman taking shelter in her living room. One video documented a Hamas terrorist gunning down a civilian running for safety, shooting the man in the back of the head and then firing twice more once his body hit the pavement. Footage reviewed after the massacre shows two Hamas members moving a body from the street into a nearby vehicle, rifling through the victim's belongings, and taking what appears to be a cell phone from the scene. Hamas used stolen phones to hijack victims' social media and WhatsApp accounts, from which it live-streamed attacks, issued threats to families, and called for further acts of violence.
Documents found on the bodies of dead Hamas attackers include detailed intelligence reports on targeted civilian communities and operational instructions. These documents underscore that the attack was no rogue operation and that Hamas planned from the outset to target civilians. For example, one document marked "top secret," which was found on Hamas operatives who attacked Kibbutz Kfar Saad, included clear instructions to "kill as many people as possible" and "capture hostages." The document specifically instructs the two Hamas combat units attacking the kibbutz to target elementary schools and a youth center. The plan called for holding hostages in the kibbutz dining hall and preparing to bring some of them back to Gaza. In a video interview released by the IDF, one captured fighter revealed that "whoever brings a hostage back [to Gaza] gets $10,000 and an apartment." The IDF also released Hamas "abduction manuals" that instructed militants how to target, capture, and subdue hostages. 
Hamas cannot whitewash the fact that its operational plan explicitly called for killing as many civilians as possible, kidnapping many more, and forcibly taking them to Gaza. By massacring civilians and taking hostages, Hamas all but guaranteed that Israeli forces would take the fight to Gaza, where the group frequently uses the citizenry as shields. President Biden was right: "Hamas does not stand for the Palestinian people's right to dignity and self-determination...Its stated purpose is the annihilation of the State of Israel and the murder of Jewish people. They use Palestinian civilians as human shields. Hamas offers nothing but terror and bloodshed with no regard to who pays the price."
The group's efforts at damage control speak volumes. Hamas sees that it is being criticized for its barbarity, so it is lying in an attempt to pin the blame elsewhere. But many countries around the world—not least those whose citizens were killed, injured, or kidnapped—may forever see the group in a new, more dangerous, light.
Matthew Levitt is the Fromer-Wexler Fellow and director of the Reinhard Program on Counterterrorism and Intelligence at The Washington Institute. Delaney Soliday is a research assistant in the Reinhard Program.