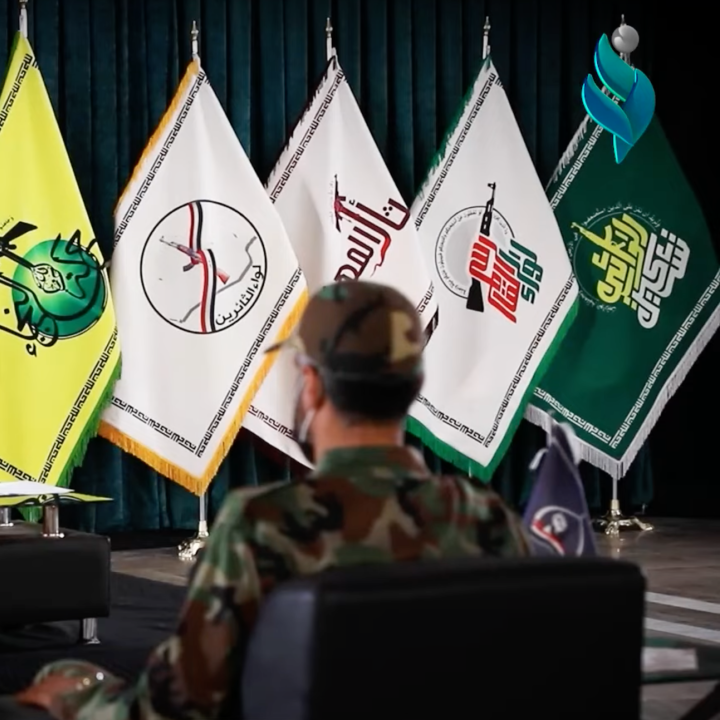 Al-Warithuun is a "resistance" brand with a recurring connection to kinetic operations that are directed by Iran's Qods Force but intended to be deniable.
Name: Al-Warithuun (Tashkil al-Waritheen, or the Inheritors). (This profile was last updated on January 21, 2023.)
Type of movement: Kinetic direct-action cell directed by Iran's Islamic Revolutionary Guard Corps-Qods Force (IRGC-QF). Uses Iraqi operatives as a facade to conceal Tehran's hand in IRGC-QF or proxy operations on or emanating from Iraqi territory. 
History and objectives:
The first public mention of al-Warithuun was an October 2020 Combating Terrorism Center study by one of the authors. The study tied the name to new deniable Iraqi militia cells formed by the IRGC-QF beginning in October 2019, with the intended purpose of attacking U.S. and other targets: "This effort is led today by one of [Qods Force commander Qasem] Soleimani's close aides, known as Hajj Hamid, who instituted a new intake of Iraqi recruits under the name of Al-Warithuun (The Inheritors) for training at an IRGC-QF camp in Dezful in southwestern Iran."
On December 9, 2021, Akram Kaabi, founder of the Iraqi muqawama (resistance) group Harakat Hezbollah al-Nujaba, gave a televised speech while standing against a backdrop of flags from several militia facade groups. One of the flags contained the name "Tashkil al-Waritheen" (the same word as Warithuun but a different grammatical case).
On August 18, 2022,

Tashkil al-Waritheen issued its first public statement, which read in part: "Any military bases and security centers in any country in the region whose participation in the assassination of the martyred leaders [Soleimani and top militia figure Abu Mahdi al-Muhandis] has been proven to us...as well as any countries that pursue an extremist policy toward our country and our people, such as occupying our lands [referring to Turkey], imposing sanctions in various forms, or supporting discord...are considered to be a legitimate target."

A day later, T

ashkil al-Waritheen claimed to have carried out an August 12, 2022, drone attack on U.S. military facilities at Kuwait's Ali al-Salem Air Base. The group published a video that purportedly showed the drones being launched, specifically showing a rocket booster-assisted launch of a Qasef-2K (Figure 1). This drone had not been observed in use by Iraqi militias before, and the footage did not appear to be recycled imagery of launches by another known user of the Qasef-2K: the Iranian-partnered Houthi rebel group in Yemen. On August 15, another drone attack was launched from southern Iraq against the U.S. base at al-Tanf, Syria, this time using an Iranian-provided KAS-04.
On August 23, 2022, imagery appeared in Shafaq News showing a Qasef-2K explosive drone (see Figure 2) that had crashed near al-Fhood in the southern Iraqi district of a

l-Chibayish, potentially on its way to Ali al-Salem. It is unclear whether the drone was launched from Iran or Iraq.

On January 21, 2023, T

ashkil al-Waritheen claimed responsibility for a

January 20 

drone attack against al-Tanf garrison in Syria. According to a statement issued by Combined Joint Task Force–Operation Inherent Resolve, the garrison was targeted by "three unmanned aerial systems." Coalition forces "successfully engaged two of the three UAS, preventing their impact. The third UAS landed within an SFA compound, resulting in zero Coalition casualties and zero reported damage to Coalition infrastructure." U.S. Central Command told Reuters that "two members of the Syrian Free Army forces" were injured in the attack (See Militia Spotlight's full coverage of this episode here.)
Chain of command:
The preponderance of evidence shows that al-Warithuun was developed by the IRGC-QF to undertake paramilitary operations or disguise the provenance of Iranian military attacks that take place in Iraq or using Iraqi territory. The group's apparent access to Qasef-2K drones suggests interaction with the IRGC-QF or one of its affiliates.
Affiliate relationships:
Kaabi's aforementioned display of an al-Warithuun flag in December 2021 suggests that the group has a strong affiliation or command relationship with him and

Harakat Hezbollah al-Nujaba

. This also provides further evidence of a nexus between Kaabi and the IRGC-QF.

Other groups whose flags were displayed alongside al-Warithuun's included Saraya Thawat al-Ashrin al-Thaniya, Rijal Allah, Ashab al-Kahf, al-Muqawama al-Duwaliya, Liwa al-Thaireen, Liwa Thar Muhandis, and Liwa al-Qasim.
Al-Warithuun has now conducted an operation against a Gulf state, suggesting affiliation with previous cross-border attacks against Saudi Arabia and the United Arab Emirates that have been linked to leading militia Kataib Hezbollah and claimed by Alwiyat al-Waad al-Haq.
Subordinate elements:
Tashkil al-Waritheen 

has an active social media channel on Telegram that was created on June 2, 2022.