Potential Escalation in Iraq (Part 2): Asaib and Nujaba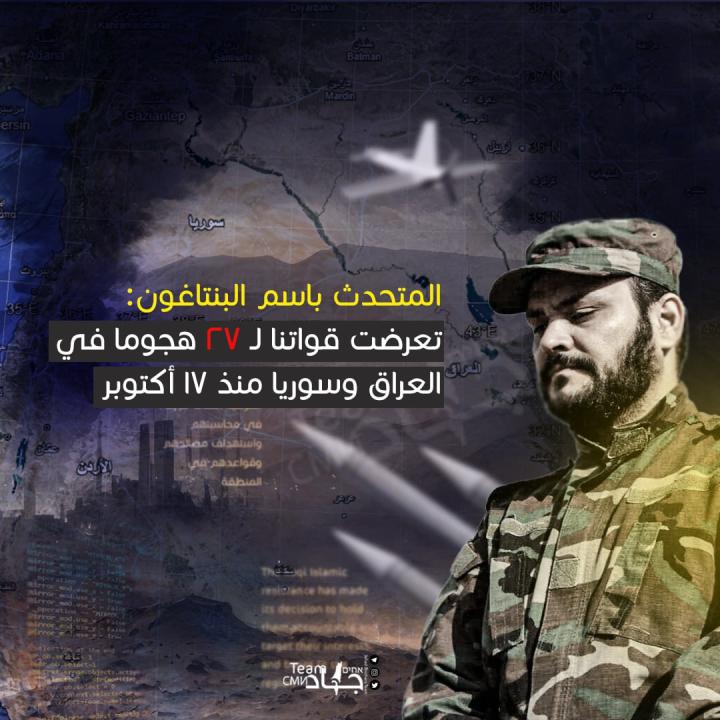 Asaib Ahl al-Haq, Harakat Hezbollah al-Nujaba, and their facade group partners may soon step up their attacks amid the Hamas-Israel war, albeit within limits set by Iran.
In Part 1 of this analysis, Militia Spotlight assessed how Iranian Supreme Leader Ali Khamenei seemingly signaled Iraqi muqawama (resistance) factions this week to escalate their attacks on the "Arrogant Powers" (namely, the United States) amid the Gaza war—an exhortation that has even swept up more politically focused factions such as the Badr Organization. Part 2 looks at how other muqawama actors have responded.
Asaib Ahl al-Haq
In the early hours of November 1, Qais al-Khazali, leader of the Iran-backed militia Asaib Ahl al-Haq (AAH), signaled escalation against U.S. troops in a different manner, using a social media channel to communicate with his fighters and followers. Specifically, he posted a Quranic verse that reads, "Do not waver nor be sad. You are the superior ones." AAH-affiliated media have often used such verses to alert followers that an important decision, escalation, or attack is imminent. It is highly likely that Khazali's post was meant to reassure and prepare his followers for escalation. 
Harakat Hezbollah al-Nujaba
Just a few minutes after Khamenei's November 1 "Arrogant Powers" speech, Akram Kaabi—leader of the Iran-backed militia Harakat al-Nujaba (HaN) and secretary of the Iraqi Resistance Coordination Committee (al-Haya al-Tansiqiya lil-Muqawama al-Iraqiya, or Tansiqiya for short)—posted the most direct threat to U.S. forces: "The Islamic Resistance in Iraq decided to liberate Iraq militarily. The matter has been settled. The next [phase of attacks] is going to be greater" (Figure 1). 
Ashab al-Kahf
Ashab al-Kahf, a facade group affiliated with HaN, soon responded to Kaabi's call: "The presence of one American in Iraq is too much, as was stated by Sayyed al-Wali [referring to Khamenei], and today the Secretary-General of the Islamic Resistance Harakat al-Nujaba, Sheikh Akram Kaabi, confirmed that the Iraqi Islamic Resistance has decided to liberate Iraq militarily and [that] the matter has been settled and the next [phase of attacks] is going to be greater. We in the Islamic Resistance Ashab al-Kahf send an unequivocal message that we are ready and will continue to strike American bases until our land is liberated from this brutal enemy...We are at the disposal of the leader...Akram Kaabi" (Figure 2). This is the first time in recent years that Ashab al-Kahf has publicly announced allegiance to Kaabi.
Saraya Awliya al-Dam 
Similarly, Saraya Awliya al-Dam, a muqawama facade group with assessed links to AAH, announced its readiness to escalate against U.S. troops. A short message posted on its Telegram channel stated, "We declare our readiness to fight the enemy in Iraq and other theaters" (Figure 3). 
What Is Their Intent?
In Militia Spotlight's assessment, the Iraqi muqawama are on the verge of following Iran's order to escalate—or at least posturing in this regard along with other members of Tehran's "axis of resistance." A greater surge in attacks inside Iraq would come at a cost to politically active muqawama figures such as Khazali and Hadi al-Ameri, potentially damaging the "resistance government" of Prime Minister Mohammed Shia al-Sudani. Accordingly, the next wave of attacks may be loud and more frequent, but probably optimized to avoid casualties and stay clear of established red lines such as the U.S. embassy in Baghdad.
For muqawama players that do not participate in the political process (e.g., HaN, Ashab al-Kahf), raising expectations that U.S. forces will be evicted could cost them domestically when that promise inevitably goes unfulfilled, particularly among their core support base. Even so, they will likely still confine most of their attacks to Syria and, perhaps, the Kurdistan Region of Iraq, without escalating in Baghdad or resorting to high-casualty tactics. The lowest-cost, lowest-risk approach available to Iraqi muqawama would be to foster and support uprisings against the U.S. presence in eastern Syria and their local partners, the Syrian Democratic Forces (SDF), or to mount attacks on Israel itself across the Golan front.