The Latest Chapter in Iran's Hostage Diplomacy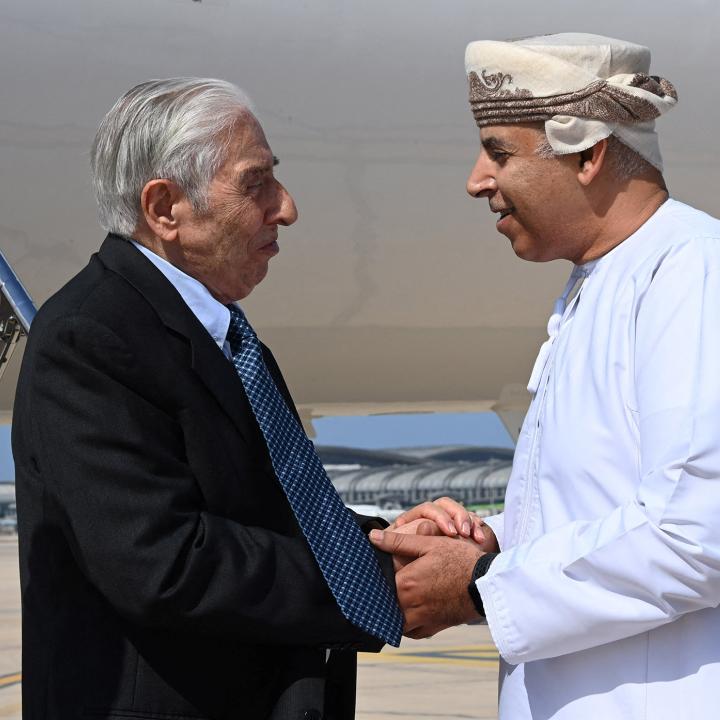 U.S. policymakers should be careful about concluding that Tehran's decision to relax restrictions on two detained American citizens has anything to do with the nuclear talks.
On October 1, Iran lifted a travel ban on U.S. dual national Baquer Namazi and granted a weeklong humanitarian furlough to his son Siamak, also a dual national. The elder Namazi, who is eighty-five, departed Iran on October 5 and traveled to the United Arab Emirates for an urgent medical procedure. Both the decision and the surrounding Iranian press coverage have fanned speculation that the country is on the verge of reaching a broader prisoner swap agreement with the United States, potentially as part of the ongoing effort to revive the 2015 Joint Comprehensive Plan of Action (JCPOA). Yet a closer look at the Namazi case and Tehran's past handling of hostages suggests other possibilities.
Many Drivers Behind Iran's Hostage Tactics
Tehran has long used hostage-taking as a tool of statecraft. Since its initial seizure of American hostages in 1979, the Islamic Republic has used both the detention and subsequent bargaining over the release of foreign and dual nationals as a means of extracting concessions from Western governments, including money and the release of Iranians arrested abroad. The regime also detains such individuals and charges them with serious crimes like espionage in order to intimidate foreigners and its own population. By frequently arresting foreign nationals, particularly from Europe and the United States, Iranian security agencies also ensure that even when some are released, Tehran still has a cadre of other individuals to trade for concessions at any given moment.
The Namazis are among four Iranian American dual nationals who have been the subject of negotiations in recent years. The other two are businessman Emad Shargi and Morad Tahbaz, a conservationist and businessman who also holds British citizenship. The United States also continues to seek information about Robert Levinson, a former FBI agent who disappeared in Iran in 2007 and is presumed dead.
Siamak Namazi, an Iranian American businessman, was initially detained and interrogated on July 18, 2015—four days after the JCPOA was originally reached—then imprisoned that October. His father, a former UNICEF employee and civil servant under the shah's government, was arrested four months later. In 2016, they were both sentenced to ten years in prison on the charge of "collaboration with a hostile government," meaning the United States—an accusation that the Namazi family, the U.S. government, and human rights groups have described as baseless.
What the Announcement Does—and Doesn't—Mean
Iranian statements and press reports initially hinted that the Namazi decision was part of a broader prisoner deal that could involve releasing billions of dollars in frozen Iranian assets held by South Korea. But Washington has denied this, and no other prisoners have been freed by either country.
So why did Iran release two Americans? At this point, the decision appears to have been a unilateral move, one potentially prompted by health concerns regarding the elder Namazi. The family stated last month that his health had deteriorated significantly, and he was scheduled to undergo a carotid endarterectomy in Abu Dhabi to clear "a severe blockage to his left internal carotid artery."
Tehran may also be keen to deflect attention from the unrest rippling across the country and give the appearance of flexibility to foreign or domestic audiences. Indeed, the announcement coincided with an intensified regime crackdown against protesters over the weekend, as Supreme Leader Ali Khamenei publicly characterized the demonstrations as a U.S. and Israeli plot. Perhaps Tehran was trying to gain credit for a humanitarian gesture amid widening repression.
As for the domestic media chatter that foreign exchange reserves were poised for release, such stories may have been intended to bolster the Iranian economy rather than report on an actual deal in the works. The rial has depreciated almost 14 percent against the dollar over the past six weeks alone as the nuclear talks stalled. Promising imminent sanctions relief is a common—and usually unsuccessful—Iranian strategy for supporting the currency market.
Potential Deals
To be sure, a formal prisoner deal has long been on the table—if the United States and Iran reach an agreement to revive the JCPOA, swapping detainees would reportedly be part of the first stage in its implementation. Publicly, both governments insist that the prisoner issue is technically separate from the nuclear negotiations, but in practice they are closely linked, with U.S. officials indicating that the administration is unlikely to agree to a nuclear deal if Americans remain detained.
Yet given the persistent deadlock in the nuclear talks, the parties may at some point pursue a standalone deal on detainees. In a September interview with 60 Minutes, President Ebrahim Raisi stated that the prisoner issue "can be conducted separately from the nuclear talks. It can be done between the two countries," indicating a willingness to work outside the multilateral JCPOA framework. For its part, the U.S. State Department noted on October 5 that it was committed to "securing the freedom of all remaining wrongfully detained U.S. citizens in Iran," without referencing the JCPOA negotiations.
However it is struck, any potential prisoner deal may hinge on the fate of Iran's billions of dollars in South Korea. Between $6.5 and $9 billion in revenue from Iranian energy sales is frozen in South Korean banks, and Tehran has linked these funds with the fate of foreign detainees. For years, Seoul has refused to give Iran access to this money due to longstanding concerns about U.S. sanctions. Under the Trump administration, South Korean officials worked with Washington on developing a won-denominated payment channel modeled on a separate Swiss arrangement, but it was never set up. With no progress on freeing its assets, Iran has lashed out against Seoul, seizing a South Korean-flagged tanker last year and banning the import of Korean home appliances.
If Tehran does manage to access any of these frozen funds after freeing hostages, it would not be the first time Washington has appeared to link the release of Iranian funds with the release of prisoners. In the 1981 deal that freed America's embassy hostages, the two governments agreed to set up a claims tribunal in The Hague to adjudicate the release of funds that the shah had paid for military materiel ordered from the West but never delivered after the revolution—in essence, seeking the return of Iran's own money.
In 1991, after Iran played a key role in facilitating the release of U.S. hostages from Lebanon, the Bush administration agreed to pay $278 million to settle some of these shah-era claims. Although Washington denied any connection between the two actions, President Bush told the foreign minister of Oman that settling these claims was an issue "clearly tied to the hostages." (Muscat has long played a key interlocutor role with Iran, and Oman was Baquer Namazi's first stop en route to the UAE this week.)
In 2016, at the same time the JCPOA was being implemented, Iran released four American prisoners while the United States released or dropped charges against seven Iranian prisoners. Simultaneously, Washington flew $400 million in cash to Iran as part of a larger settlement involving the shah-era arms sales. The Obama administration denied that the cash represented a ransom payment.
More recently, Britain reached a settlement with Iran earlier this year regarding $530 million in pre-revolutionary tank sales, most of which were never delivered. Tehran simultaneously freed two British Iranian nationals. It also released Morad Tahbaz from prison, though he was not allowed to leave the country.
Even the Iran-Contra scandal in the 1980s fits the pattern of U.S. willingness to strike prisoner bargains with Tehran. As part of this convoluted episode, Washington pushed Iran to seek the release of Americans held by Lebanese Hezbollah. In exchange, the United States provided weapons to the Islamic Republic in what President Ronald Reagan later acknowledged as "trading arms for hostages."
Implications
Although it is possible that Iran intended the Namazi announcement as a goodwill gesture aimed at securing a prisoner swap with Washington, no evidence of such a deal has arisen so far. An October 3 report by Nour News, an outlet close to Iran's Supreme National Security Council, stated that Baquer Namazi's release "was not related to" any supposed deal in which four prisoners would be exchanged from each side. The ongoing speculation about such a deal also calls into question who the fourth prisoner would be on Tehran's side, given that Namazi has left the country. According to Iran's Intelligence Ministry, nine foreigners (all from Europe) have been arrested amid the current unrest, and the protests could provide a pretext for additional detentions.
Whatever the case, U.S. policymakers should be cautious about reading too much into the Namazi situation as a signal of Iran's commitment to the nuclear deal. At this point, the decision could be read either way. On one hand, a prisoner swap was already envisioned as a key part of reimplementing the JCPOA, so by preempting that step, Tehran could be signaling that it will not go through with full implementation anytime soon. On the other hand, Iran may believe that a "humanitarian gesture" was the best way of unsticking the negotiations or, at least, limiting the chances of a complete breakdown.
Henry Rome is a senior fellow at The Washington Institute. Previously, he was the deputy head of research and director for Global Macro, Iran, and Israel at Eurasia Group.