Kuwait's Election Offers Insights on Wider Gulf Politics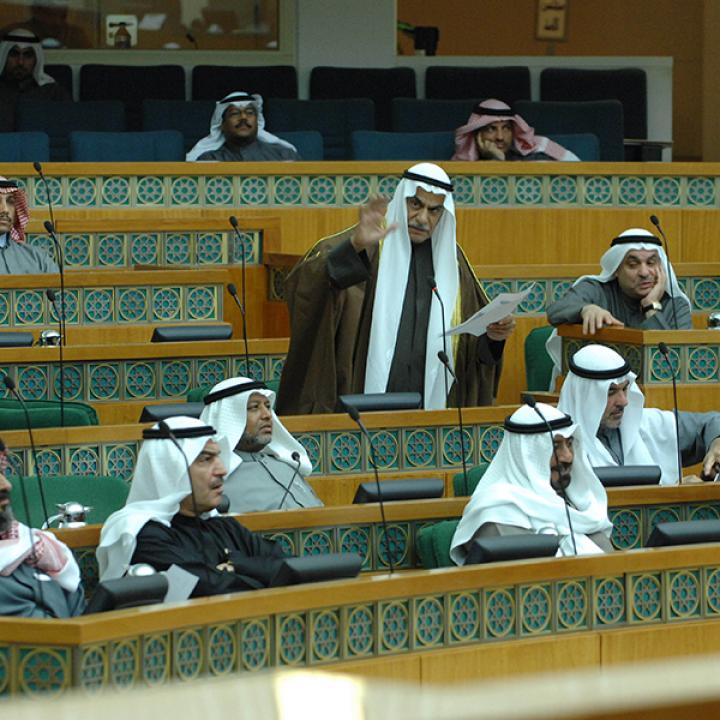 The vote and the events leading up to it reflect a system in near-paralysis rather than an example for neighbors to emulate.
When Kuwaitis go to the polls on September 29 to vote for a new fifty-member National Assembly, commentators are predicting little overall change in the often-ineffectual balance of power between the legislature and the ruling al-Sabah family. The election follows Crown Prince Mishal al-Sabah's dissolution of parliament on August 2 after months of political wrangling.
Nearly 400 candidates applied to run, though several dozen have withdrawn from the race in recent days. The applicants included 27 women; no woman was elected in the 2020 election. In the previous parliament, 24 members were labeled as part of the opposition, and several new opposition figures are running this time after boycotting the polls since 2012. This includes five Islamists, along with several others who reportedly have close ties to the Muslim Brotherhood. Yet whichever candidates prevail, Kuwait's overarching political stalemate is unlikely to change: the Sabah family is regarded as ruling rather than royal, and the constitution has produced a system whereby the emir appoints one of his relatives as prime minister, but parliament can veto laws and summon ministers for questioning.
Financially, the government faces a mess of liquidity problems and budget deficits despite boasting a sovereign wealth fund of $750 billion. Huge oil reserves have enabled most citizens to take public sector salaries, so there has been little diversification of the economy.
Unlike the other conservative Arab Gulf states, where leadership has largely shifted to a younger generation in practice or in full, Kuwait is still a gerontocracy and looks like it will remain that way indefinitely. Emir Nawaf al-Sabah is eighty-five and in subpar health; his half-brother Crown Prince Mishal is eighty-one; the previous emir, Sabah al-Sabah, died in 2020 at age ninety-one.
Moreover, Kuwait hardly seems like a shining example of the benefits of democracy for the rest of the six-member Gulf Cooperation Council. The ongoing political gridlock recently spurred Crown Prince Mishal to darkly threaten unspecified "forceful measures" if the impasse continues after the election. Given his background in the country's security forces, this could mean suspending parliament and instituting some form of martial law.
Yet the most likely outcome in the next few months is that Kuwait will muddle through—though the Gulf can be an unpredictable environment. The country's territory and oil facilities abut an unstable Iraq and are within a few miles of bellicose Iran. Recently, Kuwaiti development of an offshore natural gas field prompted Tehran to demand a share. And in 2019, Iranian drones reportedly flew through or very close to Kuwaiti airspace en route to attacking Saudi oil facilities.
In the decades since the United States led the coalition that secured the ruling family's return and the revival of the National Assembly after Saddam Hussein's invasion, Washington has maintained a significant military presence in Kuwait, including numerous operations from Ali al-Salem Air Base. A so-far elusive prize for U.S. diplomacy is to get Kuwait more involved in the military and intelligence cooperation that other GCC states have conducted with Israel because of shared concerns about Iran. Yet opinion polls suggest minimal public support for contacts with Israel, and Kuwaiti law formally prohibits relations with Israeli citizens, though discreet contacts exist.
Simon Henderson is the Baker Fellow and director of the Bernstein Program on Gulf and Energy Policy at The Washington Institute, and coeditor of its succession paper "Kuwait: A Changing System Under Stress."