Khazali Isolated Over International Zone Protests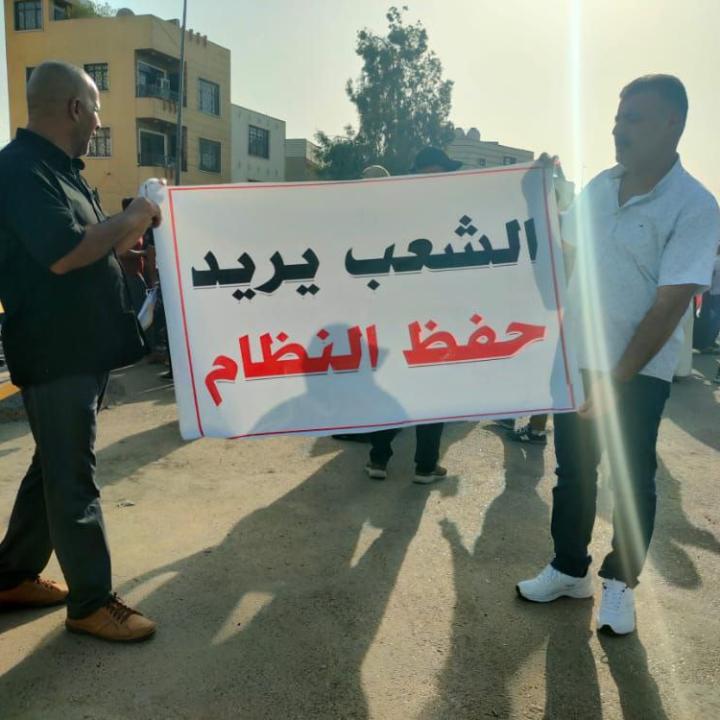 The militia leader is being constrained by other members of the Iran-dominated Shia Coordination Framework regarding how to respond to Sadrist protests.
On July 31—one day after elements aligned with Iraqi Shia leader Muqtada al-Sadr entered the International Zone (IZ) and stormed parliament—former prime minister Nouri al-Maliki's thirty-seven-seat State of Law Alliance and Qais al-Khazali of the militia Asaib Ahl al-Haq created the "Organizing Committee to Support Legitimacy and Preserve State Institutions." The committee then issued a statement calling on "the sons of our Iraqi people, from all social, tribal, academic and cultural backgrounds, to demonstrate [and] defend their state...especially after the recent developments that threaten to carry out a suspicious coup, hijack the state, cancel its legitimacy, violate its constitutional institutions, and abolish the democratic process" (Figure 1).
This effort saw one part of the Shia Coordination Framework (SCF)—Maliki and Khazali—try to beat Sadr at his own game with counter-protests. The Organizing Committee's statement was reposted by State of Law social media accounts such as Noidoha Dola (We will remake it a strong state) and Thikrayat Jonubi (Memories of a southerner). Meanwhile, Khazali issued a voice recording on August 1 providing instructions for SCF protesters. Khazali has emerged this year as the muqawama (resistance) leader mostly closely aligned with Maliki, and the most in sync with Maliki's wish to see the SCF confront Sadr, form a government, and purge Sadrists from state agencies. Maliki and Khazali seem to have gotten their way, as shown by the effort to rapidly form a government on July 30 under a Maliki proxy, Mohammed Shia al-Sudani.
Another camp within the SCF has suggested an alternative approach: slowing down the government formation process and bringing the Shia house back together by wooing Sadr with inducements. This alternate sub-bloc is led by Hadi al-Ameri, the leader of the Iran-backed Badr Organization and the SCF's twenty-nine-seat Fatah bloc, which includes Asaib Ahl al-Haq's parliamentarians. Apparently, despite Maliki theatrically arming himself to patrol his compound during the IZ incursion, he and Khazali have been weakened within the SCF and, potentially, the wider muqawama because their confrontational approach drew a heavy Sadrist reaction—as Ameri previously predicted.
Meanwhile, Ameri has moved quickly and confidently. Just half an hour after State of Law channels began posting the Organizing Committee's statement, he warned that the resultant protests "might get out of control" and called on "the brothers in the Sadrist movement and the SCF" to use "reason, wisdom, self-control, deliberation" and "prioritize the interests of the country and people through serious and constructive dialogue" (Figure 2).
The fact that Ameri addressed the "brothers in the SCF" means that he is placing himself outside the Coordination Framework and showing his discontent with the decision to launch counter-protests. This is also an indirect threat warning to Maliki and Khazali that Ameri's group will withdraw from the SCF if they continue their escalatory approach.
After this statement was published, Sabereen News felt compelled to reassure supporters that the SCF and muqawama were intact. On August 2, the channel quoted a source in the SCF who state, "It is not true that there are any splits within the coordination framework, as some discredited agencies circulate" (Figure 3).
Maliki and Khazali seemed to quickly recognize that they had overstepped: protesters with muqawama flags did not make a serious effort to storm the southern entrance of the IZ, and Khazali quickly issued another voice message asking them to withdraw. He even felt compelled to issue a sycophantic statement praising Ameri for his jihadist credentials, ending his statement with the hashtag "Ameri, Sheikh of the Framework" (Figure 4).
Perhaps most interesting, top muqawama militia Kataib Hezbollah has distanced itself from Khazali's call to protest, with the media account for Abu Ali al-Askari posting, "We are not aware of any protest in front of the [IZ]" (Figure 5).
Given Ameri's actions and Khazali's swift show of deference, it seems the SCF, the muqawama, and their Iranian advisors have decided that Ameri's idea of de-escalation was the right path, and that Maliki and Khazali's counsel was unwise. This fits with other trends in the current political crisis: Iran's paramount desire to leave room for reunifying the Shia house; the fact that Kataib Hezbollah's political wing, Harakat Hoquq, has refused to take up five of the parliamentary seats vacated by Sadrists; the narrowing difference between Maliki and Ameri's number of seats; and Maliki's desire (documented on a recent leaked recording) to strengthen his militias because the wider muqawama would not fully back his play.