Khamenei Speech Sets the Boundaries of Engagement with the West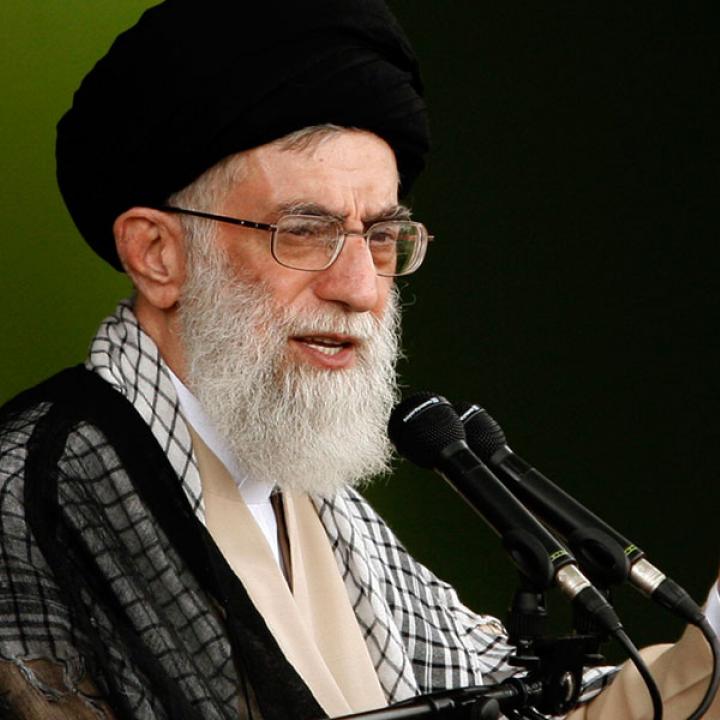 In his first major address since Joe Biden's election, the Supreme Leader downplayed the prospect of negotiating an end to U.S. sanctions, instead urging Iranian officials to focus on increasing the country's self-reliance and solving its deep economic problems.
On November 23, Supreme Leader Ali Khamenei attended a meeting of the Supreme Council of Economic Coordination, one of Iran's top policymaking bodies. As the country copes with record-high coronavirus infection rates, its economy continues to deteriorate—indeed, Khamenei's decision to address the meeting in person rather than by video highlights the gravity of the situation. In speaking to the council, he stated his guidelines for what the regime's senior economic and political officials should and should not do to solve the country's hardships, emphasizing the following themes:
The West cannot be trusted. Reiterating his usual narrative of a unified Western front against Iran, Khamenei reminded his audience that the European arm of that campaign has only intensified during the Trump administration. He emphasized that Iran should not "pin hopes" on Europe, which he accused of interfering with the Islamic Republic's internal and regional affairs. Instead of criticizing Iran for its regional presence and missile program, he argued, European governments should "first change their destructive intervention in the region." Such statements echoed his comments earlier in November that Western civilization is "savage" and "dark," in line with the "clash of civilizations" theme he often uses in his speeches to signal that Iran's discord is (1) not just with Washington, and (2) far from just a political conflict.
Tehran is disillusioned about negotiating sanctions relief or reopening nuclear talks. The ayatollah noted that sanctions can be relieved by either negotiating with the United States or taking unilateral steps that render these restrictions ineffective. In his view, Iran has tried the first approach "for several years" to no avail, so it should now focus even more fully on the other option: increasing the country's resilience against external pressures. "If the other side sees that sanctions have become ineffective," he argued, "they will gradually lift them."
The following day, President Hassan Rouhani gave his interpretation of the Supreme Leader's remarks. Perhaps playing "good cop, bad cop," he left some room for future discussions with the Biden administration, but only on condition that it returns to the pre-Trump situation and policy. Fulfilling that condition, he noted, could be "a great solution to many problems and can completely change the course and the situation," paving the way to next steps in different fields.
Rouhani's characterization of the state of play with Washington was similar to Foreign Minister Mohammad Javad Zarif's November 18 remarks on Twitter, where he noted, "The US is still a UN member. If it meets its obligations as such under UNSCR 2231, we will fulfill ours under the #JCPOA," referring to the 2015 Joint Comprehensive Plan of Action. Implicitly, he meant Washington must lift the sanctions that the Trump administration imposed after withdrawing from the JCPOA in 2018. "If the US then seeks to re-join the JCPOA," he continued, "we're ready to negotiate terms for it to regain its 'JCPOA Participant' status." Although Zarif emphasized that Iran will not enter new negotiations on the nuclear deal itself, his remarks nonetheless drew criticism from the country's hardline camp. Accordingly, Rouhani chief of staff Mahmoud Vaezi sought to clarify the government's stance during a November 25 cabinet meeting, assuring listeners that Iran is not optimistic about any U.S. administration and will not hold new JCPOA talks.
Improving the economic situation depends on Iran, not negotiating with Washington. Back in his March Nowruz speech, Khamenei declared that Iran's focus in the new Persian year (March 2020-March 2021) should be a "Surge in Production," ordering officials to create "tangible change" in the lives of the people by relying more on domestic resources. In his November 23 remarks, he admitted that this slogan has not been fulfilled as expected but promised that the regime's experts have plans for improving the situation. He further noted that even if Iran faces difficulties at first, implementing this policy will enable Rouhani's government to have "a good end"—perhaps hinting at improving the situation after the country's 2021 presidential election. In particular, he emphasized that Iran should not hope for foreign assistance or changed policies among governments that are grappling with their own domestic challenges. The following day, Majlis speaker Muhammad Baqer Qalibaf—a Rouhani political rival and potential presidential candidate—reiterated Khamenei's words, noting that in order to overcome sanctions, "We must strengthen each and every one of the Iranian people."
Over his three decades as Supreme Leader, Khamenei has often preferred to play the public role of instructor rather than dictator, defining a vision for his policymakers and implying the rules on what they should and should not do. In this sense, his first major speech since Joe Biden's election can be seen as a list of directives on how Iran could engage with the West in the coming weeks and months, namely:
Do not trust Washington or Europe.
Manage domestic expectations about how engagement might help the country's economic relief.
Limit any engagement to subjects that are within the JCPOA's scope.
Invest more resources in improving Iran's ability to face hardships on its own.
Omer Carmi, a former visiting fellow at The Washington Institute, previously led IDF analytical and research efforts pertaining to the Middle East.