The Juniper Oak Military Exercise: Implications for Innovation, Experimentation, and U.S. Policy Toward Iran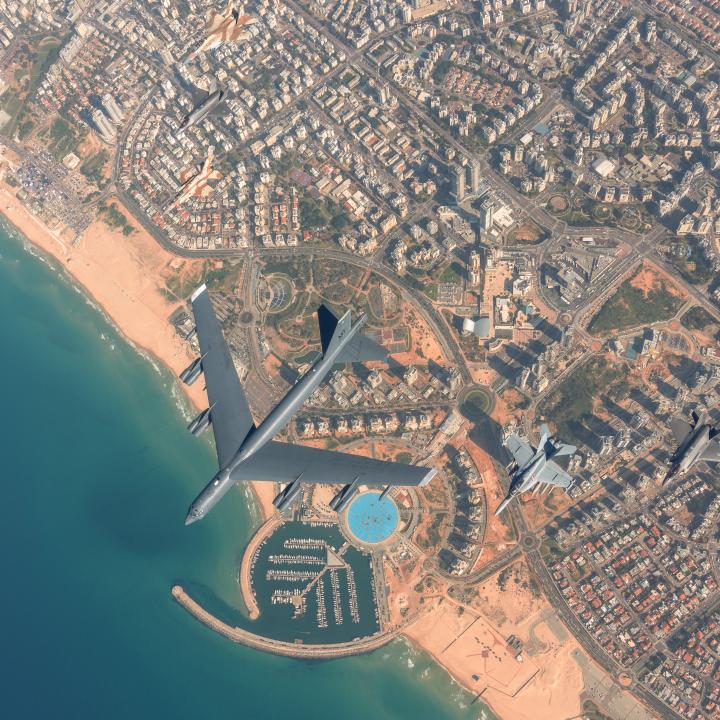 Last week's large, combined exercise was intended to assure friends and deter adversaries, but both goals will ultimately depend on fixing a flawed policy toward Iran.
On January 23-26, the United States and Israel held their largest-ever bilateral military exercise, involving 7,900 personnel (6,400 Americans and 1,500 Israelis), 142 combat aircraft (100 American, 42 Israeli), twelve warships (the George H. W. Bush Carrier Strike Group and six Israeli vessels, including a submarine), and activities across all domains (sea, air, land, space, and cyber). The main goals of the exercise—named Juniper Oak—were to improve interoperability, demonstrate America's ability to surge forces into the region while meeting commitments elsewhere, assure allies, deter adversaries (particularly Iran), and pave the way for additional large, complex exercises with Israel and other regional partners.
What It Was, and Wasn't
Despite reports that the exercise simulated strikes on Iranian nuclear facilities, U.S. officials have denied this, and there is no reason to doubt these disclaimers. The B-52 bombers that participated in the exercise are not the aircraft for this mission, as they lack the ability to penetrate capable air defenses and deliver the only U.S. conventional bunker-buster munition (the GBU-57A/B Massive Ordnance Penetrator, or MOP) capable of damaging hardened, deeply buried nuclear facilities at Fordow or elsewhere.
That said, many of the missions exercised during Juniper Oak would be central to a major conflict involving Israel, Iran, and its proxies. This could lead Iranian decisionmakers to conclude that they might also be facing American forces in the event of such a conflict—their nightmare scenario.
U.S. officials have indicated that Juniper Oak will be institutionalized and expanded. Washington intends to encourage other regional states to participate in similar large, complex exercises and will use the "fear of missing out" to draw them in. This will hopefully enable U.S. Central Command (CENTCOM) to flesh out the emerging regional security architecture that it has been building—which includes nascent air/missile defense and maritime surveillance components.
Future exercises should also incorporate the B-2 bomber, which would send a clear deterrent message given its ability to penetrate modern air defenses and drop the MOP. Moreover, the B-2 would convey this message without the need for fanfare (Tehran is generally more impressed by subtlety than swagger). If Washington is truly serious about not allowing Iran to get nuclear weapons (see below), then the B-2 should be part of future exercises in the Middle East, just as it routinely participates in exercises in the European and Indo-Pacific regions.
Successful Exercise, Flawed Policy
No series of military exercises—no matter how impressive—will assure friends and deter adversaries without changes to Washington's flawed policy toward Iran. Meeting those goals will require the following:
Consistent messaging. The Biden administration has sent mixed messages regarding Iran's nuclear program. In June 2021, the president vowed that "Iran will never get a nuclear weapon on my watch." In July 2022, the U.S.-Israel Strategic Partnership Joint Declaration committed Washington "never to allow Iran to acquire nuclear weapons." Biden repeated this commitment at a GCC+3 summit in Jeddah two days later, and again in his speech to the UN General Assembly in September.
On November 22, however, National Security Council strategic communications coordinator John Kirby noted that the United States was "not going to allow Iran to achieve a nuclear weapons capability"—a formulation he repeated on at least two other occasions (January 20 and January 27). And in a January 19 readout of National Security Advisor Jake Sullivan's recent trip to Israel, NSC spokesperson Adrienne Watson underscored "the U.S. commitment to ensure Iran can never acquire a nuclear weapon"—in yet a third syntactically tortured version of this commitment.
Presidential statements are generally the last word when it comes to policy, but these more recent formulations by subordinates raise questions about whether U.S. policy has changed, since not allowing Iran to have a "nuclear weapon" is very different from not allowing Iran to have a "nuclear weapons capability." This inconsistency may confirm the belief held by many allies and partners that the United States lacks a well-thought-out policy, hinting at disarray that might encourage Tehran to further test Washington by intensifying its nuclear activities.
Capability and credibility. Juniper Oak aimed in part to demonstrate America's power projection capabilities and its capacity to focus on the Middle East while managing a war in Europe and tensions in the Indo-Pacific region. In this regard, the exercise succeeded. Yet Washington's friends and adversaries do not doubt its demonstrated ability to project power—they doubt its commitment and resolve. In particular, U.S. credibility has been undermined by a failure to respond more assertively to attacks on U.S. targets and partners in the region.
Although this problem long preceded President Biden, his administration has responded overtly only three times to scores of drone, rocket, and improvised explosive device attacks on U.S. personnel and interests in Iraq and Syria (though attacks in Iraq have declined precipitously in the past six months). Officials claim that the administration's responses may not always be visible, yet its acknowledged actions have telegraphed ambivalence and apprehension. Indeed, the U.S. garrison at al-Tanf, Syria, was attacked two days before the start of Juniper Oak, and there is no sign of any U.S. response since then. Even a successful gray zone strategy that relies largely on covert or unacknowledged activities should occasionally employ overt action to demonstrate resolve.
Setting limits. One way to address policy challenges related to messaging and credibility is for Washington to define and enforce red lines regarding Iran's regional and nuclear activities. Policymakers generally seek to avoid commitments in order to preserve options, and U.S. officials have often been loath to set red lines on Iran. Yet drawing them can be useful if Washington is committed to them, and if they enjoy bipartisan and public support.
Influencing Tehran to tamp down attacks against U.S. personnel and interests may not necessarily require formally defined red lines, however; U.S. limits can be conveyed by actions. Nonlethal attacks should be met with nonlethal responses that impose significant material costs on Iran, while lethal attacks should elicit asymmetric lethal responses to inflict costs that Tehran is unwilling to sustain. In both cases, responses should be conducted mainly through gray zone activities.
In the nuclear domain, Washington does need to draw a red line to halt Tehran's ongoing fissile material buildup. Specifically, it should ramp up sanctions enforcement and signal that uranium enrichment beyond 60 percent will cause the United States to disrupt these activities and impose heavy costs on Iran (for more on the technical aspects of enrichment, see The Washington Institute's Iran Nuclear Explainer). In tandem with exercises like Juniper Oak, this approach would telegraph Washington's greater willingness to incur risk in countering the Islamic Republic's problematic activities.
If policymakers are unwilling to draw a clear nuclear red line, then they need to explain to allies and partners how they plan to halt or manage the consequences of Iran's ongoing fissile material buildup and possible future attempts to produce weapons-grade uranium (i.e., 90 percent enrichment). They also need to explain whether U.S. policy is to prevent Iran from acquiring a nuclear weapons capability or a weapon—and how they will accomplish either objective. At any rate, military exercises like Juniper Oak need to be part of a larger, whole-of-government shaping strategy that employs all the instruments of national power to assure friends and deter Iran.
Conclusion
For decades, U.S. policy has been hobbled by an aversion to risk-taking and experimentation when using the military instrument to deter and disrupt Iran's regional and nuclear activities. Yet necessity is the mother of invention, and the shortcomings of the current policy may spur a change of approach.
The United States has repeatedly shown an ability to innovate when dealing with Iran. For example, nearly two decades ago it partnered with Israel to pioneer the use of offensive cyber operations (e.g., Stuxnet) that delayed the nuclear program and bought time for diplomacy; over a decade ago it broke with previous sanctions policy to impose severe restrictions on Iran's financial activities and oil exports that generated unprecedented pressure; and recently it has been experimenting with new military technologies and operational approaches (e.g., networked unmanned platforms, more flexible force deployment options, new regional partnerships) to compensate for reduced force levels in the region.
Yet when it comes to the limited use of force, Washington has often been self-deterred by understandable but overstated fears of a miscalculation leading to "all-out war" with Iran. It has thus denied itself the opportunity to become more proficient in gray zone activities, and to shape Tehran's choices and constrain its activities by military means. The result is a superpower with a stunted conception of how to use the military instrument in support of statecraft.
As an example of innovation in the conduct of large, complex, combined exercises, Juniper Oak represents a break from this past. Hopefully, it will also stimulate other forms of experimentation by the Defense Department and CENTCOM that will enable policymakers to test and shed outdated or erroneous conceptions, and permit the kind of managed risk-taking and operational learning that may produce a more successful Iran policy.
Michael Eisenstadt is the Kahn Fellow and director of the Military and Security Studies Program at The Washington Institute.