Jordanian Gun Arrest Underscores Israel's Smuggling Problem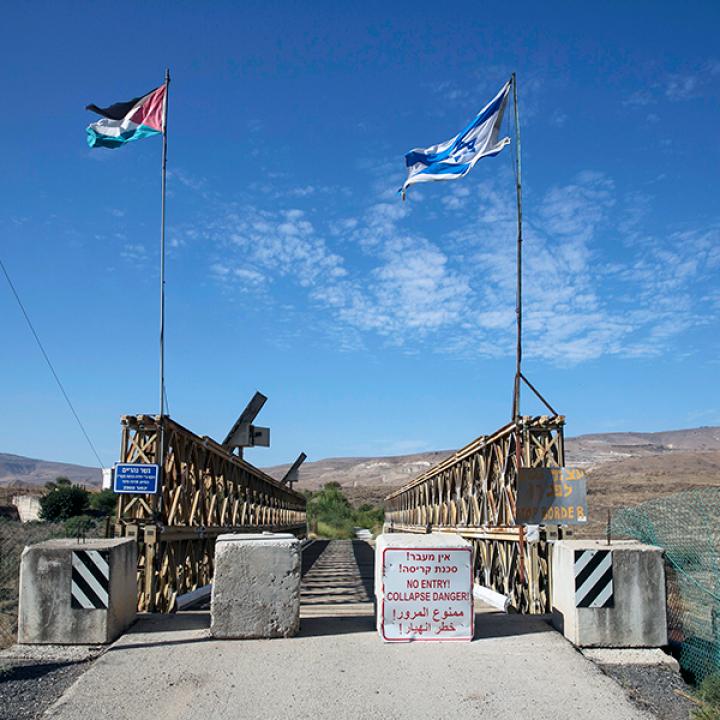 The case of a parliamentarian accused of weapons trafficking is grabbing headlines, but it is just one small part of the sharp increase in gun smuggling across Jordan and Israel's frontiers.
On April 22, Israeli authorities arrested Jordanian parliamentarian Imad al-Adwan at the Allenby Bridge crossing as he attempted to bring more than 200 guns into the West Bank. Jordanian legislators are typically waved through this crossing, so the arrest was likely driven by forewarning from intelligence authorities. Arms smuggling from Jordan has been on the rise, yet this incident stands out for the number of weapons confiscated, the involvement of a parliamentarian, and the attempted use of an official crossing (as opposed to other points along the insufficiently guarded frontier).
The following analysis is based on information collected by the authors and compiled into an open-source dataset of 98 cases of attempted smuggling operations across Israel's frontiers (including 35 from Jordan into Israel) over the period March 2021 to April 23, 2023. Although this PolicyWatch focuses on gun smuggling from Jordan, the wider dataset covers weapon, drug, and currency smuggling from Egypt and other jurisdictions as well, drawing on government reports, press releases, news articles, and author interviews.
Increased Smuggling from Jordan
The two-year period documented in the dataset saw a significant rise in weapons smuggling from Jordan into Israel and the West Bank, helping to fuel instability and a surge in terrorism and other violent activity. Israeli police thwarted at least 35 smuggling attempts from Jordan during this time, seizing more than 800 weapons. In 2022 alone, the number of seized weapons jumped to about 570, according to the Israel Defense Forces (IDF). Similarly, Jordanian authorities have reportedly thwarted more than 20 such smuggling plots over the past three years, most involving 9 mm handguns. Many additional incidents on both sides of the border were not reported publicly—as the authors learned in private conversations with officials, one or two smuggling incidents occur every week across the Israel-Jordan frontier, some of which are interdicted, and others that are only detected after the fact.
Some of this weapons smuggling benefits terrorist groups, but the vast majority of it is driven by criminal smuggling networks that include Bedouin tribespeople and span the Jordanian, Israeli, and Egyptian borders. Interestingly, however, Imad al-Adwan's plot does not appear to have involved these networks.
Supply and Demand
Like other markets, the black markets that are fed by weapons smuggling are driven by supply and demand, and in this case, the supply is ample. Jordan sits at the crossroads of a region awash in conflict and overflowing with weapons. Guns are brought into the kingdom from neighboring Syria and Iraq across well-worn smuggling routes, many of which became much harder to patrol when jihadist groups controlled the Syrian side of the border (notably, this situation did not seem to improve after Syrian regime forces reestablished control over certain border areas). According to author interviews, handguns cost about $2,000 in Jordan's saturated weapons market—but sell for $5,000 in the West Bank.
Meanwhile, demand for weapons remains high in the West Bank and Israel. Some of this demand is driven by the spike in West Bank militant activity in the past two years, including by new groups unaffiliated with Hamas or Palestinian Islamic Jihad. In 2022, thirty-one Israelis were killed in terrorist attacks, compared to four in 2021 and three in 2020. Another eighteen have been killed already in 2023, along with more than 90 Palestinians. Amid this wave of terrorism and a simultaneous rise in crime, Israeli applications for gun licenses have spiked by 400 percent since 2021. Criminal syndicates have likewise sought more weapons during this period. According to one East Jerusalem dealer, "Guns are everywhere...You can buy a gun in an hour...You can even buy a machine gun...They're very expensive. But demand is very high. So it is a very good business."
Although many of these weapons flow in from Jordan, the kingdom is by no means the only source of black market guns. A bigger problem is the organized theft of weapons and ammunition from IDF bases. In November 2022, for example, thieves stole 70,000 bullets and around seventy grenades from a base in the north. By one account, 70 percent of Israeli shooting incidents in 2021 involved stolen IDF weapons. Another study found that between the stolen IDF weapons and those smuggled through areas controlled by the Palestinian Authority, there are now tens of thousands of illegal weapons in Israel's Arab communities.
What Is Being Smuggled, and Where Exactly?
Upon his arrest, Adwan was reportedly stowing three bags of weapons, including some 200 handguns and about a dozen AR-15-style assault rifles. This is far above the normal haul for gun busts along the Jordanian border, which have averaged around 15 handguns and 1-2 assault rifles over the past two years. Other recent (albeit smaller) outliers suggest that the scope of such smuggling may be expanding. Earlier this month, for example, police confiscated 63 handguns and arrested a Bedouin Israeli citizen suspected of smuggling them from Jordan. And last December, Israeli authorities arrested two Bedouin brothers and a Palestinian from the northern West Bank on charges of smuggling weapons and some 150,000 rounds of ammunition, which they then sold to members of Palestinian Islamic Jihad in the West Bank and to criminals in southern Israel.
Notably, the smuggling covered in the 2021-23 dataset is not limited to guns. Along the Jordanian border, 94 percent of smuggling attempts involved weapons while the rest involved drugs; one cache also included 80,000 Jordanian dinars. In contrast, 93 percent of attempts along the Egyptian border involved drugs, only a few included weapons, and one included thirteen bars of gold.
As for the precise location of each cross-border smuggling operation, this information is often unknown in the case of incidents emanating from Jordan. Government press releases and media reports identify where arrests take place, but this is usually not where the actual smuggling occurred. In general terms, however, all but one of the Jordanian smuggling attempts listed in the dataset took place along the northern section of the border above the Dead Sea, with suspects either crossing into the West Bank or entering Israel somewhere between Beit Shean and Hamat Gader.
Conclusion
Although Israeli-Jordanian relations have been increasingly strained of late, Adwan's arrest is unlikely to destabilize them. The kingdom's Foreign Ministry released a statement calmly noting that it was following up on reports of the arrest with the relevant authorities, while Israeli foreign minister Eli Cohen went out of his way to state that he does not blame the Jordanian government for the incident, instead depicting it as "a foolhardy criminal act." Such restraint stems from the fact that both governments work hard and in close coordination to prevent terrorist and criminal activities across their 300-mile frontier, including the West Bank. In private conversations, Israeli and Jordanian officials often praise each other's efforts to counter cross-border smuggling—though they typically note that more can be done. Indeed, despite the audacity of Imad al-Adwan's case, the greater threat for both countries still comes from day-to-day smuggling operations along their insufficiently guarded northern border.
Matthew Levitt is the Fromer-Wexler Fellow and director of the Reinhard Program on Counterterrorism and Intelligence at The Washington Institute. Lauren von Thaden is a research assistant in the program. This article draws from their in-depth CTC Sentinel study on increased smuggling across Israel's borders.