Israel Likely Headed to Another Election: Outlining the Political Battle Ahead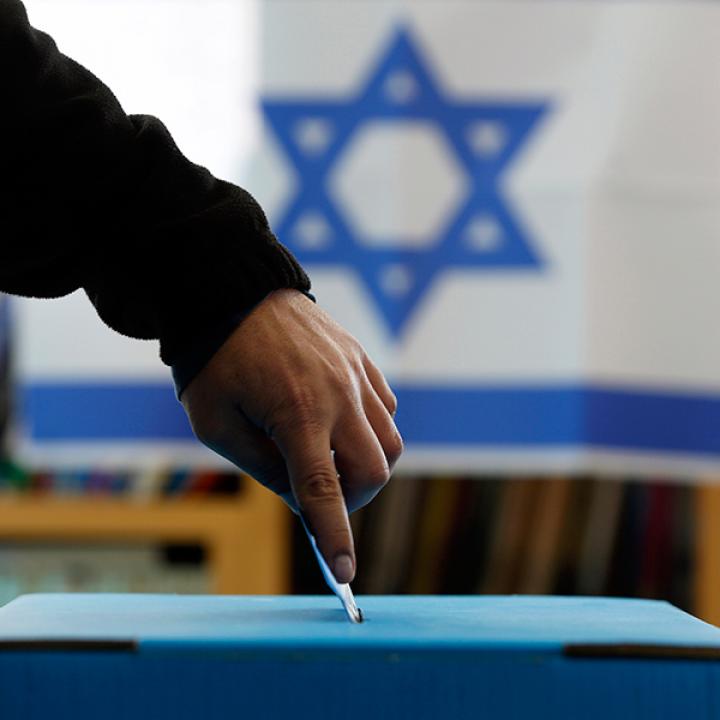 Following Prime Minister Bennett's resignation, an expert assesses the coalition's prospects of finding a more viable configuration—and Netanyahu's chances of completing his return to power.
This PolicyWatch is based on insights gained during the author's participation in two recent Washington Institute events: a trustee study trip to Israel and Ramallah, which included meetings with many senior government officials, and a virtual Policy Forum with colleague Dennis Ross, broadcast from Washington on June 23. Additional insights stemming from these events will be covered in subsequent releases.
In the coming days, Israel's Knesset is poised to take steps that will trigger the country's fifth national election in three-and-a-half years. Facing the prospect of parliamentarians at the edges of his fragile coalition forcing an early election anyway, Prime Minister Naftali Bennett sought to preempt such a move by initiating his own departure and naming his successor. On June 20, he announced that he would step down in favor of Foreign Minister Yair Lapid. Bennett was lauded by many for his collegiality in passing the baton, accentuating his focus on consensus politics and unifying statements during a one-year tenure marked by several notable accomplishments.
The decision will turn the most ideologically, ethnically, and religiously diverse coalition in Israel's history into a caretaker government led by Lapid—and also mark the first time since 2009 that the country will be led by someone not affiliated with the right. Although this government will have full executive authority, it will not be able to pass any new laws in the Knesset on its own. Yet given the difficulty Israel has experienced with forming governments in recent years, Lapid could well remain a caretaker leader for months beyond the expected election date in early November.
Political Trench Warfare Ahead
The battle lines for this election are already drawn—Likud Party leader Binyamin Netanyahu is determined to stage a comeback and has demonstrated via polls that his public appeal is undiminished by a year in the political wilderness. Moreover, Israel's political right has a tradition of reverence and loyalty toward its leaders, backing just four standard-bearers since 1949: Menachem Begin, Yitzhak Shamir, Ariel Sharon, and Netanyahu, the country's longest-serving prime minister.
Unfortunately, Netanyahu and his supporters resorted to highly controversial tactics in order to secure their stated goal of bringing down Bennett's government. Tremendous pressure was brought to bear on wavering parliamentarians at the coalition's edges, including demonstrations outside their homes and public taunting of their children. Netanyahu himself is known to have contacted local rabbis in the hope that they would pressure the families of these politicians. He also hypocritically linked up with leftist members of the opposition to prevent the passage of laws that would have benefitted the Jewish West Bank settlers he has long pledged to support—a gambit that proved to be the final straw for one member of Bennett's party, whose desertion triggered the prime minister's resignation.
Members of the Likud-led opposition coalition now indicate that if they win a majority of 61 seats in the 120-member Knesset—a goal that eluded them in the four previous elections—they will pass legislation insulating Netanyahu from his ongoing corruption trial and shifting the selection criteria for Israel's Supreme Court. Such scenarios likely ensure that most or all of the anti-Netanyahu bloc will stand together in the next election cycle, viewing this as the only way to avert the erosion of key democratic institutions.
Given the scope of this political deadlock, no knockout punches are expected—instead, the parties will likely engage in the political equivalent of trench warfare. Now polls suggest that if the election were held today, 59 seats would go to the pro-Netanyahu camp and 55 to his opponents, with the remaining 6 going to the Arab-majority Joint List, who are unlikely to join either camp. Accordingly, much effort will be spent trying to increase turnout or sway a relatively small portion of moderate voters in order to reach 61 seats.
Netanyahu vs. Lapid or Abbas vs. Ben-Gvir?
In all likelihood, both blocs will favor the same campaign tactic: identifying the other side's most controversial figure and casting him or her as a kingmaker, in the hope of alarming enough moderates to switch sides. Netanyahu's camp will no doubt continue its effective approach of questioning whether an Arab Israeli party with an Islamist orientation—meaning the United Arab List (UAL) led by Mansour Abbas, a key member of Bennett and Lapid's coalition—should be a full partner in any government. To this end, Netanyahu will seek to link his political opponents to Abbas while accusing him of secretly aiming to undermine the state. Netanyahu has often had success in playing to voters' biggest fears.
Yet this strategy carries risks. Many voters will remember that Netanyahu himself courted Abbas to join his last government, a move vetoed by hardline members of the right-wing coalition. Moreover, Abbas has become popular in Israel due to his personable disposition and courageous public pledges that he will refrain from challenging the state's Jewish character. Previous elections have also taught Netanyahu that fearmongering about the role of Arab Israelis can easily create backlash that increases turnout in that community against him.
As for the anti-Netanyahu bloc, they are expected to focus their attention on the right's most polarizing figure: Itamar Ben-Gvir, a disciple of Meir Kahane, the infamous parliamentarian who was banned from the Knesset in the 1980s due to his virulent racism against Arabs. Ben-Gvir's style is to insert himself in high-profile melees with Arabs and declare that they are merely "guests" in Israel. Although most voters are appalled by his tactics, a new phenomenon is afoot in this nascent election cycle—polls suggest that for the first time, young ultraorthodox males, especially those who previously voted for the Shas Party, are no longer listening to the political recommendations of their religious leaders and are instead attracted to Ben-Gvir's confrontational rhetoric. Once a swing bloc, this faction is now solidly hard right and growing—including demographically. Stunningly, Ben-Gvir's party is running third in current polls. Lapid was therefore quick to assert this week that a vote for Netanyahu is a vote for Ben-Gvir, warning citizens that the provocateur du jour would hold the balance of power—and a senior portfolio—in a very narrow government.
Enlarging the Anti-Netanyahu Bloc or Just Rearranging?
While Netanyahu's bloc has proven itself to be very cohesive, questions abound regarding two groups in the anti-Netanyahu bloc. In theory, moderate right-wing elements in the Bennett/Lapid camp would have the best chance of wooing voters away from Netanyahu given their ideological proximity. Yet they seem to be in disarray at the moment. Bennett is signaling that he wants to take time away from politics after a tough year, and much of the base that voted for his Yamina Party now seems more in sync with the opposition.
If Bennett steps away, Justice Minister Gideon Saar would seem well-placed to lead this camp, since the members of his New Hope Party bolted from the Likud, have been repeatedly characterized as "conservatives with a conscience," and have steadily resisted entreaties to come back. Indeed, the six seats they won last year proved decisive in cementing the nascent Bennett government. Yet a May poll by the Israel Democracy Institute painted a bleaker picture: while 60% of respondents who voted for New Hope said they were satisfied with the party's performance, just 18% said they would vote for it again. Similarly, just 36% of Yamina respondents indicated they would choose Bennett's party again. The assumption is that many of these voters would return to the Likud, explaining Netanyahu's recent bump in the polls. Unless the moderate right can reverse this sentiment, the anti-Netanyahu bloc may not have a pathway to victory.
Mansour Abbas and UAL could give the coalition more cause for hope, however. According to the poll cited above, an estimated 66% of his voters are pleased with his performance (particularly the increase he spearheaded in budgetary support for Arab and Bedouin communities), and 77% plan to vote for the party again, compared to 58% among the Joint List's supporters. Moreover, UAL won four seats last election when Arab turnout was just 45%—a full 20 points below the previous round. Abbas is therefore betting that his seat tally will rise substantially if Arab turnout increases; he might also gain support among those Jewish voters who appreciate his support for the state's Jewish character.
Yet Abbas will need to figure out how to overcome a challenge that arose last election—namely, when two rival Arab factions campaigned against each other (UAL vs. Joint List), many Arab voters stayed home out of dissatisfaction with the lack of unity. Another challenge is the death of Said al-Harumi, a key parliamentary link between UAL and the Negev Bedouins who provided the party with nearly 30% of its vote. Meanwhile, Mazen Ghanaim, a UAL parliamentarian who had a strong Arab municipal base, is leaving politics. The question is whether Abbas can replace these figures with people who share his worldview of focusing on government services rather than challenging the state's character. He might also seek candidates that represent a younger generation of Arab Israelis; according to polls, this demographic is more eager to integrate into Israeli society.
David Makovsky is the Ziegler Distinguished Fellow in The Washington Institute's Koret Project on Arab-Israel Relations and creator of the podcast Decision Points.