Bennett on the Brink: Israel's Precarious Coalition One Year On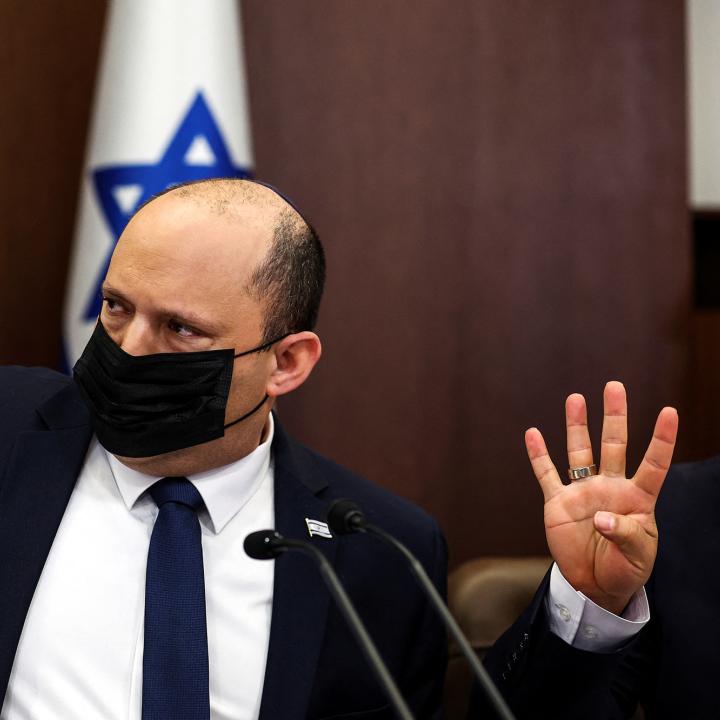 Despite the government's progress on deepening foreign ties, safeguarding domestic institutions, and bringing Arab Israeli leaders into national decisionmaking, it may soon be brought down by opposition maneuvers and fallout from terrorist attacks.
On June 13, Israeli prime minister Naftali Bennett's coalition government marks its one-year anniversary—a noteworthy accomplishment given the long sequence of flash elections and political gridlock that preceded it. Yet even as it reaches this milestone, the coalition's existence remains precarious at best. Its days seem numbered, even if it is somehow able to survive the summer parliamentary session.
Successes of the Bennett Government
One of the coalition's organizing principles was a belief that the independence of Israel's law enforcement and judiciary institutions was at risk amid the corruption trial of former prime minister Binyamin Netanyahu. And at the most basic level, the Bennett government's successes on this front can be seen in its daily functioning. While Netanyahu viewed annual budgets and regular appointments as a constraint on his power, the current government passed a budget last fall—the first since 2018—and filled dozens of diplomatic and judicial posts that had been held in abeyance for years.
Successes have been achieved in other arenas as well. Right before Bennett came to power, Israel fought its fourth conflict with Gaza since 2009, causing widespread destruction and forcing citizens into bomb shelters. Over the past year, however, virtually no Gaza rockets have been fired at Israeli communities—just six, in fact, compared to more than a thousand during the war. The May 2021 conflict also featured riots in several Israeli cities where Jews and Arabs live in adjoining neighborhoods. Yet none have occurred since the new coalition came to power. At the request of its Arab partner, the government has prioritized heightened policing in long-neglected Arab towns, reducing organized crime in these neighborhoods by as much as 30%.
Indeed, one of the government's biggest experiments has been the inclusion of the Islamist United Arab List (UAL) as a partner. At the center of this effort is UAL leader Mansour Abbas, who has evinced political and personal courage by not challenging Israel's character as a Jewish state, instead prioritizing greater budgets and services for Arab Israelis while articulating a pathway of Jewish-Arab coexistence. According to the results of a March 2022 poll conducted by Hebrew University, his moderate course seemed to make significant inroads among Jewish Israelis. In a previous January 2021 poll, Jews had rejected the idea of integrating an Arab party in a governing coalition by a margin of 56% to 25%, and by a margin of 76% to 7% among those on the political right. By this March, however, the numbers were close to parity among Jews in general (37% approval vs. 41% rejection) and had improved somewhat on the right as well. (Notably, though, other surveys show that respondents who do not like Bennett's government tend to prefer that Jews and Arabs live apart.)
Regarding Israeli relations with the United States, Bennett, Foreign Minister Yair Lapid, and Defense Minister Benny Gantz have sought to avoid the collisions with Washington that occurred under Netanyahu. It helped that President Biden is likewise a believer in solving differences with Israel quietly. The goal of both governments is to avoid making Israel a partisan issue in the United States while also healing some of the wounds suffered during the Obama administration. Nowhere is this approach tested more than on the Iran nuclear deal, a complex issue that has been a recurrent source of tension and requires its own analysis. Yet the Biden administration has supported Israel's opposition to delisting Iran's Islamic Revolutionary Guard Corps as part of a nuclear agreement.
A major foreign policy success for the new government has been its ability to deepen ties with key regional leaders such as King Abdullah of Jordan (who had a bitter relationship with Netanyahu), President Abdul Fattah al-Sisi of Egypt, and President Muhammad bin Zayed of the United Arab Emirates. Bilateral ties with the UAE had already shot up since the Netanyahu government signed the Abraham Accords, but personal ties between the two capitals have deepened under Bennett, particularly after Israel extended military assistance to Abu Dhabi in the wake of Houthi rebel attacks from Yemen. The capstone of this rapprochement was the five-country summit held this spring at Sde Boker, home of iconic Zionist leader David Ben-Gurion. Attended by Secretary of State Antony Blinken, the summit saw Lapid establish close communications with four of his Arab counterparts via the WhatsApp and Signal messaging services, then set up six working groups on issues such as security, climate, and health, providing a new framework for deepening ties among the countries. Yet while relations have improved between governments that are party to the Abraham Accords, this list may not broaden unless President Biden's planned visit to the region next month prompts first steps between Israel and Saudi Arabia.
Seeking Balance on Palestinian Affairs Amid Right-Wing Attacks
Despite the coalition's accomplishments over the past year, right-wing fury has kept it from enjoying a day of peace in the Knesset. Much of this anger has been directed personally at Bennett and his party for taking votes away from the right to form a hybrid government with leftist and centrist parties. In some cases, party members and their families have faced intimidation in their own neighborhoods, spurring at least two and possibly three parliamentarians to withdraw from the coalition. Bennett's popularity was also hurt by terrorist attacks conducted during Ramadan, when nineteen Israelis were killed. Historically, such attacks have tended to move Israelis rightward—indeed, recent polls show a gain for Netanyahu, putting him close to the number of projected votes needed to force the formation of a new government, while the hopeful March poll numbers on Jewish-Arab coexistence have gone backward since the Ramadan attacks.
In navigating its political challenges, the government has sought to strike a balance on the hot-button Palestinian issue over the past year. Although Bennett has ruled out political negotiations with the Palestinians for now, he has allowed Gantz to pursue economic dialogue on projects that will provide 20,000 new jobs for Gazans in Israel—a factor that is seemingly constraining Hamas's willingness to fire rockets for the time being. In general, however, Palestinians regard what Israel has offered as insufficient.
Meanwhile, Bennett has tried to push back on right-wing attacks by highlighting Netanyahu's host of incorrect doomsday predictions—namely, that the new government would cave on key issues with Washington (e.g., settlement activity; the reopening of a U.S. consulate in west Jerusalem), come under fire from Gaza, and halt all covert activity against Iran. None of those predictions panned out.
Obviously, however, any Israeli attempt to merely put aside the Palestinian conflict for long stretches of time would be difficult, if not impossible. Yes, Gulf leaders have shown that they have other priorities, but they cannot ignore when clashes break out on the Temple Mount/al-Haram al-Sharif during Ramadan, resonating religiously throughout Arab countries and media outlets (e.g., the UAE sent Israel a firm demarche on this matter last month). Moreover, the Bennett government did not count on Netanyahu's astounding insistence that the Likud Party vote with the Joint List of Arab parties outside the coalition on key laws related to the Palestinian conflict. The fact that Netanyahu has no qualms about allying with factions that oppose Israel's Jewish character is richly ironic given his frequent charges that the Bennett government is insufficiently Zionist.
As a result, the government is feeling pressure at both ends. One member of Bennett's party is threatening to leave unless parliament reaffirms a law enabling Israeli settlers to fall under Israeli jurisdiction, while two members on the coalition's left edge are vocally opposing the same law. The government is facing this extremely delicate situation amid ongoing efforts to convince internal critics to resign in favor of members who are more supportive of the leadership's policies. Given Netanyahu's surge in the polls since the terrorist attacks, one cannot rule out new elections by year's end.
Conclusion
A few main lessons have emerged from the coalition government's first year in power. First, it has demonstrated that parties can work together across the aisle when the Israeli-Palestinian conflict is not center stage—and that doing so can improve ties with Washington and the Gulf states. Paradoxically, however, this conflict affects too much of Israel's daily life for it to be ignored altogether, especially when members of the right-wing political opposition are willing to exploit the situation tactically by voting alongside parties that run counter to their central tenets. It is too soon to know if the experiment of integrating Arab Israelis in government decisionmaking will endure, yet terrorism seems once again to be moving Israelis rightward—just as it has for decades—putting the hybrid coalition in deep peril.
David Makovsky is the Ziegler Distinguished Fellow in The Washington Institute's Koret Project on Arab-Israel Relations and creator of the podcast Decision Points.