Defense Minister Benny Gantz Discusses Israel's Strategic Challenges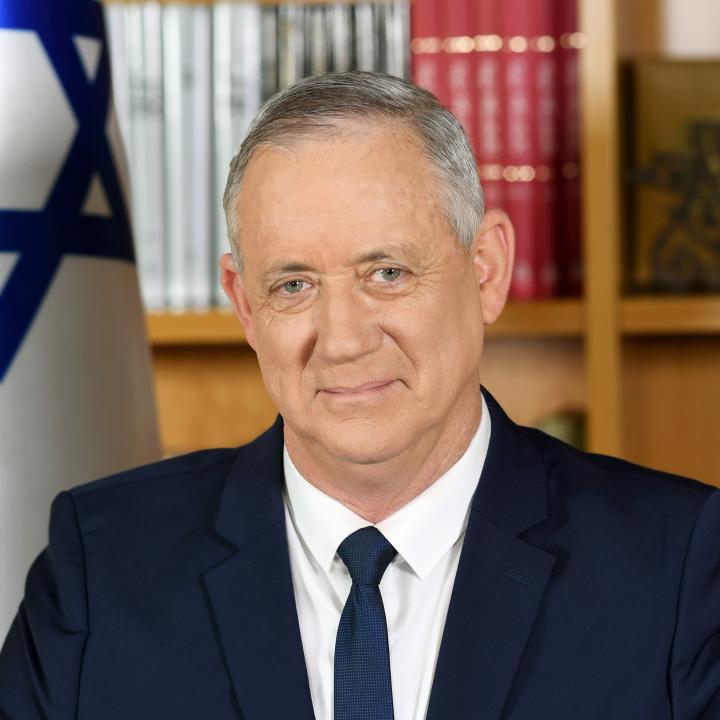 The country's top defense official shares his insights on recent terrorist attacks, the Iran nuclear talks, the Ukraine war, expanding cooperation with regional countries, and more.
On April 11, The Washington Institute held a virtual Policy Forum with Israeli minister of defense Benny Gantz. A key pillar of the country's coalition government, Gantz is the leader of the Blue and White Party and former chief of staff of the Israel Defense Forces. The video conversation was moderated by Robert Satloff, the Institute's executive director and Howard P. Berkowitz Chair in U.S. Middle East Policy. The following is a transcript of Gantz's opening remarks and the subsequent Q&A session, edited for style, grammar, and clarity.
Robert Satloff: I am delighted to welcome the minister of defense of the state of Israel, Benny Gantz, deputy prime minister, former chief of staff, chief to the general staff of the Israel Defense Forces. Thank you very much, Benny, I'm really delighted that you could take time. I know that these are busy days, with great challenges at home and abroad, and I thank you very much for joining us. You are online, with the Washington Institute for Near East Policy, with people who are joining on multiple platforms, and I look forward to a fascinating conversation with you. But I want to first give you the floor for some opening remarks at this very important time for you and the state of Israel. Ladies and gentlemen, Benny Gantz.
Benny Gantz: Hello again. Thank you, Rob. Always great to meet with you and with you all. And before saying anything I just want to wish a happy Passover to everybody, and happy Easter to those who celebrate Easter, and happy Ramadan, Ramadan Kareem, to those who celebrate Ramadan. We are in holy days season, which is very important for us all. And I hope it is going to be a quiet season as much as possible. The beginning is not something to be proud of, but it's the reality as it is.
From my perspective, Israel needs to deal with five strategic challenges. Two of which are domestic, regarding the fabric of the Israeli society and Israel's infrastructure, meaning the periphery up north and down south. With your permission I will not reflect on the internal challenges that we have, but I will focus on three external ones, or regional ones that I think we need to deal with. And it's about Israel and the global area, the Iranian challenge, and the relations we have with our Palestinian neighbors
As far as Israel and the global arena, we should say that Israel's global standing and its international relations bring both challenges and opportunities. First, I would say about U.S.-Israel relations, as I have said so many times before, we do share a unique bond. And really the amount of visits from the United States to Israel and Israel to the United States and the support we get from the United States are second to none. And we are very grateful for the security assistance that we have been getting and for the passing of the last resolutions and other activities, of course.
And I think that we must find ways to constantly strengthen our relations with the international community under the leadership of the United States, and we must increase and strengthen our relations with our regional neighbors, which is definitely a very good trend. Actually what we are seeing currently is simultaneous trends. There is the positive trend of normalization from one direction, based mainly on the peace agreements we have with Egypt and Jordan, added to the agreements we have with Bahrain, the UAE, and Morocco; and I must say the good relations we have with other countries, even if we don't have official treaties with them. The other trend is the efforts of the Palestinians to delegitimize Israel, whether it's with BDS, or "apartheid," or the pressure we get from the international community over the Palestinian issue.
And I think we must find ways to minimize the international pressure. Of course from my political perspective, I think that we must find ways to live with the Palestinians in what I would call a "two-entity situation," versus the old phrase of "two-state solution." We can elaborate on this later on if you wish.
Still in the international arena, I will say a few words about Ukraine. Obviously Israel stands with the West. We seek a quick end to the war. We are totally committed to humanitarian aid and we maintain mediation efforts and communication with both Ukraine and Russia. This is, of course, very important.
Of course, there is the Iranian issue. I've said it before, this is a constant concern. I believe that Iran is a global and regional challenge, and also a threat to the state of Israel. I hate to see it as a solely Israeli problem because then one might say "go ahead and fix it"—no, I don't think that's the case. I think Iran is involved in the global arena, I think Iran is involved in the regional area, and we must look at it as such.
Iran continues to enrich uranium, as we all know, and they are very close to the 90 percent capabilities. I would say a few weeks away from it. Everybody is pressing for an agreement with them on this issue, and many are saying that we better push them back a little bit from where they are right now.
We all understand that the post-agreement time will be a totally different situation as far as Iran's activities in the area. It will give them lots of funds, and I think that we may see a negative impact on the regional activities given the fact that they will have so many funds. So I must say that I don't like to see a poor agreement trying to solve a big problem. And if there is an agreement, it has to be solid and fill all loopholes, such as sunset language, warheads, et cetera. I won't repeat the whole list, which was known in advance.
There might be a situation in which there won't be an agreement. I think that in that case there is a vacuum, and I think then we should see a Plan B activated by the international community that can be united as we saw with the Ukrainian issue. And if we need to, we can move forward with economic pressure, intelligence cooperation, diplomatic pressure, power projection, regional counterterrorism activities, et cetera.
From our perspective of course Iran is also an operational threat, and we must be prepared to deal with Iran as a whole package, if you will: on the nuclear issue, and on the state aspect assuming that they will act against us. I think we must continue to work against the IRGC and Qods Force. They are the biggest exporter of terror in the world, and I think it should be treated as such. And we must deepen and expand our cooperation in the region.
So I've talked about the importance of staying connected to the international community and its challenges. I spoke about the importance of facing Iran as it is and not as we hope it to be. And with your permission I will say a few sentences about the Palestinian arena and we can go to questions from there.
Basically, I think as far as Gaza, we have changed our policies since Operation Guardian of the Walls almost a year back. We are very conservative as far as military activities. But we are very open with humanitarian and economic activities. There are some 12,000 workers coming from Gaza, and this has injected lots of economic relief into Gaza. It's a huge challenge operationally speaking, but it's very quiet right now. It can change on an hourly basis, so don't be surprised if something happens today, tomorrow, whenever it is, it can always change, and we are in very sensitive times.
As far as the Palestinian Authority and the rest of Judea and Samaria, we should continue to strengthen our ties with the Palestinian Authority at all levels. From the state level to the operational level, this is very important. We must continue our security cooperation with the Palestinian Authority. We should continue with confidence-building measures with the Palestinian Authority, to increase more permits, building approvals, and industrial zones they are developing. And do everything in our capacity to make sure that we have good relations with them.
My policy is to ensure our security while investing in the future of the Palestinians, but mainly from my perspective making sure that Israel gets to stay a Jewish and democratic state—as I said before, with a "two entity" concept. When people say "two-state solution," it creates a huge gap between an old phrase, on one hand, and a very far away vision on the other hand. And this is very complicated as a reference style. So what I am trying to build in the middle is a better reference for the Palestinians and us—first, to make sure that we have security; second, to develop the economy; and then down the road to increase Palestinian governance as much as possible. Because I want to deal with Israeli civilians and not with the Palestinians—I want them to do it, and for me this is very important.
Last but not least is our recent terror attacks. We went through several attacks in the last two weeks. Unfortunately, fourteen people were killed. Dozens of attacks have been prevented. Basically, our forces are employing the triangle of intelligence activities; offensives connected to the intelligence activities, to try to be as accurate as we can and as precise as we can, and intercepting those that need to be intercepted and let the others live as much as possible; defensive measures, and we try to separate as much as possible between the terrorists that we are fighting against and of course the population.
This is a challenging and sensitive time. Ramadan should be a time of worship, spending time with families, et cetera. And I believe, really believe, that most Palestinian and Israeli citizens want to celebrate the holiday just as such.
Last Saturday I spent iftar dinner with Muslim friends in the city of Taibeh in Israel. They are totally against terror activities and they want to live their life, and I think this is as much I can say. We must make sure that the Temple Mount is open for worship. Last Friday there were close to 50,000 people there, and I'm sure that that will be, hopefully, the future as well.
It is very important that the Palestinian Authority officials have condemned the attacks. Having said that, some of the officials are inciting terror mainly in the area of Jenin, and this hurts both Palestinians and Israelis. And I hope to see concrete action by the Palestinian Authority. We obviously won't be waiting for them, but we will try to maintain communication with them as much as possible.
And as I look at this wave of terror, there is the risk of escalation into a wider campaign in Gaza, or some events in Lebanon, or I don't know what else—we go from one day to another, and it's very hard to see what the future will be. But I am sure we will beat this terror wave with our powerful security forces, by the resilience of our nation and people, and by the balance between determination, operational determination, and responsible policy as much as I can.
So much for the opening remarks; Rob, I can take any kind of questions.
Satloff: Terrific, thank you very much, Benny. That was a very useful look at a broad range of topics. Lots of issues to discuss. So I think it's important to begin where you left off with the wave of terrorism that Israelis are facing.
I want to ask you about your analysis of where this is coming from. Some of these attacks are claimed by the Islamic State, some praised by Hamas, Jenin, radical elements of Fatah. Is there organization to this? Are these lone wolves? What is your assessment of what is behind the wave of terror?
Gantz: Yes, as I said before, most of the people in Israel, in Judea and Samaria, and I would risk to say in Gaza as well, want to spend Ramadan as such. Most of them are against it, et cetera. When you look at the organization perspective, I would really differentiate ISIS/Islamic State as a combination of idea and organization. Sometimes you can think of it more as an idea than pure organization, even though it has some kind of organizational structure. Those three people that were involved, they identify themselves with the organization. It's not like the organization sent them et cetera.
I guess we have several of them. We are trying to intelligently pin them and activate directly against them. Take the town of Umm al-Fahm, where those two people came from—you hear the head of the municipality talks against them, as harsh as I am talking against them, which is very important from my perspective, and I encourage these kinds of activities.
And when I look at Hamas and Palestinian Islamic Jihad, I think that I can talk about the phrase NIMBY, "not in my backyard." They are encouraging terrorist activities, but not in their region because they want to keep it quiet as much as possible. Everybody must remember that those kinds of things do not always get to stay under control. Escalation can happen and feed itself. This is why it is very dangerous. If you go through a quiet day, it may feed a quiet day to follow. If you go through a day with events, it may feed another day of events to follow.
So there is not much I can say, I hope we can keep it quiet and take it day by day. There is not a day that goes by without me assessing the situation—once again, trying to make sure that the vast majority of the population gets to stay out of it, and I hope I can keep it this way.
Satloff: So a year ago, Jerusalem was the focus of tension, and conflict erupted. This year it's been quiet, so far at least, and hopefully will remain so. Now I know that you've been investing quite a bit. What has changed between last year and this year, that things so far have remained quiet in Jerusalem?
Gantz: I think that several issues were put away, such as the issue of Sheikh Jarrah that was closed by the court and is not an issue anymore. We have changed some of our tactics to try to mitigate conflicts in the field, I would say, in some places. Like at the gate of Nablus—instead of just having troops there we have opened different small shops and things like that where people can actually come and enjoy the place.
Having said that, we still had two events in the last few days that are starting to be problematic. We tried to make sure that people who want to come to pray at the Temple can come do so. We have enabled people over fifty years of age to come without permits, and if the situation continues to be good I will expand it for people over forty-five. I am hoping for the good, but I am ready for the bad, and I hope that we can continue to do good.
Satloff: Now I want to ask about how your government, how this current coalition, responds to terrorism, and how it compares to previous governments. In the past, Israel would often—in addition to security measures—respond to terrorism by approving this or that settlement program in the pipeline. I know you outlined a series of confidence-building measures that you've been investing in with the Palestinians and the Palestinian authorities. Do you also expect the current government to go down the other path of approving different settlement activity in the wake of this wave of terror?
Gantz: I have been sitting in my office nearly two years now, and I have approved thousands of houses for both Israelis and Palestinians. It's not just adding it to one side, I'm allowing both sides to be able to live their life normally, to develop Israeli settlements mainly within the blocs, but elsewhere as well. But I have also approved several Palestinian building plans in the area, et cetera.
I believe that by and large, we need to move from fighting against the struggle of who will not be living here, to how are we both going to live here. And it is a totally different approach. We continue to build for both Israelis and Palestinians in a lawful manner. In the right time—I believe in the close future, but in the right time—that's going to happen as I said under careful assessment of the situation, but it won't be stopped. And we will move forward with confidence-building measures and with economic activities as much as we can.
I'll give you an example of something we didn't do before and we are doing now. You can have factories, let's say, in Nablus that we have given permission to produce products under Israeli criteria. And they are doing it in Nablus, and they are marketing directly to Israel with no inspection in the middle. So things are moving forward, and the better the economic situation is, the better off we are with stability, and once it's stable and there is a good economy, the security level goes up.
And we are telling our Palestinian neighbors, "When it is quiet you will enjoy the economic flourishing." That's the case in Gaza. They have 12,500 people coming to work in Israel. If it stays quiet, I will increase it. If it goes wrong, I will have to cease it. I hope that they will understand it, and if God forbid they don't, there is always the negative way. We can always go there, it's easy for us.
Satloff: Just connected to this, just in the last twenty-four hours, I know you referred to the mayor of Umm al-Fahm being very tough against the terrorists that came from his town. We also saw a leading Arab Israeli politician, Ayman Odeh, urge Arab Israelis who serve in the security forces or the police to leave their jobs. What's your reaction to this?
Gantz: I think that's an irresponsible declaration. I know that Ayman Odeh condemned the terror activities several days ago. And I think that he is totally wrong and he shouldn't declare those kinds of things. He is an Arab leader, he should be trying to cool off the pressure and the heat rather than saying negative declarations as such.
Let us not forget a policeman by the name of Amir Khoury—who incidentally I used to know personally—was killed in Bnei Brak some ten days ago riding a motorcycle intercepting these terrorists. He is an Israeli-Arab Christian. We are human beings. The victims can be Israelis, whether they are Jews or they are Muslims. And the security forces are operating to secure everybody. And I think Ayman Odeh should have not said this, whatever he said.
Satloff: Benny, we touched on the intersection of security and politics, so before I go on to Ukraine and Iran I have to ask you: when given the political events of the last several days, how do you evaluate the stability and longevity of the coalition in which you serve?
Gantz: It's very hard to tell, but I can tell you this. While you can never be sure who will be the governing party or coalition, I can assure you that Israel gets to stay a democracy. And this is something that is very much there. So okay, I understand the political game and that people are seeking to ensure their political future, and it's very complicated because now in the parliament we are 60-60. It will be challenging to operate like this.
I think our government is a very complex government, but it pretty much represents the complexity of the Israeli society. Because we have right wing and left wing, we have Jews and Arabs, we have religious and secular. Unfortunately, we are only missing the ultraorthodox within the government.
I think we are doing a good job for the state of Israel in so many different aspects while maintaining security and dealing with the international environment as we do. We are still moving forward in advancing Israeli society. We are dealing very well with the coronavirus issue. We are observing what we call the aliyah waves or immigrants by the thousands coming from Ukraine, Russia, and Belarus mainly. And we have reignited economic growth in Israel.
So I hope that we can keep the government, but you know, Rob, you have seen politics more than I have, I have done so for only three years now, and it is very hard to see where we're going to be next week. I know where we want to be next week. We want to be with a functioning government, a responsible government, that serves the entire society of Israel
Satloff: Okay, fair enough. Let's move on to a couple of questions on Iran and the prospect of an Iran nuclear deal. Multiple voices have come out openly and reportedly from your government. On the one hand, some representatives of your coalition describe the prospective deal as even worse than the original deal, that it's even worse than the 2015 JCPOA from Israel's perspective. Other officials, and this was reported in the press, have said that perhaps even a bad deal is better than no deal, because it gives Israel an opportunity to have time to prepare additional options. So which is it? Or can both be true?
Gantz: Rob, you may remember that the first speech I gave after I retired from the IDF was at The Washington Institute, back at the end of 2015. And when I referred to the nuclear deal, I said something like, to the question of a good deal or a bad deal, it's a question of a done deal. So let's see what we can do with it as such.
I think that under the current circumstances, if we seek a deal, it should be a solid one, to try to minimize the loopholes that we are seeing within the deal itself. And let us not forget that we have already lost—or enjoyed, it depends on who you are asking—seven years, from 2015 to 2022. So the end of it is a bit closer than when we talked about a deal in 2015. So it depends, honestly speaking, on how you look at it. I understand the American wish to put the Iranian issue back in the box. But if you don't close the open loopholes, you're going to get serious problems down the road. So I understand the benefits of a potential deal, as long as it's taking care of what needs to be taken care of.
I don't know if there will be a deal or not. If there will be a deal, we will have to take the time permitted to continue ensuring our operational capabilities, et cetera. If there won't be a deal, we will have to move to Plan B, as I have said before. And when I am saying "we," I am referring to the international community, to the regional community, and to Israel as well.
Satloff: Can you say a bit more about how, if there is a plan, you would use the time available, and what role you would like the United States to play in taking this time, and making maximum use of it, to prepare for whatever needs to be prepared for?
Gantz: On this issue, I would have to limit myself obviously, because we are talking about very sensitive issues. And in fact, if I tell you exactly what I intend to do, obviously I will have to shoot you later. This is something I don't want to do, obviously.
Satloff: That's very kind of you.
Gantz: But speaking seriously, if I have to come up with several areas of activities, I would say that we must make sure that we are increasing our intelligence cooperation and create something like an intelligence coalition, if you will. A very broad one, that operates against Iran and compensates for the lack of inspection capabilities. Because if you want to have a good agreement, it should be inspection "anytime, anywhere." But this is not the case in the agreement. So we would have to fill the gap of intelligence.
We will also have to increase offensive capabilities and force demonstrations and cooperation and training together, and make sure that we are capable of working together—I will say something about Israel later on, but offensive capacity. We will have to intercept regional activities made by Iran in different places. And the countries are well known: Yemen, Syria, Iraq obviously, Lebanon, and Gaza. But there are other places. There are Iranian activities in Algeria, there is an Iranian connection to Western Sahara, you have Iranian activities in South America. So it's something that we have to deal with.
We will have to increase our defensive capacity in different places. And as I've said before, we will have to communicate with Iranian society, which I believe is a good society held hostage by a very negative regime. But that's a long-term activity.
From an Israeli perspective, talking about Ukraine, the main lesson centers on two aspects. One, we see how careful the Western world behaves with Russia. It uses lots of economic pressure, political pressure, et cetera. It's very careful with military options. My guess is it has to do with the fact that Russia is a nuclear superpower, so the calculus becomes somewhat different when you have such a challenge. This is something you should not allow Iran to develop. That's an international insight, if you ask me, it's a regional insight, and it's definitely an Israeli insight.
The second lesson learned from Ukraine is one we have known for years: eventually you need to solve your own problems. Nobody comes to help. Israel has never asked anyone to fight for it, and we must make our own measures on the entire issue that I have spoken of.
The last point is that we can hardly influence Iranian society or the Iranian economy because we are a small country. But we are capable and we should stay capable of dealing with the security and military aspects.
Satloff: Let me ask you two questions about Ukraine. First, have you seen any change in Russian deployments or operations in your next-door neighbor Syria? And does the Russian focus on Ukraine open up any opportunities in Syria? Is there a change in the strategic situation there that you can identify?
Gantz: There are changes in Syria, but I am not sure that they are too connected to the Ukrainian issue. Let me emphasize that basically, we have zero interest in Syria apart from the arms transfers that happen through Syria and the Iranian basing activities that we see there. We have been operating against this for many years now; we have done so and we will continue to do so, and we don't see much difference in what is being done there in terms of Russian policy.
I am happy to see a little bit more stability in Syria—that's the Assad regime, but still it's more stable than it used to be before. And I see some activities between Syria and the Arab League countries and its neighbors, talks and meetings that were not held for a decade or so. And I think that eventually, if Assad wants to be part of the region—of the close region, I would say—he would have to end his negative relations with Iran as far as military activities and terror activities in the area. But that's a trend that is yet to happen. I am not sure that he is capable of doing so. We will have to follow that.
Satloff: The other Ukraine question that I want to ask you—you referred to it earlier in your remarks—concerns how Israel has come in for some criticism. Some have accused Israel of not being sufficiently supportive of Ukraine, and of not sufficiently enforcing or joining in the sanctions on Russia. What's your response to this?
Gantz: I hear the criticism. I don't accept it. We are a small country with lots of regional factors that we have to take into consideration. We went with the West and the United States in condemning Russian aggressiveness. We moved forward with hundreds of tons of humanitarian support. We have done so with medical support. And we will continue to seek whatever we can give to the Ukrainian people in these very, very hard times. The pictures, and the reality, are really very bitter. There is no doubt about it. We share an aerial border with Russia, practically speaking, over the skies of Syria and Lebanon, and I think that we are acting right.
Satloff: Let me ask a couple of good-news questions, Benny.
Gantz: You always bring the good news at the end of it.
Satloff: I know, but there's some good news. There's been a flurry of progress in your relations with Arab states over the last eighteen months. It's very difficult to keep up. Two landmark achievements were your own trips to Morocco and Bahrain to sign security agreements. One has to pinch oneself to think that Israel actually has signed security agreements with states in the Gulf and North Africa. What's the content, what's the significance? And are you thinking of turning these bilateral agreements into regional opportunities for cooperation?
Gantz: Indeed, Rob, this is very good news. I told the story of when I was in boot camp as a young paratrooper, I was called to secure [President Anwar] Sadat's convoy on his way to Jerusalem back in '77. And I used the very same jet to fly to Bahrain as a minister of defense some forty-two years later. And that shows you how good Boeing's jets are, that it's still flying! And it is very exciting.
We should not take it for granted, you know. We are communicating with our Egyptian friends, with Jordanians, with Bahrain, the UAE, Morocco. We hope it will move forward with Sudan and other countries in the region as well, as it evolves. So those are indeed very good pieces of news. I hope it will continue from the level of diplomacy, military, intelligence cooperation, and operational cooperation into the people-to-people aspect. I think there is a good chance for that, especially when we talk about the UAE, Bahrain, and Morocco, which we have good relations with that we can benefit from. On April 4 we had an Air Force commander change, with General Bar replacing General Norkin, and during the ceremony we had three languages simultaneously—Hebrew, English, and Arabic—because his counterparts from the area came to participate. We have moved into CENTCOM's area of responsibility, which gives us the organizational framework to move forward with cooperation.
So those are indeed good trends. We will strengthen them, expand them as much as we can. I think that while we see a northern negative flank that goes from Iran to northern Iraq, Syria, and into Lebanon, there is a moderate camp south of it: Israel, Jordan, Saudi Arabia, the Gulf countries, and Egypt of course. I hope we will hear good news from Turkey as well. There is a little bit of warm-up activity lately.
I don't know if you can see it, but I have a picture of a half-full glass of wine here [pulls picture from shelf]. I always try to look at the half-full glass. I don't ignore the empty one, but there are some good trends as well.
Satloff: Just on that, before we conclude, can you see a realistic potential for regional efforts on issues such as missile defense or counter-drone technology, meaning practical partnerships between you and these countries? Not just bilateral relationships that you're building with individual countries?
Gantz: Without getting into details on this issue, I would definitely say it's a possibility.
Satloff: Okay. You've been very kind with your time, Benny. I know you have a lot of demands on you at the moment. I want to thank you very much, and I want to wish you a happy Passover. And hopefully it's a peaceful and uneventful holiday for you and your family.
Gantz: Thank you very much, and I hope so too. I want to wish everybody, anywhere, a good Ramadan, Pesach, and Easter holiday. I think that for us as political leaders, in Israel but elsewhere as well, there's always the operational layer that we have to make sure we activate. But at the same time, we must try to seek to shape the future into a better and more positive world. So this is what we are trying to do.
Satloff: Very good. Thank you very much, minister of defense Benny Gantz. And thank you for joining this special event at The Washington Institute.
The Policy Forum series is made possible through the generosity of the Florence and Robert Kaufman Family.
Topics
Regions & Countries