The Israeli Government Falls: New Election and Implications for U.S.-Israel Relations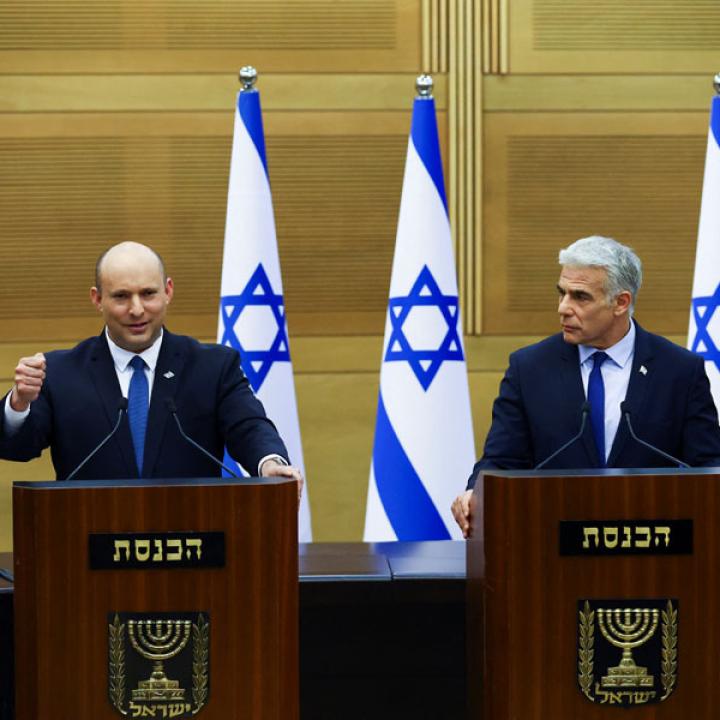 Watch an expert webcast examining the collapse of the year-old coalition government, the impact on President Biden's upcoming Middle East trip, and the potential consequences for broader U.S.-Israel policy.
The following is a rapporteur's summary of remarks delivered by Dennis Ross, The Washington Institute's William Davidson Distinguished Fellow, at a June 23 virtual Policy Forum. Insights from fellow panelist David Makovsky were summarized in PolicyWatch 3623.
During a June 15 meeting, Prime Minister Naftali Bennett expressed the pride he felt in his government for proving that Israelis could disagree ideologically and still work together. Five days later, he and Foreign Minister Yair Lapid announced their intention to dissolve the Knesset.
This decision resulted from the coalition's inability to pass a law renewing the application of Israeli civilian law to Israeli citizens in the West Bank. On June 6, the opposition partnered with defectors from two coalition parties—Meretz and the United Arab List (UAL)—to block the legislation. Bennett had hoped to convince the parliamentarians in question (Ghaida Rinawie Zoabi and Mazen Ghanaim) to either resign or vote in favor of the measure, but further complications arose when Nir Orbach, a member of Bennett's own Yamina faction, threatened to leave the coalition if the issue was not resolved. Failing to pass the legislation would have caused legal chaos for Israeli settlers living in the West Bank, so Bennett concluded that dissolving the government and activating his rotating premiership with Lapid was the only option to protect the status of these Israelis.
Opposition leader Binyamin Netanyahu had hoped to bring down the government and return his Likud Party to power through some means other than an early election, but the latter course appears most likely at the moment. Lapid will remain caretaker prime minister until the election takes place this fall and a new government can be formed—a process that will probably be prolonged for months after the votes are tallied.
The coming campaign may also force changes among those parties most at risk of falling below the 3.25 percent electoral threshold required to reenter parliament: UAL, Meretz, Yamina, and New Hope. Several mergers could take place, perhaps between New Hope and Yamina or Meretz and Labor.
Another wildcard is the distribution of votes between UAL and the Joint List, the Arab-led faction that competes in elections but has long refused to join Israeli governments. High Arab turnout could affect which of these rivals can gain more seats. It would also hinder Likud's ability to form a government. Netanyahu tends to run on platforms that capitalize on anti-Arab fearmongering, but this tactic could spur more Arabs to vote. Current projections indicate that if Arab turnout approaches 60-65 percent, Likud would have little to no chance of forming a viable coalition (the figure was 45 percent in last year's election but up to 65 percent in the previous round).
Regarding President Biden's upcoming visit to the Middle East, the potential impact on Lapid's campaign has been exaggerated. Yes, the new prime minister's political stature will be enhanced given that he shares certain left-wing credentials and views with Biden. Yet Lapid has already established his diplomatic credibility by organizing and hosting a multilateral meeting with four senior Arab officials—a signal achievement that marked the first time such a joint meeting had taken place inside Israel. By attending, the Arab foreign ministers in question demonstrated that they are now treating Israel as part of the region.
The Biden visit will have two main focal points. First, administration officials aim to work on a regional air defense initiative, jumpstarting efforts to integrate the air and missile defense networks of Israel and several of its Arab neighbors, including in the Gulf. Such cooperation will also deepen the process of normalization between Israel, other signatories of the Abraham Accords, and countries that have yet to join the accords. In particular, Biden's trip to Saudi Arabia could accelerate efforts to establish more direct ties with Israel. For now, the main matters under discussion are overflight deals—namely, opening Saudi airspace for flights into and out of Israel, and allowing direct flights for Arab Israelis attending the Hajj.
Biden's second focus will be the negotiations with Iran. Although all of the parties share a commitment to prevent Iran from developing nuclear weapons, they remain divided on how to proceed. The United States is focused on using pressure to reestablish the existing Joint Comprehensive Plan of Action (JCPOA), while Israel is concerned that the measures being considered will not be strong or effective enough to secure a better deal—one in which Iran would get full sanctions relief, but only in return for lifting the "sunset" provisions that will bring an end to the JCPOA's most important restrictions over the next few years (e.g., on uranium enrichment).
Finally, despite speculation to the contrary, Bennett's political career is not necessarily over. Recall that in 1982, a legal commission required Ariel Sharon to give up the Defense Ministry, and in the 1999 election, Netanyahu lost and "retired" from politics. Obviously, both leaders came back to become prime minister. In Israeli politics, never say never.
This summary was prepared by Valeria de la Fuente. The Policy Forum series is made possible through the generosity of the Florence and Robert Kaufman Family.