Israel Debates the Lebanon Maritime Deal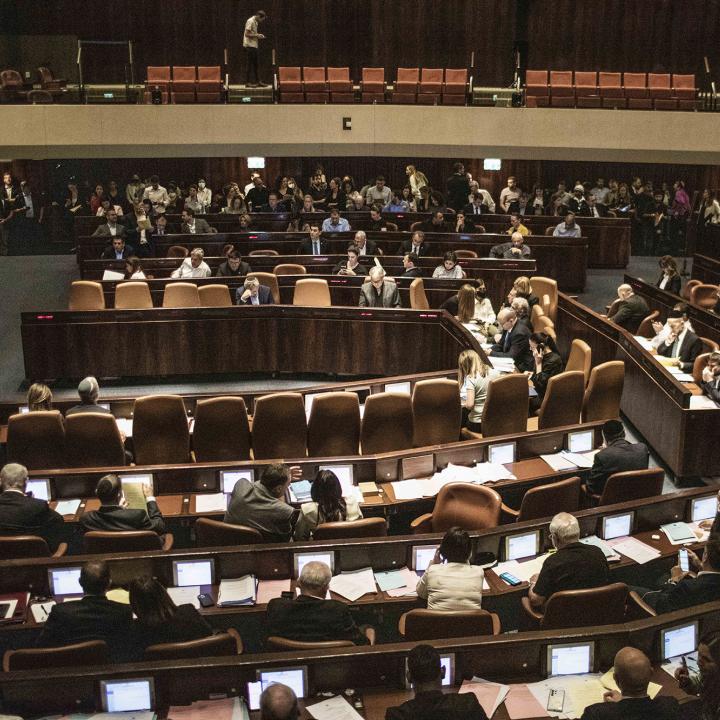 The imminent election and the resultant rush to strike a deal are distracting from what could be a significant diplomatic and economic milestone for both countries.
On October 12, Israel's cabinet voted to advance a new permanent maritime border agreement with Lebanon, capping off a decade-long U.S.-brokered effort to formally delineate the boundary between the two countries' exclusive economic zones (EEZs) and reach an understanding on their territorial waters. Altogether, the disputed area encompasses some 330 square miles, including the Qana natural gas prospect.
Establishing a maritime boundary is a singular event given that Israel and Lebanon have remained in a state of war since 1948, with no agreement to delineate any of their shared borders since the 1949 Armistice Line. Senior military and political officials on both sides helped push it through—Israel Defense Forces chief of staff Aviv Kochavi reportedly told cabinet ministers that the deal could "improve" Israel's security and Defense Minister Benny Gantz praised it as "important" for security, mostly by partially de-escalating tensions with Hezbollah. Recent statements by Hassan Nasrallah mark the Hezbollah secretary-general's first-ever public approval of any deal with Israel, although the agreement is not expected to single-handedly avert future Israel-Hezbollah hostilities on other fronts or lead to official diplomatic relations between Jerusalem and Beirut.
The agreement's timing is at least partly driven by the fact that both countries now have a common interest in facilitating offshore gas extraction, which requires a degree of stability around the zones in question. Upcoming elections in Israel and political unpredictability in Lebanon also play a role.
What Are the Deal's Terms?
This is Israel's first permanently delineated border with Lebanon—previously, their maritime boundaries were temporary lines set by Israel, while their only land boundary was drawn by third parties. After Israel withdrew from south Lebanon in 2000, the UN mapped out the so-called Blue Line, a land boundary that hewed closely to the 1949 Armistice Line. Although both governments generally respect this line, they have never formally recognized it, and the boundary has witnessed frequent violations and military hostilities over the years, most notably the 2006 war that began with a Hezbollah incursion. The UN did not demarcate a maritime boundary, so Israel strung up a buoy line extending 3.1 miles into the sea from the Ras Naqoura/Rosh Hanikra crossing. Israeli forces have patrolled it ever since, calling this a necessary security measure that prevents Hezbollah from establishing line of sight for rocket/missile fire against Israel's northern coast. Israel therefore considered it important for the deal to incorporate the buoy line.
Some of these past arrangements are integrated in the new deal, whose basic terms are as follows:
The "current buoy line" and the area up to the shore will be formally recognized as the "status quo" until a land boundary is demarcated by the parties. Beyond the buoys, the maritime boundary will follow Line 23 per Lebanon's request (see map below illustrating each government's claim prior to the deal).

According to Israeli prime minister Lapid's remarks at a press conference, Israel will receive compensation for its 17 percent share of the Qana prospect when the area is developed. This is to be done through a side deal with Total, the French company that will develop the field under contract with the Lebanese government. This arrangement also enables Beirut to claim that it will not be compensating Israel.

The United States will provide Israel with a side letter, suggesting that Washington will put its diplomatic weight behind its position on the deal's specific terms if Hezbollah or other parties violate them. In the meantime, President Biden phoned Lapid and Lebanese president Michel Aoun on October 11 to congratulate them on the achievement.

Given Lebanon's desire to avoid framing the agreement as normalization with Israel, the deal will reportedly be confirmed through a signing ceremony at a UN facility in the Ras Naqoura border area—apparently in separate rooms. It is unclear if the parties will sign a single document in addition to their commitment to deliver separate letters of confirmation to the United States.
Potential Political Obstacles
Both governments are under severe time pressure to finish formalizing the deal at home. Aoun's presidential term ends October 31, while Lapid is in a precarious caretaker position with yet another round of elections set for November 1. At an October 12 press conference, Lapid maintained that the upcoming elections were not a factor, citing instead the "closing window of opportunity" associated with Aoun's departure from office.
Last month, Israeli attorney general Gali Baharav-Miara ruled that the maritime agreement is not covered by a 2014 referendum law requiring that any territorial concessions be approved by either a majority of Israelis and the Knesset, or a Knesset supermajority. The attorney general is said to have told ministers that she would prefer a full vote in the Knesset but that the exigency of the situation, with Aoun leaving office, along with support from Israel's security services make such a vote unnecessary. Several petitions to Israel's Supreme Court are currently challenging this stance. According to a senior Israeli official, a three-member court panel will convene October 20 to review the ratification process, a step apparently representing the main hope for critics who want to scuttle the deal.
According to the current government, the deal is largely focused on Israel's EEZ (defined under the UN Convention on the Law of the Sea as the area 12 to 200 nautical miles offshore) rather than its territorial waters (up to 12 nautical miles). Officials also argue that they are only seeking a status quo understanding with Lebanon on territorial waters until the land border disputes are resolved. Yet apparent territorial concessions between the end of the buoy line and the edge of territorial waters may complicate legal issues.
Over the next two weeks, the deal will be presented to the Knesset for comments and reservations, which the cabinet may accept or reject. Lapid has made clear that he wants to pass the agreement by a full cabinet vote and is not legally obligated to call a Knesset vote so long as the cabinet approves. The earliest it can be approved without a Knesset vote, which would be risky for a coalition without a majority, is October 26.
Indeed, the agreement is generating extensive discourse and partisan rhetoric in Israel's polarized election climate. The opposition, led by Likud Party chief Binyamin Netanyahu, has criticized the deal for making major concessions to Lebanon and empowering Hezbollah, while its defenders argue it will be good for Israeli security and Lebanese stability:
Arguments for a deal:
Establishing gas facilities on either side of the new maritime line will be a stabilizing force in the area, as each side will have an economic stake in maintaining quiet. For example, if Hezbollah were to attack an Israeli rig at sea, Lebanon's offshore facilities would be an obvious target for an Israeli response.

Israel does not want a failed state on its border, believing that this will only enable Hezbollah to tighten its grip. With the Lebanese economy in complete collapse, Israel sees the maritime deal as a potential source of income for Beirut—one that might even weaken Tehran's control down the road and force Hezbollah to choose between Iranian and Lebanese interests. The militia's willingness to green-light the deal marks a shift, though Israeli officials are under no illusions that this achievement alone will avert another war.

The agreement will simplify Israel's efforts to develop the Karish gas field. Although Karish lies within Israel's EEZ, authorities have delayed gas extraction in recent weeks until a deal could be reached. Amid criticism that Israel yielded to Hezbollah threats by not unilaterally beginning extraction beforehand, the government is no longer touting Karish's economic benefits as an achievement of the deal. (Karish's proven reserves of 1.75 trillion cubic feet or TCF are small compared to Israel's massive Leviathan and Tamar fields, which hold 35 TCF and 7.1 TCF, respectively).

Israel will gain buyout rights for the Qana field, which the agreement describes as a prospect of "currently unknown commercial viability." Israel's Energy Ministry estimates that the Qana field could yield around $3 billion in profit. According to Lapid and U.S. officials, 17 percent of this would go to Israel, reflecting the section on the Israeli side. Yet the field's true size and profitability will be unknown until well into the drilling process, which has yet to begin.

It could take Lebanon more than five years to extract any gas.
Arguments against the deal:
Critics say Jerusalem yielded too much and caved to outside pressure. According to this view, drawing the border at Line 23 gives Israel far less nautical territory than both Line 1 (its original position registered with the UN in 2011) and the compromise line proposed by U.S. mediator Frederic Hof (which would have given Lebanon 55 percent of the area between Lines 1 and 23).

 

Netanyahu, who led negotiations for years based on Line 1 and the Hof line, is now alleging that the government agreed to Line 23 because it feared Nasrallah's threats to bomb Karish. He has also accused Lapid of rushing to score a diplomatic achievement before the election.

In other words, the deal supposedly rewards Lebanon's sly tactics and Hezbollah's recent escalation. Beirut unexpectedly took a more maximalist position in late 2020—Line 29, which expanded its claim to 550 square miles. Yet it never officially filed this position with the UN, and later reverted to Line 23. For its part,

Israel did hold off on extracting gas from Karish—which lies outside the disputed area—though the drilling firm Energean recently began production tests.

Hezbollah stands to gain financially from the agreement, likely diverting or otherwise benefiting from new revenue flows intended to help the battered Lebanese economy.

Although U.S. pressure and political dynamics inside Lebanon and Israel may accelerate passage of a deal, opponents argue due process is not being respected. The decision to avoid a Knesset vote could be used as a precedent in other contexts if Netanyahu returns to power, and the former prime minister suggested last week that he would revoke the deal if elected. Yet he softened his tone after a television poll showed that a plurality of Israelis support the agreement. Rescinding an international deal after implementation would be unlikely given the unwanted consequences for Israel.
Conclusion
The proximity of Israel's election is distracting from the fact that the maritime deal with Lebanon represents a significant milestone for both countries. In pushing the agreement through, Lapid's coalition government is betting that the concessions it has made will be offset by increased stability and mutual economic opportunities in a key maritime area.
David Makovsky is the Ziegler Distinguished Fellow at The Washington Institute and director of its Koret Project on Arab-Israel Relations. He is also the creator of the podcast Decision Points, which will start its fourth season at the end of this month.