Israeli Elections, Round Five: A Game of Inches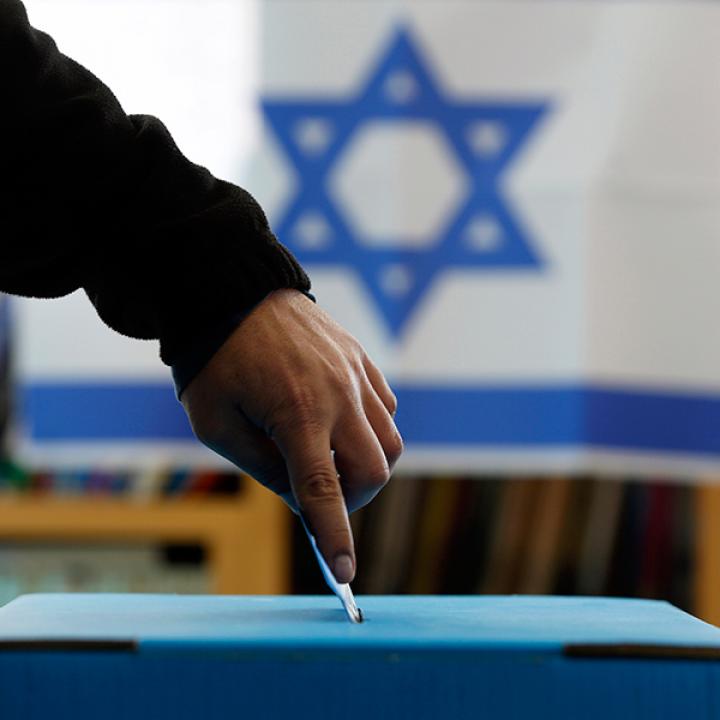 The first in a series of Washington Institute articles about the upcoming vote discusses how the rival coalitions are shaping up, why extremists are gaining ground on the right, and which policy issues are most likely to steer the national debate.
On September 15, internal maneuvering among Israeli political parties culminated in the submission of candidate lists to the Central Elections Committee for the November 1 ballot, Israel's fifth parliamentary election in three-and-a-half years. The campaign cycle now enters a new phase that will only accelerate further after the upcoming Jewish holidays.
Consistency in the Polls
Polling numbers for the various factions have barely budged since Israel's previous government—a razor-thin majority coalition that sought to focus on consensus issues—collapsed in June amid pressures on its right and left edges. Astonishingly, despite the major events of the past few years—the Abraham Accords, two rounds of fighting in Gaza, the COVID-19 pandemic, and a U.S. presidential visit—the Israeli political ecosystem remains rather static, and the campaign figures to be another battle of inches. Right-wing parties aligned with former prime minister Binyamin Netanyahu are currently projected to win 59-60 seats, just short of a governing majority in the 120-member Knesset. The largely (but not exclusively) center-left forces arrayed against him, known as the Change Coalition, are polling at around 56 seats. Arab parties that have previously resisted joining any coalition make up the difference.
The consistency of this distribution reinforces the sense that political affiliation has become more deeply entwined with personal identity for many Israelis. Jewish voters also appear unaffected by election fatigue, with turnout remaining above two-thirds despite endless balloting.
The Stakes
The Change Coalition's party lineup remains largely intact, with members united by a fear that democratic norms will erode if Netanyahu's Likud Party wins. Likud representatives in the Knesset have openly stated that should Netanyahu return to power, they will fire the current attorney-general, alter the manner in which that post is filled, and pass a law deferring their leader's corruption trial until after he exits politics. More broadly, they will seek to subordinate Supreme Court rulings to Knesset laws, reversing the "constitutional revolution" of the 1990s. Although Netanyahu himself is unlikely to make such statements, the latest Likud primary showed that his allies are willing and able to demote veteran Knesset members who are hesitant about attacking law enforcement and the judiciary. In their place, firebrands and loyalists are being rewarded.
Meanwhile, Likud's alliance with the national-religious and ultraorthodox camps has been airtight since 2009 and should bear fruit at the polls given that 62 percent of Israeli Jewish voters identify with the right. At the same time, the right-wing coalition has yet to achieve a majority in parliament due to ongoing public uneasiness about Netanyahu's corruption charges and erosion of democratic norms—sentiments that can be found among large segments of the non-religious center-right and even some national-religious voters.
Lapid's New Role as Incumbent
This is the seventh election campaign that Netanyahu and current caretaker prime minister Yair Lapid have waged against each other, but the first since 2009 in which Netanyahu will be running from the opposition. Previously, the Likud leader used incumbency to burnish his international credentials, but now Lapid will reap the benefits of high-profile meetings with Arab and European leaders and speeches at international forums, including this week's UN General Assembly. Indeed, Lapid seems to be counting on voters to base their choice on foreign policy and security even when they tell pollsters that the economy is their top issue.
Netanyahu has not been idle, however. He has unified and recalibrated his coalition to avoid "wasting" right-wing votes on fringe parties that poll below the 3.25 percent electoral threshold required for entry into parliament. Lapid tried the same tactic on the center-left, but to no avail—Labor leader Merav Michaeli refused to merge with the more avowedly left-wing Meretz due to fears of diluting her party's brand.
How Much of a Role Will Terrorism Play?
One faction in Netanyahu's coalition has shot up dramatically in recent weeks: the Religious Zionist Party, which bears the name of a larger sector of the electorate but only represents the extreme right. RZP is led by Bezalel Smotrich and Itamar Ben-Gvir, the latter of whom is a former disciple of the notoriously racist political figure Meir Kahane. Although Ben-Gvir has renounced Kahane's calls for ethnic cleansing, he also repeatedly calls for the expulsion of certain Arab camps he defines as disloyal.
Ben-Gvir's popularity has grown for several reasons. First, he is a provocateur who exploits the media to spread his message, rushing to the scene of terrorist attacks or other sensitive areas for photo ops. Second, by insisting that he is only saying what others believe but dare not speak, he has endeared himself to some young male ultraorthodox voters and other, more unexpected audiences (e.g., students at an upscale, secular Tel Aviv-area high school recently mobbed him for selfies). Third, history shows that Palestinian terrorism generally nudges Israeli public sentiment rightward on the eve of elections. Previous prime minister Naftali Bennett learned this lesson the hard way—months after his coalition launched its landmark experiment of including Arab parliamentarians in the government, a string of attacks killed nineteen Israelis during Ramadan last spring, spurring key defections that ultimately precipitated its demise.
Those attacks, and Israel's near-daily military operations in the restive cities of Jenin and Nablus since then, are part of a violent cycle that has exposed the Palestinian Authority's inability to secure large parts of the West Bank. Thus far, 2022 has been that territory's deadliest year since 2016, with 85 Palestinian deaths, while the Shin Bet reported 981 foiled or perpetrated terrorist incidents between March and August alone. The upcoming religious holidays will only increase the risk of widespread violence as tens of thousands of Jews visit the Temple Mount/Haram al-Sharif, perpetually a major source of tension.
Ben-Gvir and RZP have sought to exploit such violence to draw votes away from both Likud and the vulnerable "soft right" led by Justice Minister Gideon Saar and Finance Minister Avigdor Liberman. RZP won six seats in the previous election and is now polling at 11-12, raising the prospect of Ben-Gvir gaining a senior ministerial portfolio if Netanyahu wins.
The Arab Vote
As in the last round, the outcome may hinge on Arab factions. First, turnout among Arab Israeli voters has been volatile, usually corresponding to the unity of Arab parties. Prior to the 2021 election, Mansour Abbas's Raam faction split from the Arab-majority Joint List and ran on its own ticket, the United Arab List. Although this tactic enabled UAL to become the first Arab party to sit in a coalition, the fissure hurt the Arab community's overall turnout (down to 45 percent, a decrease of twenty points) and its Knesset share (down to 10 seats spread across two lists, compared to 15 seats for the Joint List in the previous election, which made it the third-largest faction at the time). Moreover, Netanyahu has largely avoided the alarmist anti-Arab tone that has triggered high turnout among that community in the past.
Second, a last-minute split in the Joint List could wind up helping Netanyahu or the Change Coalition. After Raam's defection last year, the Joint List was left with three parties: Balad, the Arab-Jewish communist faction Hadash, and the Arab nationalist faction Taal. Recently, however, Balad—the most extreme of the three—was booted off the list. Balad has accused Lapid of masterminding the split with the goal of freeing Hadash and Taal to either provide tacit support in the next parliament or join the coalition outright, which could bring Lapid closer to 60 seats.
Balad's departure may also suggest a more inclusive agenda for Hadash-Taal. Polling indicates that most young Arab Israelis want to integrate into their country and are increasingly frustrated with the perceived inaction of their political representatives. With three distinct political approaches in front of them—UAL's pragmatism, Hadash-Taal's preference for playing kingmaker, and Balad's rejectionism—Arab voters have more options than ever. But this may be a double-edged sword: UAL and Hadash-Taal are polling perilously close to the 3.25 percent threshold, while Balad is well under it. If all three fall short of entering parliament, the Arab community would be unrepresented for the first time in Israel's history—a shocking setback after last year's unprecedented achievement.
Conclusion
The tightness of this year's race will only magnify the role of individual incidents on the ground and maneuvers by small parties. Accordingly, even minor developments could have major electoral consequences.
David Makovsky is the Ziegler Distinguished Fellow at The Washington Institute and director of its Koret Project on Arab-Israel Relations.