Israel and Gaza Keep Up Their Precarious Dance
Also published in
New Lines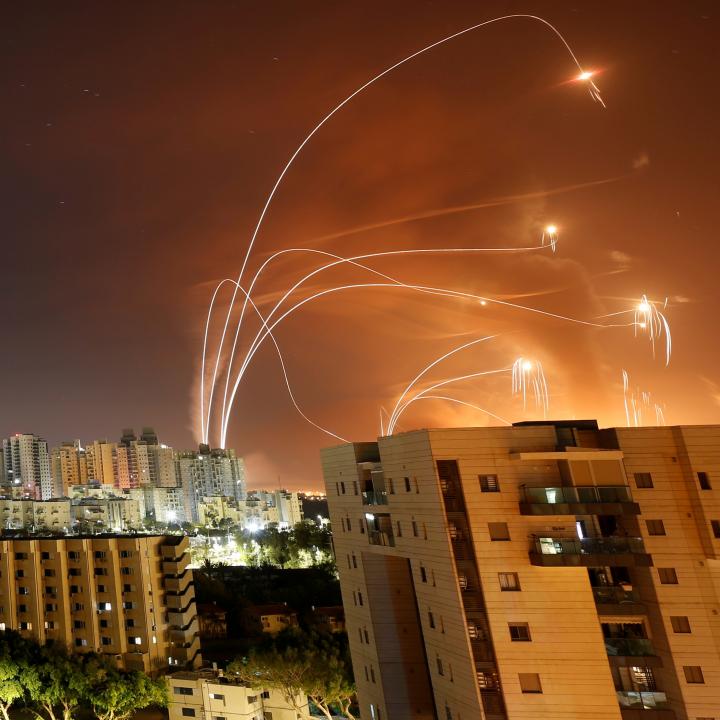 What the latest round of fighting against PIJ—and not, conspicuously, Hamas—means, and why it will probably happen again.
One week before the latest round of fighting over the weekend between Israel and the Gaza-based militant group Palestinian Islamic Jihad (PIJ), a senior Israeli security official had some prescient words. Unlike Hamas, which is the bigger and stronger group that actually rules Gaza, the PIJ "was an outlier...with no governing responsibility, which would require special treatment" if it chose to escalate, he told me.
That "special treatment" came in the form of a three-day military operation that Israel began last Friday, after several days of PIJ threatening a cross-border attack from Gaza into southern Israel (this was due to the arrest of a senior PIJ leader in the West Bank at the start of the week). The ensuing hostilities—Israeli airstrikes in Gaza, PIJ rockets into Israel—went, by most analyses, quite poorly for PIJ. The group's most senior field commanders were killed, many of its military assets were degraded, and the nearly 1,000 rockets and mortars it launched did almost no damage because of Israel's Iron Dome aerial defense system.
PIJ suffered a "very serious blow that's taken them back decades. They didn't expect that; they were surprised by our capabilities," a senior Israeli diplomatic source told me after a ceasefire came into effect late Sunday. Israeli intelligence was able to pinpoint and kill PIJ's northern Gaza brigade commander in its initial airstrikes Friday; the next night, in the midst of the escalation, his counterpart in the southern Gaza brigade was also killed in an Israeli airstrike (PIJ has only two "brigades" for Gaza).
The most telling aspect, though, was that Hamas stayed out of the fray. Despite the loss of life inside Gaza, with over 40 killed and 300 wounded, including children and other civilians, Hamas left it to Israel and PIJ to fight it out. This was in line with much of the past year, since the last round of open warfare in May 2021 between Israel and Hamas. By some estimates it had been the quietest period in and around Gaza for two decades—and not by chance.
Israel used the post-war period last year to embark on what its officials described to me as an "expansive civil program" meant to both ease the very real economic and humanitarian plight of the 2 million people living in Gaza and increase the cost to Hamas of any renewed fighting. As a second Israeli security official told me, the goal was to "not only hold Gaza 'above water' but allow it to develop...[and] Hamas is not disconnected from its public; it has to take it into account for its own legitimacy."
Israel reached this policy not by choice but because of a sustained strategy by Hamas, going back over a decade, meant to compel Israel to "end the siege" over Gaza. Almost every round of fighting or widespread protest (2008-2009, 2012, 2014, 2018-2019) had behind it the logic of extracting ever more economic concessions from Israel—and it worked. Every ceasefire had within it ever more understanding regarding ever more Israeli compromises. As the senior Israeli security official told me, "Gaza without an economy is less stable than Gaza with an economy...We don't want to drag Israel to a campaign in Gaza every week."
In this way, Israel last year went even further, easing restrictions on a variety of construction materials for importation into Gaza, which allowed several long-planned infrastructure projects—among them a desalination plant and sewage treatment facilities—to finally go online over the past six months. Electricity generation in Gaza was increased, the import and export of goods was nearly doubled, and Gazan workers were provided permits to work inside Israel, en masse, for the first time since Hamas seized the territory in 2007. (This information was confirmed to me by Western officials.)
At present the number of Gazans entering Israel is over 14,000 per day. Each such worker can make, every day, some $150—10 times what they may earn inside Gaza.
Aid groups say more needs to be done, and they're correct. According to Tania Hary, executive director of Gisha (an Israeli NGO that promotes freedom of movement for Palestinians), Israeli restrictions on the importation of "dual use" items that authorities claim may be used for military purposes are often still arbitrary, bordering on the ridiculous. Access and movement of individuals into and out of Gaza—say to visit relatives, receive medical treatment or attend university—is still highly regulated, with applications rejected by the Israeli military because the words "State of Palestine" appear on the letterhead. An estimated 100,000 Gazans applied for the aforementioned work permits in Israel, a clear sign of both demand and need. "We're only just scratching the surface of impact given how bad things were allowed to get in Gaza," Hary told me.
And yet as a shift in Israeli policy from previous years of outright blockade, it's significant. Several years ago an Israeli official asked me, incredulously, why the United Nations wanted to facilitate the payment of money to "a terrorist group" like Hamas ("Have they gone crazy?" he said). Yet the current Israeli government has, like its immediate predecessor, allowed the continuation of millions of dollars in monthly Qatari funds for Hamas civil sector salaries and stipends for the neediest families.
Israeli officials are aware of the risks of this policy, on two counts. First, in their minds, it may simply strengthen Hamas and other militant groups in Gaza, who use greater access to construction materials and money to bolster their military capabilities. This is a central reason, in Israeli minds, why a full lifting of all restrictions has not happened. "Within weeks we'd have an Iranian [military] battery set up in Gaza, with strategic weapons," the first senior Israeli security official said about a world with no limits over a Hamas-ruled territory. Even with the long-running blockade, it should be noted, Hamas has steadily improved its military performance—in particular the range of its rocket arsenal—in every round of fighting.
There is also the added complication of a stalled prisoner exchange deal, with Israel demanding the return of two mentally ill citizens and the bodies of two dead soldiers being held by Hamas. The Israeli government has delayed several key economic steps, like an ambitious plan to provide Gaza with natural gas, precisely due to this prisoner issue.
The second risk of this policy is that it may simply not work. Before this past weekend's escalation, Israel's strategy was that given the new (and improving) economic situation in Gaza, Hamas would act like a real sovereign and work to stop the smaller militant groups from attacking Israel. "Hamas can rein them in when it wants," the senior Israeli security official said the other week, mere days before Hamas failed to do so—either because it was unable or because it was unwilling.
Yet over the past year Hamas did halt nearly all rocket fire from Gaza, including its own. And indicatively, this past weekend it left PIJ in the battle alone. "Hamas didn't join [in the fighting], and it seems like they weren't interested in it anyway," the senior diplomatic source told me. "It's a testament to the success of this policy."
Maybe. The Israeli security officials were clear-eyed, even when touting the new Gaza strategy, that it wasn't "an insurance policy to what may happen tomorrow," as one put it.
Tensions in Jerusalem, unrest in the West Bank, Hamas demanding more economic concessions or just a small group like PIJ again taking matters into its own hands could all lead to another escalation between Israel and Gaza. Israel could quickly halt many of the positive steps of the past year, as it did for much of the past week when it shuttered Gaza's border crossings.
And just as quickly, by the middle of this week the situation on the ground returned to pre-war "normal" in both southern Israel and Gaza. It's a testament to the strategic value that both Israel and Hamas place on the economic and civilian facet of their budding relationship. But it's also a sign that no one quite has any better ideas. Absent a longer-term and deeper understanding between the two sides, this precarious dance will be just enough to push off another conflagration—until the next round.
Neri Zilber is a journalist based in Tel Aviv and an adjunct fellow with The Washington Institute. This article was originally published on the New Lines website.