Iraq's Constitutional Moment?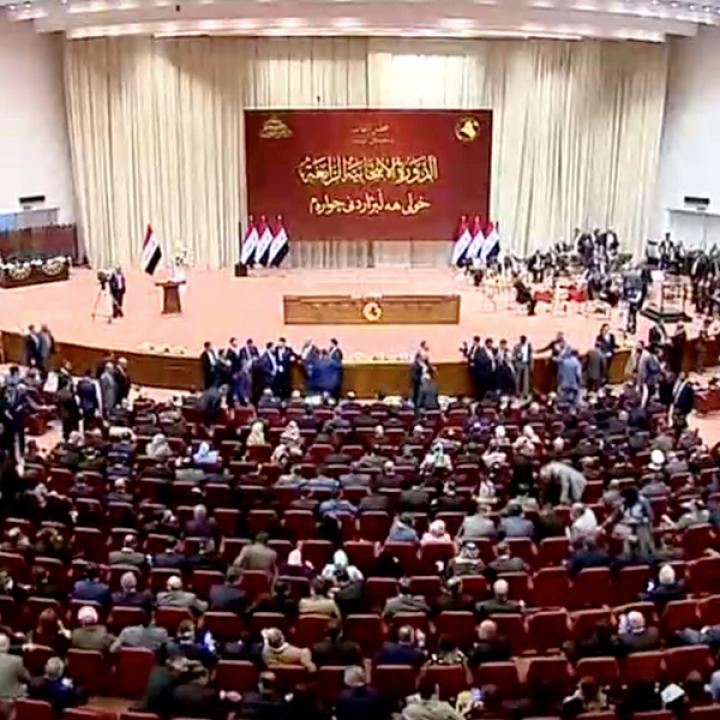 Although the country currently lacks the unity and rule of law needed to safely pursue a process as fraught as amending the constitution, there are several alternatives that could get it on the path to systemic reform.
Spurred by dysfunctional governance and political gridlock, Iraqis have increasingly been calling to amend the country's constitution, with many arguing that the post-Saddam sectarian system failed to engender stability or prosperity and has therefore run its course. Even among more-hopeful observers, the democratic norms and minority rights put forth in the constitution remain aspirational at best. Accordingly, some political leaders are publicly signaling that they will heed such calls. Yet attempting to amend the constitution in the current political circumstances is not viable. Apart from the existing charter's problematic technical deficiencies, Iraq remains mired in a profound lack of constitutionalism and respect for rule of law.
Growing Complaints
The reasons behind the recent calls for constitutional reform vary. Frustrated with the lack of accountability in the current consensus-driven system, some leaders in the October 2019 (Tishrin) protest movement have been pushing for a shift to a presidential or semi-presidential system that simultaneously enshrines civil rights. Others want clearer language on controversial issues regarding parliamentary quorums, blocs, or petroleum management rights. Kurdish parties are disappointed in Iraqi federalism and have called for confederation. And other voices would surely raise new demands if the lid were lifted on this constitutional Pandora's box.
Many potential amendments would also invite substantial resistance in certain quarters. Kurdish and Sunni Arab parties would reject any changes that thin the constitution's federalism clauses or shift it away from a parliamentary system. In their view, power has become more and more centralized in Baghdad since 2003, most notably via the elimination of provincial councils. Despite increased public sentiment against sectarianism, Sunni and Kurdish parties remain fearful that Shia political domination will become permanent if they allow certain measures to pass. Elsewhere, increasingly vocal liberals may push to tone down the charter's stance on religion, which would no doubt incense Islamist parties. And if the widespread calls to ban militias reach the constitutional stage, they will be fought—quite literally.
Past Workarounds
Although the constitution was not short on controversy upon its creation, it was a product of painstaking consensus. Ratified via public referendum in 2005, the document was born of delicately balanced compromises by diverse political, religious, ethnic, and sectarian groups, as well as significant influence and facilitation by the UN Assistance Mission for Iraq (UNAMI) and the United States. That is partly why it has yet to be amended over the years despite many complaints.
Over the past two decades, political elites have overcome the constitution's ambiguities and perceived shortcomings in a variety of ways. Most consequentially, the Federal Supreme Court has played the role of arbiter and offered interpretations of key clauses. In 2010, the FSC defined what constituted "the largest bloc" in parliament to form a government—a decision that many believe eroded public reverence toward the constitution and the court because it appeared to go against democratic norms. More recently, the FSC issued a flurry of landmark rulings that redefined the parliamentary quorum required to elect the president and upended the legal basis of the Kurdistan Regional Government's oil and gas industry, among other effects.
For its part, parliament has passed legislation expanding on constitutional articles that cover certain key issues (e.g., the rules regulating elections). Yet other provisions have never been implemented in any form, such as resolving disagreements over disputed territories (Article 140) or establishing a Federation Council as the upper chamber in an envisioned bicameral parliament (Article 65). Even the very procedures for amending the charter remain subject to widely varying interpretations.
Navigating the Amendment Maze
Politically and legally, the process for amending the constitution is long and arduous. The charter outlines two mechanisms: (1) an interim amendment process that requires a simple majority vote in parliament, then a public referendum in which a majority vote yes at the national level and no more than a handful of individual provinces overwhelmingly reject the proposal; (2) a general amendment process that requires approval from two-thirds of parliament, then a simple public referendum.
More specifically, Article 142 dictated that soon after its formation, parliament was expected to form a committee that would produce a report on proposed amendments within "four months." These amendments were to be approved through a simple majority vote in the legislature, then put to a referendum and passed unless vetoed by a two-thirds majority of voters in three of Iraq's eighteen provinces. The drafters presumably intended this "transitional measure" to be available only at the start of the first parliament in 2006—in fact, the language of Article 142 seems to indicate that its provisions may have long expired. Yet because no end date was expressly set, parliamentary leaders, aided by a 2017 FSC "clarification," have continued to operate as if this mechanism is in effect indefinitely, requiring only a simple majority vote in the legislature. The mandatory review committee was indeed formed, but it has shot absurdly far past its four-month deadline for proposing changes.
The second mechanism is described in Article 126, which stipulates that an amendment is to be initiated through a joint proposal by the president and cabinet or by one-fifth of parliament. The measure must then be approved by two-thirds of parliament and a simple majority vote in a public referendum, with no veto powers given to provinces. Based on this provision, President Barham Salih formed a committee for proposing amendments during the 2019 Tishrin protests, indicating that the presidency believes Article 126 is already in effect.
Although both approaches are currently in progress, neither has been officially presented, and pursuing them in parallel contravenes the framers' presumed intent of providing a deliberately phased process—that is, proposing an initial set of amendments via the temporary measures outlined in Article 142, then activating Article 126 as the sole path for any future amendments. If both paths remain open, they will inevitably collide, perhaps forcing the FSC to weigh in with a decision rather than just a clarification. This would further complicate an already tortuous situation.
Yet while the formal process for amending the constitution is arguably cumbersome, this complexity provides inherent safeguards against capricious or malicious exploitation of amendments for political gain. Changing the charter should not be taken lightly (or, in times of crisis, undertaken at all) given its significant ramifications on the balance of power in Iraq—not only within/among political parties, but also between the legislature and those citizens who have been pushing for change.
Policy Implications
Other than a short period during the height of the Tishrin protests in 2019, Iraq has not had the right political environment for such a monumental process as amending the constitution for some time. Accordingly, its leaders may be better off considering a constitutional congress or similar vehicle first—that is, a process legitimized by civil society participation and specifically built for considering and debating the merits of possible amendments before they are formally put to vote. The results could then be offered to parliament and subjected to the prevailing legal process.
Moreover, in today's polarized climate, some of the constitution's ambiguities may give lawmakers extra time and space to rehabilitate the constitutional order before attempting to amend the charter itself. This can be achieved by fleshing out the document's most positive aspects (particularly civil rights) via new legislation or a bill of rights. For example, as difficult as the debate has been over establishing a national hydrocarbons law, passing this constitutionally mandated legislation would still be less onerous than attempting to rethink how the charter envisions federalism and the role of the Kurdistan Region.
Building the institutions stipulated in the constitution must be prioritized as well. The first order of business is establishing a new FSC in accordance with Article 92 (2). Second, to avoid the drastic step of shifting to a presidential system while still heeding the calls for greater accountability, parliament could enact new legislation that empowers the president as the "guarantor of the constitution." This would be in line with Article 67, which grants the president administrative review powers and prosecutorial authority over constitutional rights.
As for the U.S. role, the 2005 constitution remains one of America's most recognizable legacies in Iraq and should be preserved as such. Toward that end, and in the face of uncertain alternatives, Washington and UNAMI should once again help Baghdad rehabilitate the constitutional order through legislative and policy actions, stopping short of amending the charter for the time being. Such legal assistance could fall under the purview of the bilateral Strategic Framework Agreement (especially sections II and VIII), which commits the United States to "support and strengthen Iraq's democracy and its democratic institutions." Despite the deepening crisis, Iraq's bitterly contested politics still seem somewhat deferential to the constitution, at least on the surface. To preserve this crucial sliver of constitutionalism, Baghdad and its international partners must take a serious look at how to undergird the charter and make it work better—not just for the sake of political progress, but also for the people's future.
Safwan Al-Amin is an international attorney from Iraq. Bilal Wahab is the Wagner Fellow at The Washington Institute.