The Death of Oil Federalism? Implications of a New Iraqi Court Ruling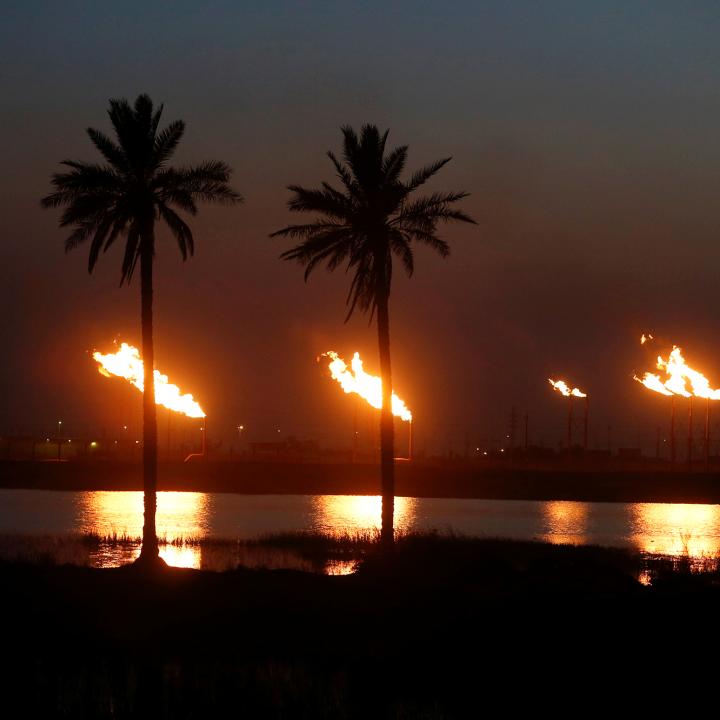 The legal decision and its political fallout are threatening some of the country's key interests, including its aspirations toward federalism, its relations with Turkey, and its ability to attract sorely needed international investment.
On February 15, the Iraqi Federal Supreme Court (FSC) decreed that the natural resource law passed by the Kurdistan Regional Government (KRG) in 2007 is unconstitutional, potentially upending the region's oil and gas industry. Ruling that KRG oil exports and contracts with international oil companies are illegal, the court granted the federal government the right to annul such contracts, claim ownership of KRG oil, and hold Erbil liable for past oil revenues against budget allocations received from Baghdad.
In addition to hurting the KRG's energy industry, the FSC ruling could limit federal Iraq's too—indeed, the very concept of oil federalism is at risk. The decision also complicates the ongoing government formation process, and may even invite backlash against a judiciary that has maintained widespread respect among Iraqis.
Implications for Politics and Government Formation
Its legal soundness notwithstanding, the ruling has already sent shockwaves among the various actors maneuvering through Iraq's volatile government formation period. The Kurdistan Democratic Party (KDP), which dominates the KRG's energy industry and policy, believes that the FSC's decision on a matter filed ten years ago is politically motivated—namely, an attempt to punish the Kurds for joining up with Muqtada al-Sadr, who aspires to lead a majoritarian government that would sideline his main Shia Muslim rivals. These rivals are led by former prime minister Nouri al-Maliki and have aligned with pro-Iran militias—an association that grants them significant sway over the so-called deep state, not to mention the militia drones that have been used to attack the KRG at times. Although KDP officials see Iran's fingerprints on the FSC ruling, they are also disappointed that Sadr and speaker of parliament Mohammed al-Halbousi—the third pillar in their coalition—have done little to stop the court's actions or the drone attacks.
Whether influenced by Tehran or not, the FSC's foray into political questions has opened it up to criticism. Although the court previously ratified the election results—to the chagrin of Sadr's rivals, who suffered substantial losses—it also set a two-thirds majority quorum requirement to select the next president, giving the minority a strong veto power. The oil decree could also derail Sadr's plans if it spurs the KDP to change its mind about his coalition or his top candidate for prime minister, the incumbent Mustafa al-Kadhimi, whom the KRG has accused of failing to withdraw the case before the court ruled on it.
Meanwhile, the KDP remains estranged from its longtime partner-slash-rival in the KRG, the Patriotic Union of Kurdistan (PUK). Rather than unite and take a renewed shot at kingmaking in Iraq's fractured politics, the KDP has used its alliance with Sadr and Halbousi to sideline the PUK. Before the FSC ruling shocked the Kurds, the KDP had been busy expending tremendous political capital to deny senior PUK figure Barham Salih a second term as president. The KRG now fears there is more blowback to come from Baghdad, including court orders affecting its control over borders and foreign representatives.
Energy Implications
The country's petroleum industry cannot afford to ignore the FSC's decision. To be sure, Iraq's oil exports are not slated to change anytime soon—Turkey still allows Kurdish oil to flow to international markets, and Kadhimi has already stated that he is in no rush to implement the ruling. Moreover, oil firms with significant sunk costs and stakes in the KRG, such as Genel Energy and DNO, will almost certainly stay put.
Yet firms on their way out (e.g., Exxon) likely feel vindicated by the decision, while firms with a foot in the door (e.g., Chevron) may now be skeptical about investing further. Other ripple effects may soon become evident—companies with a stake in both federal Iraq and the KRG (e.g., Gazprom and Total) could find themselves in a precarious position; Citibank may cease processing KRG payments to oil firms; the U.S. International Development Finance Corporation might pause capital investments into Iraqi energy projects; Baghdad and Erbil may find it more difficult to cooperate on boosting their natural gas sectors, increasing power generation, and weaning the country off of overpriced Iranian supplies; and efforts to attract further international investment may be stymied given the latest evidence that the country's energy policy is still in the making.
Another potential victim is Iraq-Turkey relations. There would not be a KRG oil industry without Turkish patronage—Ankara has allowed the Kurds to export oil via the Iraq-Turkey Pipeline since 2014, reaching an average of 430,000 barrels per day in 2021. Baghdad has taken Ankara to arbitration over this issue at the International Chamber of Commerce, seeking $24 billion in compensation. After years of delays, a conclusive hearing is set for July. The FSC ruling bolsters Baghdad's chances of winning that arbitration, but such an outcome could sour its diplomatic and trade relations with Turkey, which have improved under Kadhimi's watch. For its part, Ankara may view the ruling as sufficient cause to rebalance its relations back in the KRG's favor, including increased cooperation on Kurdish gas exports.
Whither Oil Federalism?
When formulating Iraq's post-Saddam constitution, the drafters enshrined the principles of oil federalism with two main goals in mind: staving off the reemergence of another central dictatorship, and ensuring that the country's breadwinner industry served the public interest and remained accountable to the people. The charter called for a new oil and gas law that enshrines shared hydrocarbon management between federal, regional, and local governments.
In practice, however, Iraq still has two bifurcated energy industries—Baghdad has reverted to its old habits of centralization, the KRG is semi-autonomous after a failed shot at full independence, and neither side has taken serious action on the oil law, opting instead for temporary handshake deals. Erbil invested in building facts on the ground and reveling in the legitimacy conferred by dozens of international oil firms voting with their feet and capital. Rather than putting its energy policy on solid legal and budgetary ground, the KRG sought to evade federal reach by selling oil to traders and Israeli refineries at a discount and borrowing billions from Vitol and Rosneft.
Hence, it came as little surprise when many Iraqis outside the KRG greeted the FSC ruling with approval. Ironically, the decision also triggered noticeable schadenfreude inside the KRG, where residents have come to realize that their leaders' questionable oil practices were fueling corruption more than jobs and public services. Meanwhile, oil nationalism now prevails in Baghdad, feeding patronage politics as the suffering public rises in protest.
Policy Recommendations
Despite tipping the scales in Baghdad's favor, the FSC ruling does not help the government achieve a workable resolution to a complex problem, and federal authorities still cannot afford to let the KRG oil industry collapse. A more constructive ruling would have mandated the passage of an energy law within a set timeframe. Leaders on both sides have called for dialogue and mediation, but they need to keep in mind that other international events are competing fiercely for U.S. attention.
In recent months, Washington has advised its Kurdish allies to put aside their fixation on petty politics and grudges in order to find unity of purpose around forming the next government. It has not pressured them on this front, however, and U.S. officials will likely view the legal dispute over petroleum management as an internal matter. The last time Washington seriously mediated an oil deal between Erbil and Baghdad was 2008. The Biden administration has been more invested in curbing the country's dependence on Iranian gas and environmentally damaging practices such as burning diesel for power generation and flaring.
One silver lining is that the FSC ruling has jolted some officials in Erbil and Baghdad to refocus on finding a lasting legal solution to their energy management disputes. The federal cabinet has tasked the Oil Ministry with seeking more foreign and local expertise on the issue, while the KRG has signaled that it could pass a new natural resource law. Any dialogue on these matters would be technically heavy, giving the United States an opportunity to play a deep and constructive role in ensuring that oil keeps flowing to markets—and that revenues flow to the Iraqi public rather than militias and corrupt officials.
Realistically, such dialogue will still take months or years to produce a new law, so in the interim, Washington should urge Baghdad and Erbil to reassure international oil companies. U.S. banks have a large footprint in Iraq as well and would welcome clarity about the FSC ruling. Washington may also need to rebuild trust between Erbil and Baghdad regarding their mutual interest in achieving cheaper power generation and less pollution by developing their gas sectors and connecting their power grids.
Bilal Wahab is the Wagner Fellow at The Washington Institute.