Iraqi Militias Try, and Fail, to Intimidate the Government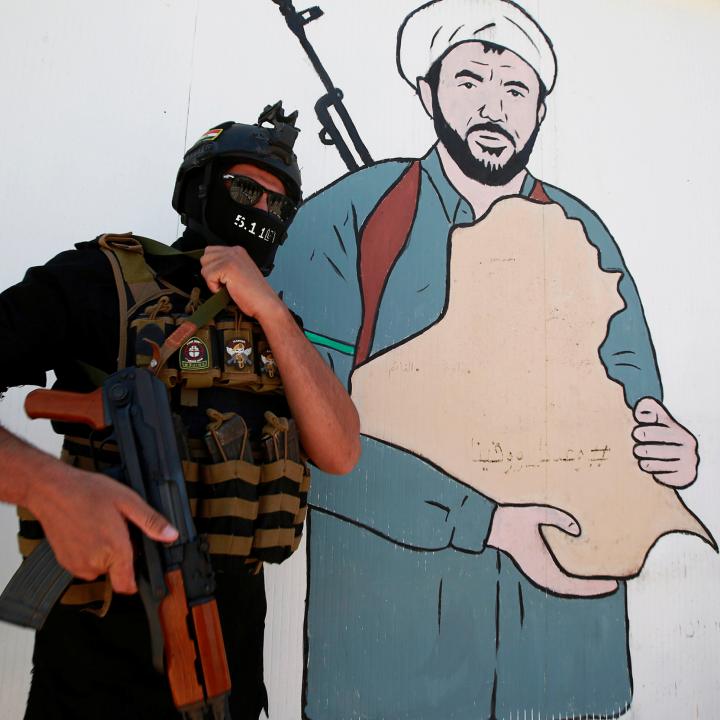 Baghdad effectively enforced the rule of law by detaining a senior militia figure, though it still needs to arrest other murder suspects and show the public that October's election will be safe.
On May 26, Iraqi authorities arrested militia commander Qasim Muslih in connection with the May 9 assassination of protest leader Ehab al-Wazni. Muslih is a leading figure in Iran's effort to control the Iraq-Syria border through its Iraqi militia proxies, working closely with Kataib Hezbollah (KH), a U.S.-designated terrorist organization and the top militia in Iraq's Popular Mobilization Forces (PMF). Upon his arrest, he was transferred to the Iraqi military headquarters at Joint Operations Command-Iraq, a Baghdad site that is particularly secure against militias because it also houses the main coalition and NATO presence.
As happened after a similar arrest in June 2020, militias tried to storm the government center and intimidate authorities into releasing Muslih. This time, however, the government avoided the humiliating outcome of last year's confrontation, when militias surrounded the prime minister's residence and the suspects were soon released. Muslih is still in Iraqi custody as of this writing, not released to his friends as claimed by feverish militia propaganda efforts. The episode showed that the government and its international partners have learned some—though not all—of the lessons offered by the June 2020 incident.
A Tale of Two Arrests
Although the two major arrest operations mentioned above are not the only such raids undertaken by Prime Minister Mustafa al-Kadhimi's government, they are the most highly publicized, so comparing them is instructive.
June 2020: A humiliating stand-down. On June 25, 2020, the Counter Terrorism Service arrested fourteen KH members as they prepared rocket attacks against Baghdad airport and the U.S. embassy. In response, the militia flexed its muscles in the International Zone (IZ), with KH operational commander Abu Fadak and a force of around 150 fighters in heavily armed pickup trucks driving to Kadhimi's residence and demanding that the suspects be released to their custody. Thirteen of the detainees were soon freed to great fanfare on militia propaganda channels, and the lone remaining individual (the only one on the original warrant) was later released by court order under pressure from militia-backed politicians. The optics of armed groups surrounding the prime minister and compelling the quick release of their comrades proved devastating, greatly damaging the trust between Kadhimi, his security commanders, the Iraqi people, and the coalition.
May 2021: Rule of law prevails. After Wazni was assassinated in Karbala on May 9, mass protests broke out at Iran's consulate in the city, with demonstrators accusing Tehran and its militia proxies of targeting him. Upon investigating the incident, authorities issued a warrant for Muslih, the commander of the PMF's 13th Brigade (Liwa al-Tafuf) and a close affiliate of KH. Once again, the Counter Terrorism Service undertook the operation to bring the suspect to Baghdad. Unlike last year's arrest, however, the IZ was strongly protected in anticipation of a forceful militia reaction. Although some fighters attempted to flex their muscles inside the IZ—where militias are permitted to maintain a presence under various guises—they were not reinforced from outside. The perimeter held, and both the prime minister and the prisoner were secured.
Other factors likewise contributed to a better outcome this time around. International support for the government's actions was much stronger than last year, boosting Baghdad's morale rather than leaving Kadhimi literally isolated in the IZ. Moreover, by arresting only Muslih instead of roping in other suspects without warrants, the government prevented militias from achieving any immediate releases and scoring an all-out propaganda victory. If an ongoing weakness was visible, it was the government's evident struggle to counter the militias' false claims that they controlled the IZ and had secured Muslih's release.
Militia Face-Saving Efforts
Muslih's arrest is just one of many setbacks Iran-backed militias have suffered over the past year. In January 2020, they lost their Iranian patriarch (Qasem Soleimani) and Iraqi godfather (Abu Mahdi al-Muhandis) to a U.S. airstrike. Five months later, their inveterate opponent Kadhimi become prime minister despite their vociferous opposition. Even their June 2020 victory over the government proved to be a net loss, since it spurred Baghdad to develop lower-visibility methods of rolling back militia activity inside airports, shipping facilities, military headquarters, and the banking system. Meanwhile, the oft-heard Iranian and militia demand for full U.S. military withdrawal has been given to an Iraqi expert committee to decide, based on domestic national security imperatives rather than Tehran's interests. And most promising of all, political parties across the ethnosectarian spectrum are discussing a pre-election compact that would diminish Iran's role in selecting a new government after the scheduled October election.
The militias' growing anxiety and frustration over these setbacks are evident in their recent actions. They have escalated to drone attacks inside Iraq, launching nonlethal strikes on four U.S. bases since March in addition to lower-profile harassment flights over federal and Kurdish leadership locations. Some groups have even made risible efforts to bask in the reflected glory of Hamas attacks on Israel by claiming rocket launches from Syria. And in response to Muslih's arrest, militia leaders have tried to walk a fine line between scaring Kadhimi into formally acquitting him and avoiding an unexplained extralegal release that would seem patently illegitimate in the public eye, since the latter outcome could make them look just as bad as a sustained incarceration.
Thus far, however, Baghdad has held firm on due process, so this round of government-militia tensions is just beginning. Because Muslih is a senior militia leader, neither Iran nor its proxies will give him up easily. Militia pressure will now turn toward the judiciary, with the aim of intimidating a court into rejecting the charges against him.
Policy Recommendations
After the June 2020 incident, the United States provided additional security assistance to the forces protecting the IZ, a move that empowered Baghdad to make stronger decisions while buying Washington credibility on rule of law issues. This assistance was bolstered by public and private assurances of support from Iraq's other partners in the UN, the European Union, the coalition, and NATO. Such proactive reinforcement through a dense web of communications has been quite valuable and should be continued, especially as militias devise new ways of punishing the government for upholding rule of law in the Muslih case.
After the June 2020 incident, Iraqi leaders were so shaken that they downplayed subsequent arrests of militia members, leaving many citizens with little evidence that their prime minister could protect them or stand up to militias. Going forward, Baghdad needs to proclaim its successful May 26 operation far and wide, and international partners need to loudly echo this message.
Washington should also urge the government not to give militias any face-saving opportunities: for instance, no cameras should be permitted anywhere near Muslih, and no officials should be allowed to take him to their homes or offices for photo opportunities. Such conditional and temporary releases from custody are commonplace when senior Iraqi officials intervene in specific cases for political gain, but doing so in this situation would undermine the entire point of arresting Muslih. Accordingly, the United States and other partners should signal the head of Iraq's Supreme Judicial Council, Faeq Zaidan, that the world will be watching Muslih's case, and the judiciary's credibility is on the line.
It is also crucial to remember that two other protest leaders were murdered this month in addition to Wazni, so the government urgently needs to make further arrests. "Committee 29," the special investigative body charged with getting to the bottom of such human rights violations, should continue its work, and Kadhimi should be encouraged to use any of the forces under his command to ensure that arrest warrants are served. Militias must be kept on their back foot in the lead-up to the election, in line with the Iraqi and U.S. goal of ensuring a free and fair vote with good turnout—an impossible objective if militias feel free to kill and intimidate.
Finally, Washington should use its good offices to seek help from other Iraqi leaders such as President Barham Salih, parliamentary speaker Mohammed al-Halbousi, and senior politicians Massoud Barzani, Haider al-Abadi, Ammar al-Hakim, and Ayad Allawi. In particular, they should be encouraged to issue timely televised statements of support for the government during crises like the attempted militia showdown in the IZ, not afterward when they are of questionable value.
Michael Knights is the Bernstein Fellow with The Washington Institute.