Iran's Presidential Election Season Kicks Off: Five Takeaways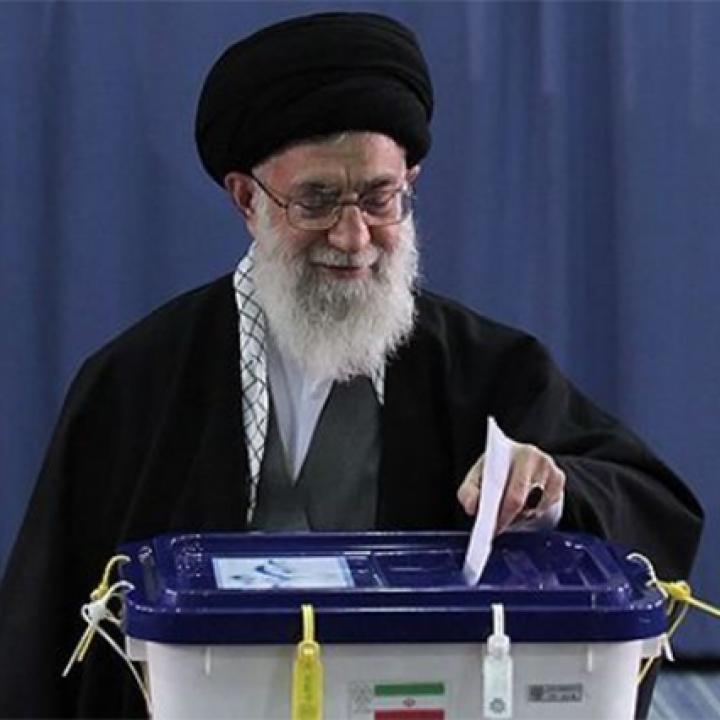 The upcoming campaign will likely focus on a three-way race between conservative Raisi, conservative-turned-pragmatist Larijani, and reformist-affiliated Jahangiri.
The Islamic Republic's presidential election cycle is heavily supervised by the Guardian Council, a powerful twelve-member regime body that vets candidates according to rigid qualifications. For this year's election, scheduled to be held June 18, the council's criteria were even harsher than usual, probably in order to prevent specific politicians from registering—for example, raising the minimum age to forty was viewed as a way of blocking information and communications minister Mohammad Javad Azari Jahromi from participating.
Perhaps as a result of such restrictions, only 529 Iranians applied for candidacy at the Interior Ministry during the just-concluded five-day registration period, compared to 1,636 in 2017, 686 in 2013, 476 in 2009, and 1,014 in 2005. Shortly afterward, the Guardian Council announced that all but 40 or so of these individuals had been immediately disqualified for failing to meet the minimum documentation criteria. More names will be pared away on May 28, when the council releases its final list of approved candidates.
As the dust settles on registration week, a few observations can be made about the election and beyond:
Ayatollah Ebrahim Raisi seems like the early frontrunner. Since March, Supreme Leader Ali Khamenei has seemingly been signaling to the judiciary chief that he should run, whether by describing ideal presidential traits that match Raisi's well-known resume, or having the hardline newspaper Kayhan implicitly endorse him last month. If Khamenei is indeed publicly stumping for a particular candidate, this would not be the first time. In 2005, he hinted that Mahmoud Ahmadinejad was his favorite contender by referencing the politician's defining traits in his sermons. Khamenei's implicit support for Raisi may have also influenced prominent conservative candidates such as Majlis speaker Muhammad Baqer Qalibaf to refrain from running and signal their intention to rally around the Supreme Leader's apparent choice.
Raisi could be campaigning to become Supreme Leader as well. Some Iran watchers believe the regime has been grooming Raisi to succeed Khamenei for a few years now, through measures such as elevating him to the rank of ayatollah and having state media outlets repeatedly link his image with Khamenei's. Although winning the presidency is not a prerequisite for becoming Supreme Leader, it could improve Raisi's positioning in that regard. After all, the Islamic Republic has had only one such transition in its history, and the chosen successor was then-president Khamenei.
Yet running in this year's election could be a double-edged sword for Raisi. True, winning would give him a major vote of public confidence, one he could leverage in any future struggle to grasp and secure the title of Supreme Leader. Yet losing could be a death blow to such aspirations, especially given his prior defeat to Hassan Rouhani in the 2017 election.
To avoid a negative outcome, Raisi will probably try to further unite the conservative camp behind him, focusing on his well-known anti-corruption platform while using other hardline candidates as wingmen and lightning rods during presidential debates. Former Supreme National Security Council secretary Saeed Jalili may be tasked with that role, or perhaps even Islamic Revolutionary Guard Corps (IRGC) official Saeed Mohammad.
Regarding the nuclear program and relations with the United States, Raisi has not spoken much on those issues since his 2017 campaign, preferring to focus on matters related to judiciary authority. His approach would likely be conservative a la Khamenei, but it is still too early to assess his exact positions on either front.
Ali Larijani could emerge as Raisi's main contender by appealing to Rouhani's base. The former Majlis speaker lacks charisma among the public and does not have a strong constituency of his own—in fact, some Iran watchers emphasize that his entire family has suffered major setbacks in recent years and lost much of its influence, despite its strong ties to the clerics of Qom. Yet Larijani could still position himself as a compromise candidate by attracting pragmatists who do not want to see Raisi become president.
Larijani's political journey is an interesting one and may help his campaign more than hurt it. He started as a conservative who lashed out at the 2004-2005 nuclear negotiations, then converted to a pragmatist a decade later, backing Rouhani's positions on the 2015 Joint Comprehensive Plan of Action (JCPOA). Such flip-flops have engendered hardliner social media campaigns with slogans like "Larijani is Rouhani" and "The third Rouhani government," depicting a two-faced figure named "Rouhanijani" in order to link the candidate with the current administration's policies in a negative way. Yet such propaganda could backfire if elements of Rouhani's camp become convinced that Larijani will indeed continue the president's approach. (Rouhani himself cannot run due to Iran's presidential term limits.)
Reformists are trying to cope with likely regime pushback. The reformist front decided to submit multiple candidates during the registration period, knowing that the Guardian Council would disqualify many of them and hoping that at least a few would be allowed to run. They will probably wait for the vetting process to conclude before choosing their main ticket. Their most prominent registrant is Vice President Eshaq Jahangiri, who is not a reformist per se but was suggested by the movement as a leading candidate.
The regime now faces a dilemma regarding how to treat reformist candidates, since massively disqualifying them or otherwise treating them harshly could antagonize some voters, resulting in low turnout—something the leadership hopes to avoid since it could further erode the regime's legitimacy. Yet conservatives have already notched one victory over the reformists: Rouhani's foreign minister Mohammad Javad Zarif did not register, probably due to fallout from the "Zarif tape" scandal.
Ahmadinejad and other IRGC-affiliated candidates seem to pose less of a challenge. The Guardian Council will probably disqualify Ahmadinejad from running this year, similar to what happened in 2017. Other officials with IRGC ties—such as the aforementioned Saeed Mohammad, former defense minister Hossein Dehghan, former Basij chief Ali Reza Afshar, and former IRGC chief Mohsen Rezaii—seem uninspiring, and the Guards may prefer Raisi over all of them. Current IRGC chief Hossein Salami has already suggested that the Guards would not publicly support any candidates, per official policy.
The Road Ahead
In past elections, campaigning mattered: Rouhani won in 2013 after telling voters that Iran needed to get its economy spinning, not just its uranium centrifuges; Ahmadinejad won in 2005 by emphasizing populist "resistance" themes; and Mohammad Khatami triumphed in 1997 with a campaign full of bus tours and speeches before masses of students across the country. None of these candidates was considered a favorite at the outset—in fact, early frontrunners have a long history of losing Iranian elections, and no one at home or abroad has been good at predicting the winners. Hence, one should not be hasty to crown Raisi as the next president.
The campaign does not officially commence until May 28, but candidates started lashing out at each other the moment they left the registration stand this weekend. And although the next president will continue playing second fiddle to the Supreme Leader, one can still expect heated clashes between the final candidates and their supporters, since the winning side could influence the style (if not necessarily the substance) of Tehran's foreign policy over the next few years.
Omer Carmi, a former visiting fellow at The Washington Institute, previously led IDF analytical and research efforts pertaining to the Middle East.