Infighting Between Northern Hashd Units Requires IRGC-QF Mediation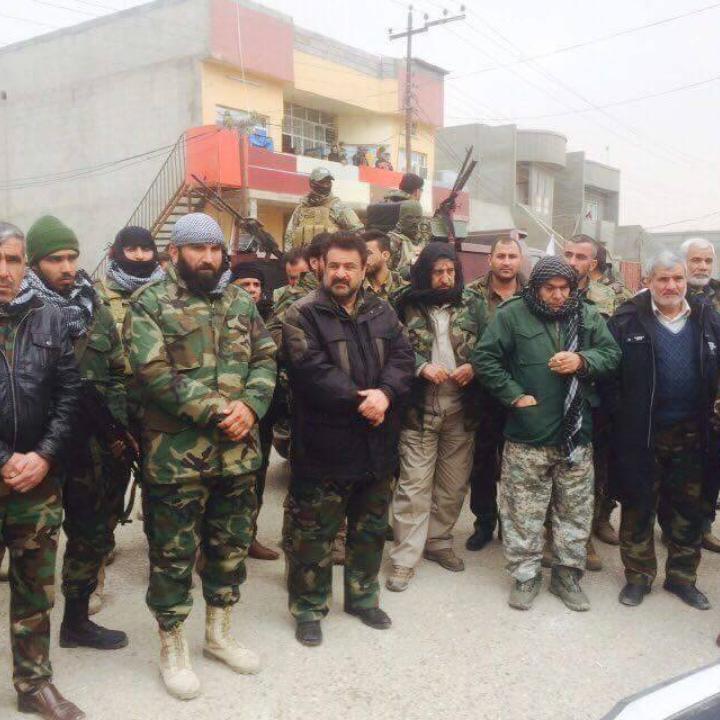 Iran's senior Revolutionary Guard operator in Kirkuk and religious-political leader Ammar al-Hakim were recently brought in to mediate between feuding state-paid militias.
On May 21, two units from Iraq's Popular Mobilization Forces (PMF) exchanged gunfire in an argument over control of a checkpoint at Kirkuk airport. One force was controlled by the PMF Northern Axis, a multi-province headquarters near Tuz Khormatu commanded by Shia Turkmen militiaman Abu Ridha al-Najjar. The other force, the Kirkuk and East Dijlah Operations Command, was established in 2017 to clear Islamic State forces out of Kirkuk; it is currently headed by Abu Hussam al-Sahlani, a deputy of Badr Organization leader Hadi al-Ameri.
Although the shootout did not result in any reported fatalities, mediation efforts quickly followed, suggesting a serious breach within the northern PMF command structure. On May 23, Kirkuk governor Rakkan al-Jabbouri convened a session at which he was photographed with local PMF leaders (Figure 1). In addition to Haj Ali Iqbalpour, the longstanding Kirkuk liaison officer from Iran's Islamic Revolutionary Guard Corps-Qods Force (IRGC-QF), the meeting was attended by Abu Thaer al-Bashiri, the commander of Quwat al-Turkmen (the PMF's 16th Brigade). The latter force is based in Kirkuk's Taza Khormatu area and is thus under Sahlani's Kirkuk and East Dijlah Operations Command.
Soon after the governor's meeting, prominent Iraqi political-religious leader Ammar al-Hakim added his weight to the mediation effort. On May 25, he visited Najar at Martyr's Camp, where he was photographed with Iqbalpour, the IRGC-QF liaison (Figure 2). The day after this highly publicized meeting, Hakim went to the Taza Khurmatu camp of the 16th PMF Brigade and met with Sahlani and Bashiri (no photographs of the May 26 gathering have been publicly released).
Each of these interventions seemed to favor Najjar's Northern Axis. Originally elevated to his position by deceased PMF operational commander and Kataib Hezbollah founder Abu Mahdi al-Muhandis, Najjar still appears to hold primacy over other Badr commanders in Kirkuk. He has seemingly retained Iranian backing as well, despite (or perhaps spurred by) rumors of splits in Iraqi Turkmen communities that have been exacerbated by Turkish intelligence agencies operating along the Turkmen belt from Mosul to Tuz.
Iqbalpour's repeated involvement is particularly significant. He previously played a leading role in the Iraqi federal government's 2017 takeover of Kirkuk, where he sought the surrender of the area's Kurdish defenders. On April 8, 2018, he set up airfield operations in the Kirkuk farmlands near Taza, enabling Iranian drones to provide target correction data in real time when Iranian missiles rained down on the Kurdistan Democratic Party of Iran (KDP-I) headquarters at Koya, Sulaymaniyah, killing eleven and wounding more than fifty. And in July 2022, he mediated a serious dispute between Turkmen and Kakai members of the PMF. The fact that Iqbalpour was seated directly to the right of Kirkuk's Sunni governor and senior Coordination Framework figure Ammar al-Hakim at recent meetings is yet another demonstration of the impunity that Iraqi officials feel about openly engaging with senior figures from the IRGC-QF, a U.S.-designated Foreign Terrorist Organization.