The Hamas-Israel War: One Month On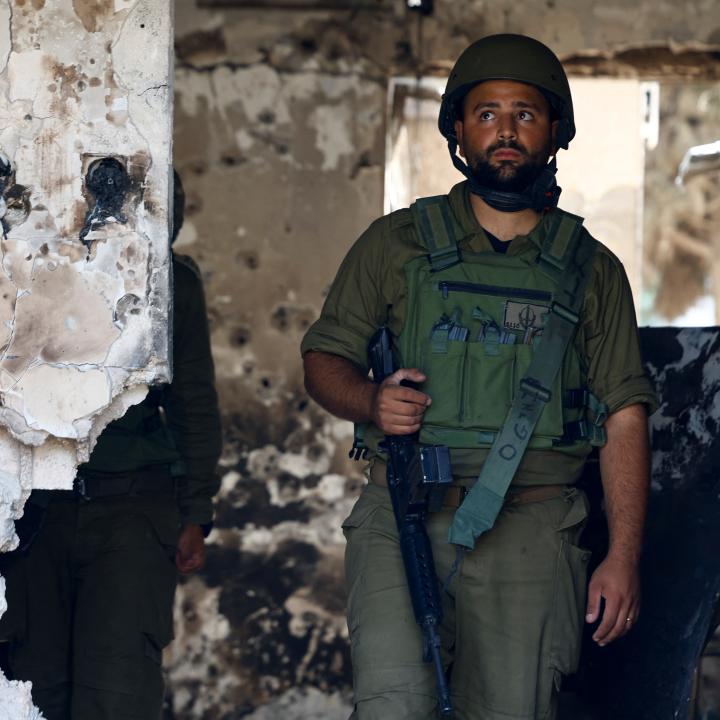 Four experts and former officials discuss the evolving military operation against Hamas, the status of the Lebanon front, the political plight of Arab governments, and the steps Israel must consider to balance its goals with growing international pressure.
On November 6, The Washington Institute held a virtual Policy Forum with Zohar Palti, Hanin Ghaddar, Ghaith al-Omari, and Dennis Ross. Palti is the Institute's Viterbi International Fellow and former head of the Israeli Defense Ministry's Policy and Political-Military Bureau. Ghaddar is the Institute's Friedmann Senior Fellow and co-creator of its interactive map tracking clashes along the Israel-Lebanon border. Omari is the Institute's Rosalinde and Arthur Gilbert Foundation Senior Fellow and former advisor to the Palestinian Authority. Ross is the Institute's counselor and William Davidson Distinguished Fellow. The following is a rapporteur's summary of their remarks.
Zohar Palti
Israel has committed a great many fighting forces to the ground operation in Gaza, with several goals in mind: to protect the country, to take down Hamas, to ensure that nothing like October 7 happens again, to return Israelis to their homes, and to save the hostages. Critics of Israel's tactics inside Gaza have noted past battles in Mosul and Fallujah as cautionary tales, but these comparisons are apples to oranges. The proximity of the Gaza threat is about 240 yards from Israel's border; it is much easier to call for restraint and ceasefires when an ocean separates enemy from victim. No ceasefire is possible without the removal of Hamas and the return of civilian hostages.
Israel understands the humanitarian situation on the ground, but it also understands the duplicitous nature of Hamas. The Israel Defense Forces did its best to warn Gazan civilians and provide for their safety, in part by placing temporary stops on movement to designated safe areas and the transfer of humanitarian goods. Yet Hamas has shown itself to be a ruthless and calculated opponent while sheltering in its extensive underground bunkers. It has no problem using civilians as shields, hiding in tunnels located under protected civilian infrastructure such as hospitals, setting up roadblocks to trap civilians in battle zones, and shooting those who try to leave. Despite these realities, the IDF has work to do and will not stop until its goal is achieved.
Indeed, this war is a different ball game; it cannot be compared to other recent conflicts between Hamas and Israel. The IDF must maintain the tactics necessary to meet its goals. The U.S. decision to send more military assets to the area was certainly a powerful deterrent to hostile regional actors, and Israel's gratitude is deep. Yet Israel has never asked and will never ask the United States to fight a war on its behalf.
Hanin Ghaddar
Since the 2006 war in Lebanon, Hezbollah's mission has dramatically shifted from fighting Israel for the sake of the "resistance" to essentially acting as Iran's bodyguard. This shift is even clearer in light of Hezbollah's military response to the Gaza war, including Secretary-General Hassan Nasrallah's recent public remarks on the crisis.
Hezbollah has yet to become directly involved in the war, limiting itself to firing barrages of short-range missiles just across the border with Israel and allowing Hamas cells in south Lebanon to take credit for many operations on that frontier. For now, Hezbollah does not have the budget, leadership, coherent fighting force, or political will to enter the Gaza war in any meaningful way.
Instead, it has pursued a policy of "plausible deniability" and deterrence handed down from its patron in Tehran. Iran is not willing to lose Hezbollah, its biggest foreign military asset, just to advance the Palestinian cause or protect Hamas. Likewise, Hezbollah is unwilling to use up its carefully cultivated arsenal of precision-guided missiles and other advanced weapons to protect the Palestinian people.
Nasrallah's lackluster, almost placid speech on November 3 further drove home this policy of calculated, limited action. Thus far, he has been happy to reap the war's benefits without directly risking his forces, and like Tehran, he has made clear that Hamas is on its own.
Yet this strategy holds grave risks for Hezbollah's "resistance" narrative—the core of its identity. By stating that his group will not partake in the campaign to "free Palestine," Nasrallah may have damaged Hezbollah's regional credibility and legitimacy beyond repair.
Regarding the October 7 Hamas assault that started the war, there is strong circumstantial evidence that both Hezbollah and Iran were made aware of the operation in advance via countless trilateral meetings with Hamas, the establishment of a joint operations room, and the escalating rhetoric of the "united front" leading up to the tragedy. What they did not seem to anticipate was the international response, particularly the U.S. military response. Washington's decision to move additional forces into the region seems to have deterred Hezbollah and Iran from further action. Even so, the continued skirmishes on Israel's northern border are increasing the risk of miscalculation—mistakes can happen any day, and just one misfired missile could change Israel's response and, by extension, Iran and Hezbollah's calculus.
Ghaith al-Omari
Palestinian and Arab perspectives on the war paint a wildly different picture from that of Israeli sources, especially as the horrific events of October 7 are pushed further into the background. Images and stories of intense Palestinian suffering in Gaza are being circulated rapidly, placing more public pressure on Arab leaders.
Despite this pressure, the West Bank has remained relatively quiet so far. As many as 150 Palestinians have been killed there during the current crisis, while terrorist plots and Israeli settler violence are on the rise. Yet the tensions and clashes are not nearly as intense as they could be. Of course, this situation can turn on a dime given the Palestinian Authority's current weakness. PA leaders came into the crisis facing two major stressors: a West Bank public that vociferously denounces the PA and Israel in the same breath, and Israeli cabinet members who are deliberately targeting the PA through their far-right rhetoric and policies. Stabilizing the PA and the West Bank must be a priority.
Elsewhere, Egypt and Jordan face immediate national security threats given their proximity to the Gaza conflict, making their calculus different from that of other Arab states, including signatories of the Abraham Accords. Amman must deal with hostile external actors on the kingdom's border, extraordinary levels of internal political pressure, and the longstanding issue of Palestinian displacement. Cairo likewise faces the prospect that large numbers of displaced Palestinians might move into its territory, which it considers a red line.
Meanwhile, Qatar is receiving accolades for its role as a hostage negotiator with Hamas even though it has failed to deliver much so far. If Doha wants to play a real role in resolving the conflict, it should use its leverage to bring all the hostages home and convince Hamas to surrender.
Dennis Ross
Since President Biden's initial, impactful remarks on the October 7 attack, U.S. statements and actions have demonstrated unmistakable support for Israel and identification with the threat it faces. The United States has not only backed Israel at the UN, but also deployed two carrier strike groups to the area and intercepted missiles and drones launched by Houthi forces in Yemen. In taking these steps, the administration has focused on deterring a second front, supporting Israel's main objective (i.e., never again facing a threat from Hamas), and minimizing the human cost in Gaza.
At the same time, the administration has cautioned Israel on the difficulties of a ground campaign in a dense urban area like Gaza, using American military experiences in Fallujah and Mosul to inform its discussions with Israeli officials. Although the differences between those experiences and the current reality in Gaza may not be properly appreciated, their lessons still play into Washington's mindset.
Communication is key at this stage. Israel must convincingly communicate to its partners—including Abraham Accord countries and Arab states with which it shares intelligence relationships—how its operational steps in Gaza are lining up with goals. Without clear communication, horrific war imagery will continue to build tension and public pressure in the region.
In this regard, Israel's stated policy of "annihilating" Hamas is more a slogan than a practical policy; completely destroying the movement is impossible. More likely, Israel's real goal is to remove Hamas as a national security threat—that is, eliminate its military infrastructure, organizational coherence, and ability to control Gaza politically. To buy time and space for achieving these objectives military, Israel needs to minimize Palestinian civilian casualties, in part by opening more corridors for humanitarian assistance and creating operational pauses to permit more civilian movement and aid deliveries. These aims are of utmost importance to Washington—U.S. diplomatic pressure will move from the private sphere to the public if such pauses do not occur.
Again, the tragic photos and videos coming out of Gaza are having a huge impact on public opinion in Arab countries. Taking steps to provide safe areas and assistance for Palestinians could help reduce the pressure that has led many regional governments to push for a premature ceasefire—an outcome that would leave Hamas in control of Gaza. Another way to affect the opinion climate is to release the videos that Hamas operatives filmed while celebrating the torture and murder of entire families. This step is difficult to countenance for many reasons but seems like a necessity at this point. At minimum, it would expose Hamas and others who have denied that the group committed atrocities on October 7. More broadly, it would remind the region and the wider international community what Israel is dealing with and why it can no longer be expected to live with Hamas as a neighbor.
This summary was prepared by Ana Estrada. The Policy Forum series is made possible through the generosity of the Florence and Robert Kaufman Family.