Hamas Fields a Militant Electoral List: Implications for U.S.-Palestinian Ties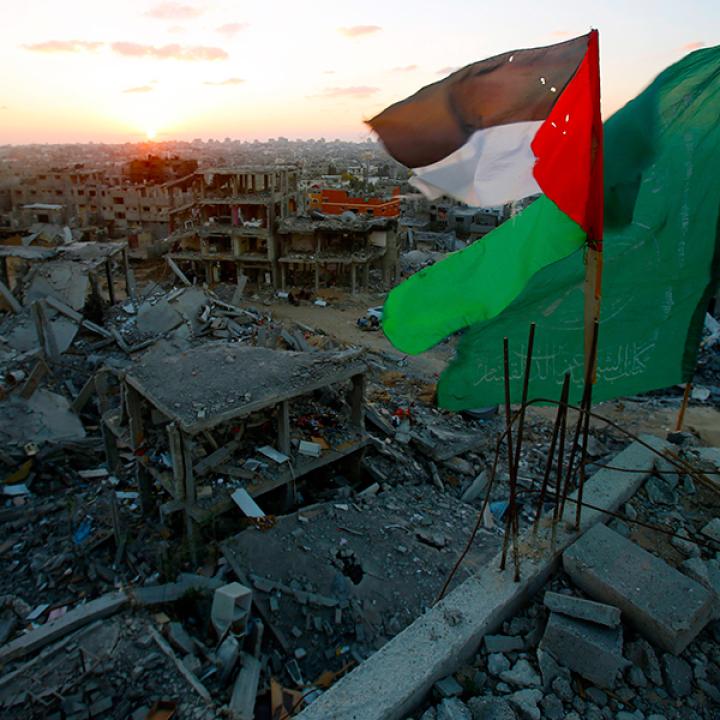 The group plans to put numerous convicted terrorists on the ballot, and neither the PA nor the international community seems willing to talk about the potential legal, diplomatic, and budgetary consequences.
With less than five weeks before Palestinians are scheduled to vote for new legislators, the Biden administration has yet to clarify whether it would support results that enhance the political power of Hamas, which governs the Gaza Strip and has ambitions to dominate the West Bank, too. The presence of numerous convicted terrorists on the group's candidate list—one of thirty-six party lists recently approved by the Palestinian Central Elections Commission—should raise urgent concerns about its participation in the May 22 vote.
To be sure, the Hamas list is not the only problematic slate—the Popular Front for the Liberation of Palestine has also named candidates with past terrorism convictions (e.g., Ahmed Sadat and Khalida Jarrar), while Fatah's Marwan Barghouti has organized an offshoot list and may run in the eventual presidential election despite serving concurrent life sentences for multiple murders. Still, the Hamas list stands out for its sheer number of hardline militant candidates, including individuals with known ties to deadly terrorist attacks. This further belies the myth of any distinction between the group's political activities and its military wing (the Izz al-Din al-Qassam Brigades), bringing its commitment to "armed resistance" into stark relief.
Notable Hamas Terrorists Running for Office
Jamal Muhammad Farah al-Tawil:

A senior Hamas military commander in the West Bank believed to have planned multiple suicide bombings, including a 2001 car bombing in a Jerusalem pedestrian mall that killed twelve Israelis and wounded nearly two hundred. In various instances he adopted political and social welfare roles to facilitate and conceal his military activities. This included establishing the Ramallah branch of the al-Islah Charitable Society "to camouflage the activities of the prisoners committee and enable it to expand and receive donations from Islamic charitable societies abroad," according to a December 2004 bulletin by the Center for Special Studies. He was arrested for militant activities in April 2002, October 2013, and July 2020.

Jamal Abd al-Shamal Abu Hija

: Arrested

in 2002 and sentenced to nine life sentences for involvement in at least six bombings, including the 2002 Meron Junction attack in north Israel that killed nine and the 2001 Sbarro pizzeria bombing in Jerusalem that killed fifteen. He is number eight on the Hamas electoral list.

Muhammad Abu Tir (Abu Musab):

Has spent more than thirty-seven years in jail for militant activities, including service in Hamas's armed wing, membership in a terrorist organization, and distribution of weapons. In January 2016, he was arrested on suspicion of receiving funds from Hamas leaders abroad and helping members transfer cash to the West Bank to finance terrorist attacks. He was arrested again in April 2017 and March 2019 on suspicion of involvement in terrorist activity, and again in January 2020. He is number two on the Hamas electoral list.

Abdul Khaleq al-Natsheh:

Headed the Hebron branch of the Hamas-affiliated

al-Islah Charitable Society and

served as

Hamas spokesman in that city. The extensive terrorist infrastructure that he reportedly oversaw there was responsible for planning and executing various operations targeting Israelis, including an April 2002 attack in the West Bank settlement of Adora and a June 2002 attack in Carmei Zur settlement. Natsheh is number ten on the Hamas electoral list.

Nahed al-Fakhouri:

Reportedly involved in

recruiting

suicide bombers in Hebron and sentenced to twenty-two years in prison. Upon being released as part of the 2011 prisoner exchange for kidnapped Israeli soldier Gilad Shalit, he was instructed to remain in Gaza.

Nasser Abdul Jawad:

Among the founders of the al-Qassam Brigades in the West Bank, and one of forty Hamas members arrested in 2006 after the Shalit kidnapping. He was arrested again in 2011 and January 2018; the latter case resulted in an eighteen-month jail sentence.

Khaled Yousef Abdulrahman Saleh Mardawi (Abu Iba):

A

rrested in 1992 for killing a man he suspected of collaborating with Israel and sentenced to life in prison.

Farah Ahmed Abdul Majid Hamad (Abu Ahmed):

Allegedly involved in two terrorist attacks in 2003—a January shooting on Route 60 near the West Bank settlement of Ofra, which wounded two civilians, and a June shooting on the same road near Jerusalem, which killed American citizen Zvi Goldstein and wounded his family members.

Tawfiq Abu Naim:

Headed Hamas's Internal Security Force until this March, which entailed overseeing numerous al-Qassam Brigade members. According to the European Council on Foreign Relations, he was an activist with the brigades prior to being arrested in 1989. He was released in 2011 as part of the Shalit prisoner exchange, and later survived an apparent assassination attempt in October 2017. Abu Naim is number nine on the Hamas electoral list.

Nael al-Barghouti:

Arrested by Israeli forces in 1978 for participating in the kidnapping and killing of an army officer near Ramallah. After being released in 2011 as part of the Shalit deal, he was arrested again three years later and sentenced to life imprisonment for renewing his involvement in terrorist activities, a violation of his release terms. The longest-serving Palestinian prisoner in an Israeli jail, he is number four on the Hamas electoral list.
A Reflection of Internal Party Dynamics
In recent years, Hamas has tried to present itself as the political address for Gaza affairs and a direct partner for the international community outside of channels controlled by the Palestinian Authority in Ramallah. After Yahya al-Sinwar became the group's Gaza leader in 2017, the internal balance of power shifted from the external leadership to officials inside the Strip. Meanwhile, Hamas weathered a period of diminishing foreign relationships, including a break with Syria's Assad regime and the ouster of Mohamed Morsi's Muslim Brotherhood government in Egypt.
Sinwar's tenure has also seen mounting influence exerted by two overlapping Hamas constituencies: prisoners and the military wing, both of which Sinwar has belonged to. In addition, the electoral list includes several members who, like Sinwar, were released from Israeli prisons under the Shalit deal. Some old-guard Hamas leaders appear in the top ranks as well, including number-one candidate Khalil al-Hayya and Nazar Awadallah, who challenged Sinwar in the group's recent internal elections. Yet two-thirds of the candidates are under age forty, according to Al-Monitor.
International Response
The basis for relations between the Palestinians and the international community remains a commitment to nonviolence, recognition of Israel, and acceptance of previous agreements. The PA reportedly informed the Biden administration that all factions participating in the May 22 election have committed to honoring previous agreements and limiting themselves to "peaceful popular resistance against Israel." Yet Hamas has made no such public declaration. And notably, out of the more than 200 objections that Fatah filed against particular candidates, reportedly not one referred to the terrorist ties of Hamas nominees.
The international response to Hamas participation has been muted as well. The EU publicly expressed its support for the election without mentioning the group, even though European domestic election laws ban parties associated with discrimination or violence. The U.S. government has generally avoided questions about the election and taken no public position on whether it will recognize the results if the vote fails to meet the terms of the Oslo Accords (which bar candidates who advocate racism or violence) and the Quartet Principles (which require a commitment to nonviolence and recognition of Israel). This issue is especially important given that the Biden administration recently reengaged with the PA and resumed U.S. development and humanitarian aid. A lack of U.S. clarity on the election's potential implications could threaten that aid—after Hamas won a majority in the 2006 legislative election, U.S. law was changed to restrict aid if the PA government includes Hamas members or allows the group to exert "undue influence." Continued silence in the coming weeks would only increase the possibility that Washington will face a worse situation the morning after the election.
Katherine Bauer, the Blumenstein-Katz Family Fellow at The Washington Institute, formerly served as the Treasury Department's representative at the U.S. consulate in Jerusalem from 2009 to 2011. Matthew Levitt is the Institute's Fromer-Wexler Fellow, director of its Reinhard Program on Counterterrorism and Intelligence, and author of Hamas: Politics, Charity, and Terrorism in the Service of Jihad (Yale, 2006).