Did the EU Bail Out Tunisia's Kais Saied?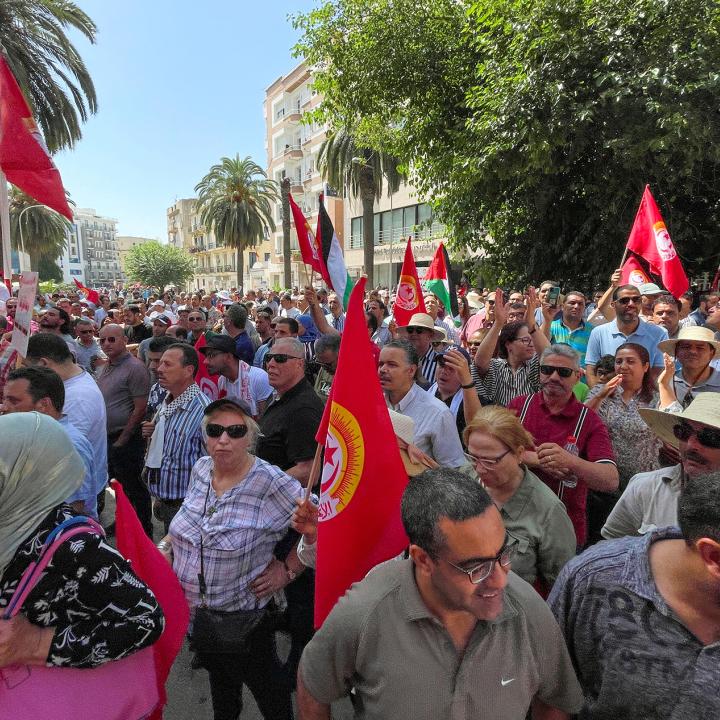 Washington may be tempted to defer Tunisia's problems to Europe, but a new MOU risks perpetuating the country's economic crisis and worsening the plight of migrants.
On July 16, the European Union signed a memorandum of understanding (MOU) with Tunisia essentially pledging economic support in exchange for limiting migration across the Mediterranean Sea. Yet regardless of the potential benefits for both sides, the deal also provides de facto recognition of Tunisian president Kais Saied's anti-democratic leadership and lends legitimacy to his continued efforts to consolidate power.
Migration over Democracy?
The new MOU addresses a variety of issues, including people-to-people ties, green energy transition, trade, macroeconomic support, and—most important from Europe's perspective—migration. Accompanied by Italian prime minister Giorgia Meloni and Dutch prime minister Mark Rutte, EU president Ursula von der Leyen signed the agreement with Saied just before the second anniversary of his decision to dismiss parliament and begin systematically taking over other branches of government. By endorsing him so publicly and emphasizing migration concerns over all others, European leaders also signaled that they are willing to overlook Saied's racist statements and mistreatment of sub-Saharan Africans living in or passing through Tunisia. For example, two weeks before the MOU was signed, Tunisian security forces rounded up hundreds of African migrants in Sfax and relocated them to desert border areas with Libya and Algeria with no supplies.
Meloni and certain other EU leaders were elected on anti-migration platforms stemming in part from periodic surges in the number of arrivals. Amid fallout from both the Ukraine war and Tunisia's economic crisis and heightened anti-migrant attitudes, more individuals have been trying to cross over to Europe, and the Central Mediterranean has reemerged as a main route. As of July 17, the International Organization for Migration reported 110,000 arrivals from the Central Mediterranean so far this year, with last month experiencing a nearly 50 percent increase compared to June 2022. The number of missing and dead migrants also continues to rise, from 1,417 in all of 2022 to 1,769 this year. The majority of these victims attempted to cross from Libya, but nearly 500 of them departed from Tunisia.
In response to this spike, Meloni hosted twenty regional states for a migration conference on July 23, with Saied sitting to her immediate right throughout the event. At one point she stated, "We had the mentality that said 'migration cannot be limited, it is a right, borders don't exist.' That is not my approach because borders exist, migration must be managed." Yet the conference's only immediate result was a pledge of $100 million from the United Arab Emirates to support development projects in states affected by migration.
In the new MOU, the EU has pledged 105 million euros as part of the "migration pillar"—a roughly threefold increase in EU support for this issue. The money is intended to help with border management (mainly equipment acquisitions, training, and technical support) as well as a new "Talent Partnership" initiative for promoting legal migration. The MOU explicitly mentions cooperative efforts to ensure that Tunisian nationals who have sought irregular migration to the EU are returned home. More than 18,000 Tunisians fit that profile in 2022, the third-largest nationality behind Egyptians and Syrians. After the MOU was signed, Saied clarified that Tunisia would only be accepting the return of its own citizens, not migrants from other countries.
The agreement's "macroeconomic stability" pillar does not specify exact funding numbers. During her June visit to Tunis, however, von der Leyen suggested that up to 900 million euros in broader support may be provided through loans and other financing arrangements. Another 150 million euros could become available for direct budgetary support, which Saied likely wants most. Any such EU assistance would probably be conditioned on reaching agreement with the IMF to help stabilize Tunisia's economy and implement reforms. Other projects listed in the MOU, such as connecting Tunisia to an underwater fiber-optic cable, have been planned for some time, so the new agreement could encourage their implementation.
Elusive IMF Deal
In December, Saied criticized the $1.9 billion IMF program that his government had previously negotiated, and the IMF board soon paused it. The failure of successive leaders to implement structural reforms has contributed to the country's mounting economic crisis. The government is now struggling to pay for some imports, leading to shortages of basic goods, while foreign reserves have dipped to the critical ninety-day threshold. Most of the country's borrowing comes from domestic banks and is already at its limit; a foreign loan of 500 million euros comes due in October, followed by another in February, though the government's external borrowing needs are projected at more than $5 billion.
Saied's primary sticking points on the IMF program are its mandated removal of fuel and food subsidies and possible restructuring of state-owned enterprises. According to the IMF, state subsidies account for about 7.6 percent of Tunisia's GDP, while the debts of state-owned enterprises account for about 40 percent. The public wage bill has been another enormous drain on the economy, accounting for about 17.5 percent of GDP. Last September, the powerful Tunisian General Labor Union (UGTT) agreed to a 3.5 percent annual wage increase for public workers as part of the government's original reform plan, and it continues to resist subsidy cuts and reform of state-owned enterprises.
More recently, Meloni has been lobbying the IMF to relax its loan conditions, particularly on the key issue of subsidy reform. The United States seems to have conceded the point. On June 12—one day after von der Leyen, Meloni, and Rutte visited Tunis, and directly following a meeting with his Italian counterpart—Secretary of State Antony Blinken encouraged Tunisia to revise its reform plan.
Saied is also betting on support from Persian Gulf countries. On July 20, the Tunisian and Saudi finance ministers signed an agreement committing Riyadh to provide $100 million in direct budgetary support and $400 million in loans. Meanwhile, Tunisia's foreign minister traveled to the UAE and Kuwait, suggesting additional Gulf funding might follow. If Saied can raise enough money from these partners, he may be able to hang on economically without turning to the IMF—or, at least, limit what he needs from the IMF and, by extension, what he must concede. The increase in tourism revenues since the COVID-19 pandemic will also give him some breathing room.
Political and Social Factors
Although Saied's popularity at home may have waned somewhat over the past two years, his crackdowns on political opponents and migrants do not appear to have dramatically shaken it. On the contrary, many Tunisians still view him as uniquely capable of manipulating Western leaders into promising funds without requiring painful reforms. Moreover, many seem to appreciate that his rhetoric on migration centers on preserving "sovereignty"—from telling European officials that Tunisia will "not be a border guard for any other country" to accusing critics of spreading "lies" and "fake news."
Tunisia's new MOU with Europe does mention respect for human rights in reference to migrants. Yet there is nothing to suggest that actual conditions for migrants will improve as a result of the agreement. Despite the EU's promise to support Tunisian border controls, the government has limited capacity to manage illegal migration, and U.S. border assistance has long focused on counterterrorism issues, not migration. The example of the EU's 2017 deal with Libya looms large—after Brussels agreed to boost the capacity of the country's coast guard, one result was gross mistreatment of migrants in government detention centers.
Tunisia as Europe's Problem
Because the MOU is nonbinding and its funding levels vague, Washington still has an opportunity to discuss these issues with its EU partners and develop more effective solutions. Deferring Tunisia's problems to the Europeans may be tempting—after all, they are closer to Mediterranean issues, and the Biden administration has thus far tolerated Saied's autocratic tendencies. As written, however, the MOU not only risks perpetuating Tunisia's economic crisis by permitting the government to bypass essential reforms, it also threatens to create a humanitarian catastrophe for migrants who get stuck in Tunisia, expelled to desert border camps, or mired in even more dangerous migration schemes. A heightened risk of instability on the Mediterranean is not in America's interests.
As Washington seeks to shift funding away from direct support to the Tunisian government, policymakers should channel assistance to international groups who help migrants and to civil society groups that focus on countering anti-migrant attitudes. It should also continue supporting the reforms required for gradual Tunisian economic stabilization and growth—the only means of substantially stemming migration in the long term. To preserve the country's future prospects, Washington will need to make clear to key EU partners that they should not give Saied a blank check.
Sabina Henneberg is a Soref Fellow at The Washington Institute. Ben Fishman is a senior fellow at the Institute and former director for North Africa on the National Security Council.