Bolstering U.S.-Algeria Relations Amid the Africa Leaders Summit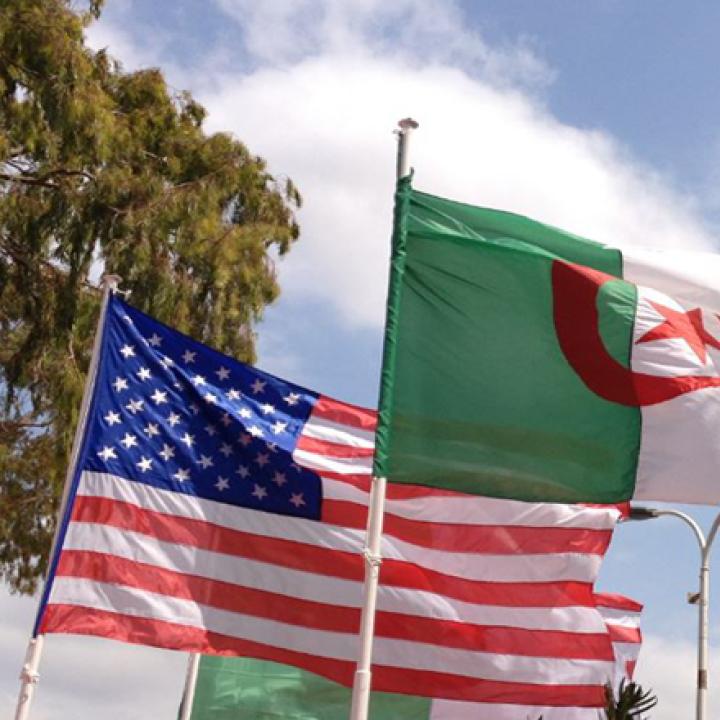 At a time when Algerian military cooperation with Russia is growing and African counterterrorism challenges are proliferating, Washington cannot afford to take the relationship for granted.
Among the nearly fifty heads of state attending this week's U.S.-Africa Leaders Summit, one notable absentee was President Abdelmadjid Tebboune of Algeria. Although Washington's relations with Algiers have hardly been warm over the years, they have not been particularly unfriendly either. Tebboune's decision to have Prime Minister Aymen Benabderrahmane attend in his stead should therefore send a small but important signal to Washington about paying attention to Algeria's rapidly evolving regional and global role.
Algerian foreign policy has long presented itself as nonaligned, but the Ukraine war challenged this posture given Russia's historically close relations with Algiers. Rather than being drawn into the conflict, Algeria has managed to benefit from it—a situation that has invited Western criticism and might spur U.S. sanctions.
Prior to Russia's invasion, Algeria was still dealing with political and economic turmoil in the wake of the mass protests that broke out in 2019 and forced the departure of President Abdelaziz Bouteflika. The unrest has largely subsided, however, and revenues from high energy prices have helped the government recover some fiscal breathing room and restore some of the rentier policies it had been scaling back. Algeria has since been positioning itself as a key energy supplier to Europe while simultaneously showing that it will not kowtow to the West—for example, it has secured energy deals and expanded military cooperation with Italy, but also pulled back from relations with Spain and France.
At the same time, the government has been careful not to alienate Moscow, in part by abstaining from this year's two UN General Assembly resolutions condemning the invasion of Ukraine. This posture is no doubt influenced by their deep security relationship—Algeria imports roughly 80 percent of its weapons from Russia, and the two countries held joint military exercises near the Moroccan border last month. According to some reports, Algiers will soon make another major purchase that includes submarines, Su-57 stealth aircraft, Su-34 bombers, and Su-30 fighters.
In September, such arms deals spurred a bipartisan congressional group to send a letter to Secretary of State Antony Blinken calling for sanctions against Algerian officials. Although some analysts have expressed skepticism that sanctions will be imposed, others have encouraged such measures, noting that Algiers is not only buying more arms from Moscow but also plans to purchase Iranian drones.
Further complicating matters is Algeria's backing of the Polisario Front, which represents Western Sahara's claim to independence from Morocco. In late 2020, the Trump administration recognized Morocco's claim to the disputed territory in exchange for Rabat's agreement to normalize relations with Israel. At the time, some speculated that the Sahara decision could hurt U.S. relations with Algeria, but these fears have not materialized so far—instead, the country has seen a series of notable visits by U.S. officials, including a recent delegation led by Brett McGurk, the White House's national security coordinator for the Middle East and North Africa. Moreover, the Biden administration has not moved to reverse Trump's decision, likely owing to strong ties with Morocco.
The rivalry with Rabat has also energized Algeria's expanding African diplomacy in recent years, particularly after Morocco was readmitted to the African Union in 2017. Algeria's central position in Europe-to-Africa transportation and energy corridors has played a key role as well—for example, the government has signed agreements to build roads with Mauritania and natural gas pipelines with Nigeria and Niger.
The Case for Bolstering U.S. Relations
From the perspective of great power competition, any attempt to dilute Algeria's longstanding relationship with Russia or steer it away from Chinese influence would likely prove difficult if not impossible. Recently, for example, the country has applied for membership in the BRICS (Brazil, Russia, India, China, and South Africa) grouping, reportedly with Beijing's endorsement.
Yet Washington has many other interests in—and options for—strengthening its ties with Algiers. Most crucially, the country has been an important counterterrorism partner and stands to play a key military role in the Sahel region, where jihadists are increasingly active. Algeria's proposed 2023 budget significantly augments its already massive defense spending, potentially by as much as 130 percent, so it will have ample capability for such a role.
In contrast, any domestic instability in Algeria could dampen its effectiveness in regional security missions, so Washington should enhance its economic and political engagement as well. For example, the country will likely be unable to sustain its strong fiscal position without lessening its dependence on hydrocarbons. Yet Algiers has thus far failed in its economic diversification efforts, and its exploration of massive shale reserves has not borne fruit either. Recent legal reforms to encourage foreign investment in the energy sector are only a small step toward moving away from a heavily statist economy.
Politically, the government's legitimacy is quite low, with turnout in last year's legislative election reaching an abysmal 24 percent. Coupled with continued repression and social challenges, this skeptical public mood indicates that new rounds of unrest could be on the horizon.
On the cultural front, Algeria recently announced plans to teach English in primary schools as part of a gradual effort to replace French (notably, the government did not send representatives to the recent Francophonie Summit in Tunisia). Such changes give Washington a rare opportunity for constructive engagement on top of high-level diplomacy and efforts to deepen military ties.
Sabina Henneberg is a Soref Fellow at The Washington Institute.