Biden-Abbas Meeting Is About Symbolism, Not Diplomatic Progress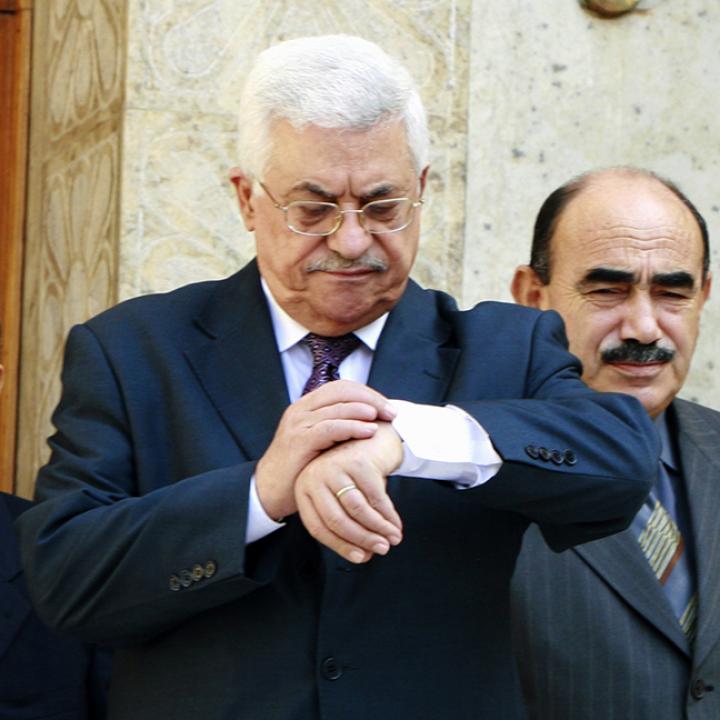 The meeting itself is the objective, and the more uneventful it is, the more it will be deemed a success.
As part of his first Middle East visit, President Biden will soon meet with his Palestinian Authority counterpart Mahmoud Abbas in Bethlehem. Although no significant policy announcements are expected to come out of the talks, the fact that the meeting is happening is significant in itself.
A Restrictive Context
The first American president to visit the PA was Bill Clinton, who traveled to Gaza in 1998. Since then, most presidential visits to Israel have been accompanied by meetings with Palestinian leaders, including George W. Bush in January 2008, Barack Obama in 2013, and Donald Trump in 2017. The two exceptions were driven by special diplomatic circumstances with Israel rather than any rift with Abbas: Bush's May 2008 visit to celebrate Israel's sixtieth anniversary and Obama's 2016 visit to participate in the state funeral for Shimon Peres.
Biden is no stranger to the West Bank either, having traveled there numerous times as a senator, including as a monitor for the 2006 Palestinian Legislative Council elections. As vice president, he met with Abbas during his 2010 and 2016 visits to Israel.
Since Biden became president, however, he and his administration have rightly concluded that any major initiative to resolve the Israeli-Palestinian conflict would be doomed to fail given the prevailing political atmosphere among both parties. Thus, while his team took quick action to reverse some of the Trump administration's departures from traditional U.S. policy—such as reestablishing relations with the PA and resuming aid to the Palestinian people—it has assiduously avoided high-level entanglement.
One indicator of this shift is that Abbas has yet to be invited to the Biden White House, despite visiting under Presidents Bush, Obama, and Trump. The administration also stands out as being the first since the early 1990s not to launch its own peace initiative, at least so far. In 1991, President George H. W. Bush convened the Madrid Conference, effectively launching the Middle East peace process. In the mid-1990s, President Clinton oversaw various negotiations culminating in the 2000 Camp David summit and the Clinton Parameters. President George W. Bush issued the 2003 "Roadmap for Peace" and convened the 2007 Annapolis Conference. President Obama presided over multiple rounds of negotiations, particularly during John Kerry's term as secretary of state. And President Trump issued the "Peace to Prosperity" plan in 2020.
The Biden administration has instead sought modest but tangible progress in U.S. and Israeli relations with the PA, focusing on areas such as security and economics. Yet even these efforts have limitations—U.S. laws that came into force over the past few years, most notably the Taylor Force Act, severely constrain assistance to the PA in light of the stipends that Ramallah pays to Palestinian security prisoners in Israel and the families of "martyrs." Abbas is unlikely to change this policy anytime soon given his weakened political status at home.
The recent collapse of Israel's government further complicates matters. As the country gears up for its fifth election in less than four years, Biden's team will be even more sensitive to Israeli politics and therefore unlikely to press Jerusalem on Palestinian issues.
In this context, the most significant aspect of the president's visit is the fact that it is happening at all. Although the Bethlehem talks may not produce headlines, skipping a chance to meet with Abbas would have been noted given the unbroken track record of previous presidents visiting the PA.
What to Expect
To ensure that the Palestinian and Israeli legs of President Biden's trip do not generate controversy, the administration has sought to defuse potential landmines prior to his arrival. For example, through the Office of the U.S. Security Coordinator, the administration pushed to speedily conclude the investigation into the killing of Palestinian American journalist Shireen Abu Akleh. U.S. pressure also likely played a role in Israel postponing a hearing to advance the controversial E1 settlement in the West Bank, which was originally scheduled to take place mere days after Biden's visit. E-1 has been vociferously opposed by Democratic and Republican administrations alike.
In keeping with this cautious approach, Biden is likely to reiterate traditional U.S. diplomatic positions during his meeting with Abbas—such as commitment to a two-state solution and rejection of unilateral actions—but will not signal any renewed efforts to actualize these objectives. Instead, he will presumably tout the resumption of U.S. assistance to the Palestinians and focus on concrete, noncontroversial deliverables that are exempted from the Taylor Force Act. The assistance in question is substantial and includes humanitarian aid, assistance to East Jerusalem hospitals, economic help for private-sector Palestinians, and people-to-people initiatives under the 2020 Nita M. Lowey Middle East Partnership for Peace Act (MEPPA).
For his part, Abbas stands to gain from the meeting despite his ongoing frustration on two fronts: the lack of energetic American involvement in the peace process, and what he sees as Biden's abandonment of a campaign commitment to reopen the U.S. consulate in East Jerusalem. Having been largely ignored by the Biden White House up till now, he will use the visit to signal that the Palestinian issue, the PA, and he himself are still relevant.
Yet Abbas is also presumably aware that no specific foreign policy outcomes will be forthcoming. Accordingly, he may focus on portraying an uncompromising, principled stance to a skeptical—even critical—domestic audience. This likely means reiterating traditional Palestinian diplomatic positions and making specific demands related to U.S.-PA relations, such as reopening the East Jerusalem consulate, reopening the Palestine Liberation Organization representative office in Washington, and asking the United States to stop considering the PLO a terrorist organization. Although PA officials realize that these demands will not be met, they are probably hoping that tough rhetoric will be enough to appease the general public and fend off attacks from Hamas and other opponents.
In short, for both the White House and the PA, President Biden's visit to Bethlehem is more about symbolism and optics than diplomatic objectives. The meeting itself is the objective, and the more uneventful it is, the more it will be deemed a success.
Ghaith al-Omari is a senior fellow in The Washington Institute's Irwin Levy Family Program on the U.S.-Israel Strategic Relationship.