Egypt, Israel, and Hamas: Opportunities for Progress in Gaza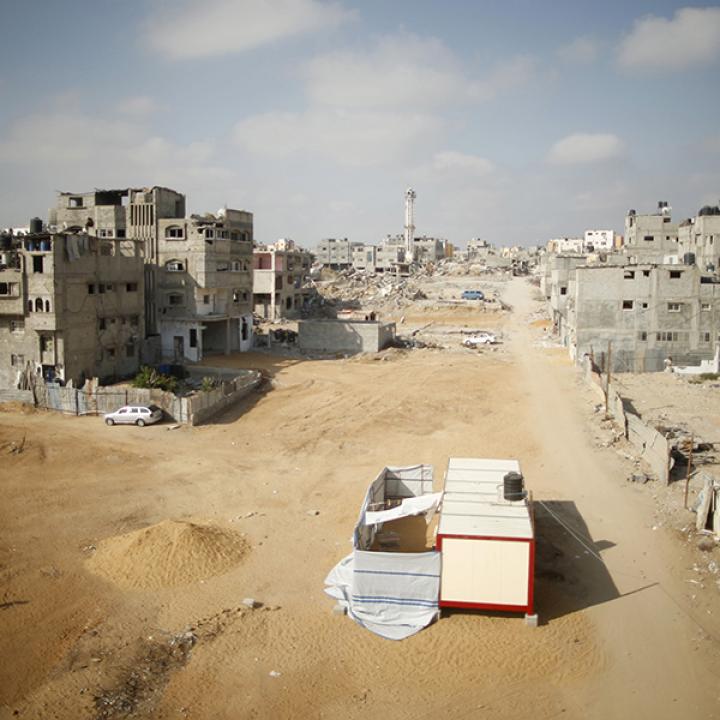 Cairo is signaling more initiative than ever on rebuilding Gaza, curbing Hamas, and openly engaging Israel, but longer-term progress will require greater international donor resources and U.S. diplomatic support.
In an unprecedented move, Israeli prime minister Naftali Bennett and Crown Prince Muhammad bin Zayed of the United Arab Emirates met in Sharm al-Sheikh on March 22 for a tripartite summit with Egyptian president Abdul Fattah al-Sisi. Bennett had previously visited Sisi last September, indicating Cairo's increasing willingness to publicly demonstrate high-level ties with Israel. This shift has largely been driven by Egypt's desire to reestablish itself as both a major regional player and the primary negotiator between Israel and Hamas—a role that came back to prominence when Cairo helped negotiate a ceasefire during the May 2021 Gaza conflict.
Although Sisi has struggled to achieve any major breakthroughs so far, Egypt's return to active Israeli-Palestinian diplomacy is notable in and of itself. For decades, the country was recognized as the main mediator between the two sides, but its clout and regional position waned due to the economic and political difficulties that followed the 2011 Arab Spring. Cairo has been especially sensitive to any expansion in Hamas relations with Iran, Qatar, and Turkey. It is likewise concerned that Israel's recent wave of normalization with various Arab countries might diminish the peace dividends Egypt has received from Washington since the days of Camp David.
To address these concerns and meet its regional goals, Cairo will need to demonstrate some degree of control over Hamas and deliver real diplomatic movement. Yet several challenges stand in the way of such progress.
Rebuilding Gaza
On May 18, 2021, while the fighting in Gaza was still underway, Sisi announced that Egypt would allocate $500 million to rebuild the territory. This commitment—Egypt's first significant, direct aid pledge to Gaza—was likely prompted by concerns that Qatar or another regional power would step in and assume the coveted role as mediator. Indeed, Doha's National Committee for the Reconstruction of Gaza also pledged $500 million.
It is difficult to determine how much of Egypt's pledge has been spent so far, but its direct role in the rebuilding effort is a first. In December, Cairo announced that workers had completed the initial phase of reconstruction (removal of debris from destroyed buildings) and were launching phase two (residential and infrastructure construction). A month later, however, Sisi told participants at the World Youth Forum in Sharm al-Sheikh that the longer-term project of comprehensively rebuilding Gaza would require donors to give much more than $500 million. (In July, the World Bank had estimated that reconstruction would cost $345-485 million, but that amount only accounted for the initial two years of short-term emergency reconstruction.)
In past years, after the 2014 Gaza conflict, Sisi helped steer a fundraising campaign that procured $5.4 billion in regional and international pledges, over $2 billion of which was directly earmarked for Gaza reconstruction. Yet Egypt claims that only about a quarter of these pledges were fulfilled. More recently, most Gulf governments (except Qatar) have been reluctant to get involved in rebuilding Gaza due to Hamas hostility toward them—especially the group's explicit support for the string of attacks on Saudi Arabia and the UAE conducted by Iran-backed Houthi forces in Yemen.
Distributing aid is complicated as well, since authorities in Cairo generally avoid direct financial dealings with Hamas given its status as a designated terrorist organization. Although Egypt's army and intelligence agencies have overseen rebuilding operations, they have not signed any direct agreements with Hamas, instead working via civilian companies. Cairo has pressured Hamas to allow Palestinian Authority officials into Gaza to act as fronts for such transactions, but unsuccessfully so far.
Prisoner Swap
Two of Israel's main goals in engaging with Hamas are recovering the bodies of two soldiers from the 2014 war and negotiating the release of two civilians captured during last year's conflict. In return, Hamas wants Israel to free multiple prisoners, similar to the 2011 swap in which Egypt brokered the release of 1,027 jailed Palestinians in exchange for the Israeli soldier Gilad Shalit (the mechanics of that swap were coordinated by German intelligence officials). Among those released were high-profile Hamas figures such as Yahya al-Sinwar, who has served as the organization's leader in Gaza since 2017.
Today, Hamas is once again demanding the release of high-profile prisoners, including some who were involved in terrorist operations—a sticking point for Israel. Yet the negotiations have continued, however slowly. During the UN Climate Change Conference in November, Egyptian General Intelligence director Abbas Kamel told an interviewer that in addition to discussing a long-term ceasefire agreement in Gaza, Cairo was working "day and night" to broker a prisoner swap. He then pledged to visit Jerusalem for talks on these issues; that trip did not materialize, but Israeli foreign minister Yair Lapid traveled to Cairo in December for the same purpose. In February, Israeli parliamentarian Emilie Moatti told reporters that progress had been made, though security officials involved in the matter reportedly refuted this notion.
For now, Egyptian mediation is likely insufficient to conclude a new swap deal—given Iran's posture toward the players involved, other geopolitical dominoes may have to fall first (e.g., a U.S.-brokered nuclear deal). Even so, Cairo's role should be actively cultivated because it will be essential once a deal is possible.  
Managing Border Crossings
Because Egypt controls Gaza's Rafah border crossing and Salah al-Din Gate, it plays an important role in the territory's access to commerce. The latter gate opened in February 2018 as part of an Egyptian agreement intended to halt Hamas cooperation with the Islamic State's so-called "Sinai Province"—a deal prompted by escalating IS attacks in the peninsula.
At the time, Hamas was using the large number of border tunnels it controlled to help IS Sinai smuggle weapons from Iran and Libya through the peninsula and into Gaza. In return, the IS branch received a share of sophisticated weapons, including Kornet missiles that were used against Egyptian naval vessels off the coast of al-Arish and armored vehicles in North Sinai, giving the group a strategic edge.
The 2018 agreement failed to stop this arms smuggling, spurring Egypt to destroy Hamas tunnel infrastructure en masse and tighten the blockade of Gaza in order to curb the movement of weapons, fuel, other commodities, and terrorists. As a result of such efforts, Hamas and IS Sinai no longer appear to be cooperating in a large-scale, organized fashion. And in May 2020, Egypt's army announced that more than 3,000 tunnels had been demolished—a situation that made the above-ground crossings a key bargaining chip for Cairo.
Currently, Salah al-Din Gate is open three days a week and is used to bring in basic commodities such as fuel, cement, food, and cigarettes, which are an important source of taxes. According to a November 27 report in Haaretz, 17 percent of goods reaching Gaza travel through this gate, with an approximate value of $55 million per month. Overall, the volume of trade between Gaza and Egypt has risen 16 percent since the May 2021 Hamas-Israel conflict.
Hamas makes about $14 million in fees and customs per month from the traffic through Salah al-Din. Accordingly, Egypt's control of the crossings obligates the group to maintain smooth working relations with Cairo, as Hamas leader Ismail Haniyeh affirmed in an interview with Al Jazeera earlier this year.
At the same time, the passage of goods via Salah al-Din has been subject to criticism from Israel, the PA, and the people of Gaza. Israeli authorities are concerned about dual-use materials such as cement, which has at times been diverted to reinforce Hamas tunnels, including attack routes into Israel. Unlike at the Rafah crossing, the commodities imported through Salah al-Din are not subject to UN oversight via the Gaza Reconstruction Mechanism (GRM). This concern could be resolved by making "in-person supervision of goods" universal, which means either closing Salah al-Din and any other non-UN-monitored entry points or placing them under the GRM (Egypt has opposed extending the GRM to Salah al-Din, in part because it sees the gate as a useful bargaining chip with Hamas).
For their part, PA officials are concerned about Hamas control over the crossings with Egypt because increased imports via those routes reduce the PA's relative economic power. Although Hamas is the de facto government in Gaza, the international community still treats the PA as the entity responsible for reconstruction, and granting Hamas substantial crossing revenue can subvert this role in multiple ways.
Many residents of Gaza are frustrated with the current arrangements as well, since Hamas sets unreasonably high prices for goods imported via Salah al-Din Gate, causing significant hardship. The crossing is dominated by traders affiliated with Hamas, making it difficult for smaller-scale local enterprises to compete.
Recommendations
Egypt was able to broker a ceasefire last year due to a confluence of factors: its leverage over Hamas, the full backing it received from the United States, and preferential treatment from Israel. U.S. officials are now hoping for a longer-term truce, though they should be clear-eyed about Cairo's challenges in dealing with Hamas and its expectations for American support on key regional issues—most notably the Grand Ethiopian Renaissance Dam (GERD) and Libya. Egyptian concerns about the latter issues have deepened during the Biden administration, which has shown a certain disregard for Sisi's government over its human rights record.
Cairo correctly gauged that helping to end last year's Hamas-Israel conflict would improve its communication with Washington—after months of silence following his inauguration, President Biden called Sisi twice amid the fighting, on May 20 and May 24. Yet they have not spoken directly since, despite Sisi's reported attempts to meet with Biden on the sidelines of the November climate conference. And in January, Washington blocked $130 million in annual security assistance due to human rights concerns.
This friction could impede progress in Gaza, where Egypt is directly involving itself in reconstruction for the first time and possesses unique leverage due to its control of border crossings. Cairo is also demonstrating an unprecedented willingness to engage in public diplomacy with Israel, pointing to further evolution in its regional role. To garner more U.S. support, Egypt will have to continue proving its readiness to play these parts. Yet Washington should recognize that Sisi may not be able to fully follow through on his Gaza promises without more external diplomatic support and resources, especially at a time when the Ukraine crisis is driving a potential wheat crisis and devaluation of the Egyptian pound.
Inevitably, some bilateral disagreements will persist, but Egypt and Washington can still find ample common ground on supporting the intertwined goals of rebuilding Gaza and combating terrorism and insurgency in Sinai. If they combine their efforts to engage international and regional donors on providing the necessary reconstruction aid, they could significantly curtail Hamas's influence, avoid a new round of confrontations, and encourage continued negotiations with Israel.
Ramy Aziz is a researcher and analyst for the Middle East and international affairs.