After the Palestinians Reject Trump's Peace Plan, Then What?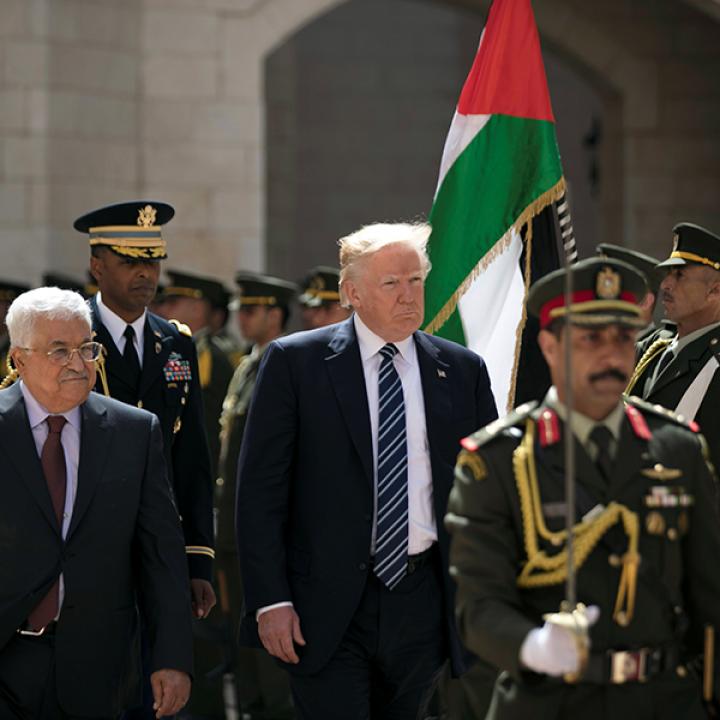 Rather than trying to punish the PA by supporting West Bank annexations or other draconian measures, Washington should simply press forward with other willing partners until Ramallah comes around.
On April 10, right after Prime Minister Binyamin Netanyahu won reelection, U.S. national security advisor John Bolton remarked that President Trump's plan for Israeli-Palestinian peace would be made public "in the very near future." A week later, presidential advisor Jared Kushner, the plan's overseer, reportedly told diplomats at Blair House to expect its release in early June, once Ramadan is over and the new Israeli government is presumably in place. Barring some new wild card, then, the Trump plan will soon see the light of day.
This goes against the advice of some of the best American experts on the region, who fear not just the failure of the plan but a dangerous backlash against it. The first step in this chain reaction is almost certain to be an immediate official Palestinian rejection of the U.S. proposals once they are revealed. Even Israel's ambassador in Washington, Ron Dermer, half-jokingly told White House official Jason Greenblatt this week, "They say that the key to peace is low expectations. So I think you are well underway."
Indeed, the Palestinian Authority has already preemptively rejected the still-secret plan. Based on a series of cryptic but telling hints from Washington, PA officials strongly suspect that the plan will not posit or even offer to negotiate a sovereign Palestinian state with a political foothold in Jerusalem. Newly installed PA prime minister Mohammad Shtayyeh has declared that the plan will be "born dead," while President Mahmoud Abbas reportedly suggested a summit with Netanyahu and Vladimir Putin in Moscow as an alternative to any talks on the U.S. proposal.
Nevertheless, Trump may well go ahead and release the plan in the coming weeks. It is therefore time to consider how all of the players might react to its release and the expected Palestinian dismissal.
In Washington, officials have forewarned the PA that there will be "consequences" if they reject the plan. One consequence reportedly under consideration is for the United States to accept Israeli annexation of some West Bank settlements, echoing Trump's recent recognition of Israeli sovereignty over the Golan Heights. Asked on April 12 if he thought West Bank annexations would negate the peace plan, Secretary of State Mike Pompeo replied, "No, I don't." Given the informality of this comment and the administration's frequent reversals, it is far from clear that support for annexation is now official U.S. policy. Still, the implied threat of such action seems quite clear.
But what would annexation, even of just a few Israeli settlement blocs, actually accomplish? It would almost certainly not, as some maximalists contend, convince the Palestinians to negotiate for fear of losing still more if they continue to boycott the United States. What it would do is alienate the Arab, European, and Asian governments on whom the economic aspects of Trump's plan will probably depend—while angering many Americans as well.
For that reason, the administration should make clear that this "consequence" is not an option, ideally by renouncing the idea of unilateral annexations in the text of the plan itself. A more effective penalty for Palestinian rejection would be to simply move forward on diplomatic discussions with Israel and others about the plan, which would put pressure on the PA to reengage.
This in turn would give Netanyahu sufficient reason to refrain from such a provocative and useless step as annexation. True, he will still face internal political pressure to move in that direction. Yet some of the most extreme right-wing supporters of annexation—Naftali Bennett, Ayelet Shaked, Moshe Feiglin, and their small splinter parties—failed to garner enough votes in this month's elections and will not hold seats in the next Knesset. True, Netanyahu will likely need the members of the pro-annexation United Right coalition to form his next government, but their leverage will be limited by their relatively small numbers (five seats).
As for the pending corruption indictments against him, Netanyahu has other political deals at his disposal besides annexation to ward off legal troubles. For example, a simple majority or even committee vote in the Knesset is all that would be required to retain the immunity from prosecution he already enjoys as an elected member of parliament.
Next to consider is the new Israeli opposition led by Benny Gantz's Blue and White Party, which scored an impressive 35 out of 120 Knesset seats in its first try, almost matching Netanyahu's venerable Likud Party. Regardless of how the prime minister reacts to Trump's plan, Gantz and his partners will likely give it a statesmanlike welcome. The notion of using the plan to promote a broader "national unity" government faded with the decisive election returns, but a courteous nod from Gantz once it is released would cast Israel's mainstream opposition in a positive light with key audiences in both countries.
As for the American "opposition," Democrats will naturally be tempted to decry any Trump plan, especially one that falls short of previous U.S. and Israeli peace offers. But that would achieve nothing diplomatically, while sadly increasing the destructive partisan polarization of America's politics, society, and relationship with Israel. Further, assuming that Gantz and other Israeli moderates give the plan a good reception, a Democratic overreaction would risk abandoning the half of Israel's electorate that just voted against the right-wing camp.
A more useful Democratic response would be to reserve judgment and adopt a "wait and see" posture toward the plan—provided that neither Trump nor Israel reacts to Palestinian objections with draconian punitive measures. In this context, it would be helpful to present the plan (to use one of its architects' words) as a "vision" for the next phase of Arab-Israeli relations rather than the sole permanent peace settlement that the administration would ever endorse.
As for Arab governments, their wisest, most realistic short-term response to the Trump plan would be to simply note that it merits more careful consideration, even in the face of immediate Palestinian rejection. To be sure, some Arab leaders may flatly turn it down depending on its contents, especially if it does not rule out Israeli annexations in the West Bank. They are unlikely, however, to act against the plan in any tangible way, mainly because the Palestinian issue is no longer their top priority (except perhaps in a rhetorical sense).
Some Arab governments will be inclined to use the plan as leverage, as in, "We'll give your peace proposals some diplomatic or economic support if you sell us more weapons or offer us even freer rein to act as we like at home and abroad." Such a stance would badly overplay their hand, however. They need U.S. backing on other regional challenges much more than Washington needs their marginal value added for Israeli-Palestinian peacemaking. Thus, the risk of such drastic Arab overreactions, while real, is probably small.
Finally, and most directly at stake, are the Palestinians themselves. Their leadership is reflexively opposed to any Trump peace plan, but they deserve better than that, and they know it. Public opinion polls indicate that most Palestinians view the diplomatic boycott of the United States as a mistake. They also seem to be prepared for compromises with Israel that their leaders have long refused, to no good end. In particular, for the two million Palestinians trapped in Gaza, most want Israeli jobs, not Hamas mobs.
At present, neither the PA government in the West Bank nor the Hamas regime in Gaza is democratic, so the Palestinian people will be hard pressed to moderate their leaders' intransigence. Yet they can certainly make their voices heard. Even a few brave calls to talk about the Trump plan rather than just trash it might mitigate the administration's anger at Palestinian authorities and keep the door open for future dialogue, which remains the best long-term option.
At least some of the players will likely ignore the preceding advice, but that is no reason to give them a veto over it. On the contrary, each party would benefit from following these suggestions, even (or perhaps especially) if the others do not. That at least would clarify who is really for progress toward Arab-Israeli peace and who is against it.
David Pollock is the Bernstein Fellow at The Washington Institute and director of Project Fikra.