After Gaza, Recalibrated Prospects for a Geopolitical Europe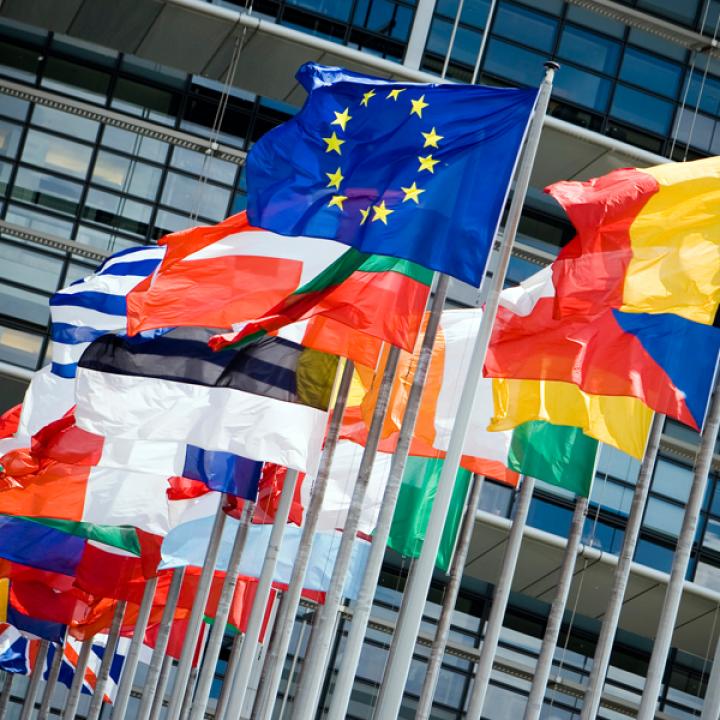 Much optimism attended the continental response to Russia's Ukraine invasion, but the October 7 Hamas attacks and their aftermath could dampen aspirations for European unity on the international stage.
On October 26, the European Council adopted a new set of conclusions relating to the war in Gaza. Notably, these reiterated condemnation of Hamas, Israel's right to defend itself in line with international law, calls to release all hostages, concern for all civilian lives, the need to ensure humanitarian access to Gaza, and a commitment to achieving a two-state solution to the Israeli-Palestinian conflict. Earlier European dissonance regarding the Gaza conflict thus appeared to be replaced by clearer communication. But European unity could soon be tested again, including on humanitarian messaging, which is less easily consented upon than meets the eye.
More broadly, whereas the war in Ukraine had given rise to optimism about the emergence of a "geopolitical Europe"—a European Union capable of defining common strategic international objectives and deploying concrete operational means to achieve them—events following the Hamas attacks have exposed divisions within European institutions and highlighted the absence of a clear strategic approach in the southern neighborhood, potentially undermining the ability to achieve such objectives.
Inconsistent EU Messaging
On October 9, Oliver Varhelyi, a Hungarian official serving as EU commissioner for neighborhood and enlargement negotiations, announced on X, formerly Twitter, that all development aid to the Palestinians—amounting to 691 million euros (US$729 million)—was under review and that all payments would be immediately suspended, causing significant confusion regarding the European response.
Germany, Austria, Denmark, and Sweden have decided to suspend funding in order to ascertain where the funds will end up, while Belgium, France, Italy, and Malta made clear they would not do so. Ireland, Luxembourg, and Portugal are unlikely to follow suit, given their statements criticizing Varhelyi. Spain even announced an increase in humanitarian aid and cooperation with the Palestinian Authority. Eventually, the European Commission had to disavow Varhelyi's statement, but the damage to consistent EU messaging was done. The October 13 visit to Israel by European Commission president Ursula von der Leyen added to the malaise within European ranks, raising suspicions of political opportunism at a particularly grave moment.
After engaging in damage control to restore clarity to European positions, Josep Borrell, the European Community's head of European diplomacy, pushed for the EU to take a less pro-Israel line, expressing concern about what he saw as the negative perception in Arab countries and the "Global South" of unconditional support for Israel, which he felt could ultimately benefit Russia.
Divergent National Perspectives on the Conflict
The communication chaos in Europe was all the more surprising given that on the whole, member states, despite holding very different positions and sensitivities, have expressed internally consistent messages. Namely, on October 8, Josep Borrell signed a declaration on behalf of the EU setting out the essential elements of a common line, confirmed at the European Commission on October 17:
A firm condemnation of Hamas and a call to release the hostages

Support for Israel's right to defend itself in compliance with international humanitarian law

Continued contacts with regional and international partners to contain the risk of regional escalation

Provision of urgent humanitarian aid

Revival of the peace process leading to a two-state solution
The EU historically has belonged to the Quartet (along with the UN secretary-general, United States, and Russia), which was set up in 2002 to work toward a two-state solution to the Israeli-Palestinian conflict, on which there is consensus among member states. The Quartet even deployed a short-lived border assistance mission in Rafah working with the Palestinian Authority, which was suspended in 2007.
Still, reaching a common position on the October 7 attacks was anything but self-evident. What common ground does Sweden—which recognized Palestine as a state in 2014, even as the current government is critical of this decision—have with Hungary or the Czech Republic, which are regularly rumored to be moving their embassies to Jerusalem in the wake of the 2018 U.S. decision to do so?
Beyond the political differences between EU national governments, the recent history of European countries shapes their sometimes radically different perceptions of the conflict: can Germany's position be reconciled with that of Ireland, where the Palestinian cause resonates because of the country's national liberation struggle, and where the government announced in late September that it was preparing to recognize Palestine?
In addition, the domestic implications of the issue vary from one member state to the next. The risk of social fragmentation is taken very seriously in countries such as France, which has Europe's largest Jewish community, including many dual French-Israeli citizens, and a significant number of Muslim citizens. These differing perspectives probably explain why France, Germany, and Italy issued statements with the United States and Britain, later joined by Canada, rather than limiting themselves to joint statements with the EU.
European Unity Likely to Be Tested
The EU has long been the largest donor to the Palestinian territories, and after initial uncertainties, on October 14, the European Commission announced a tripling of humanitarian aid to Gaza (75 million euros, or US$79 million). Access and delivery remain difficult, however, despite the opening of the Rafah crossing. As a result, the idea of a "humanitarian pause"—first floated by Brazil in a draft UN Security Council resolution that was rejected by the United States before Borrell actively endorsed it—has entered the European debate. The latest European Council conclusions allude to this pause by calling for "continued, rapid, safe and unhindered humanitarian access and aid to reach those in need through all necessary measures including humanitarian corridors and pauses for humanitarian needs."
Still, Borrell's optimism on "growing European support" for a truce may be unwarranted. On October 24, at the Security Council, French foreign minister Catherine Colonna called on the international community to "demand the establishment of a humanitarian truce that could eventually lead to a ceasefire." Two days later, confirming the divide, a majority—including Germany—abstained at the UN General Assembly on a Jordanian resolution calling for such a truce, while a second group voted in favor (France, Belgium, Spain, Portugal, Malta, Ireland, Luxembourg) and a third voted against (Austria, Croatia, Czech Republic, Hungary).
The Bigger Picture
The current situation has several fairly long-term implications for the EU. Procedurally, the European elections scheduled for June will lead to renewal of several key institutions, including the European Commission. Responsibility and prudence in international affairs must be criteria in their own right in allocating positions and portfolios most directly involved with external EU action.
Indeed, regardless of their substance, divergences from EU institutions on international matters represent a dangerous departure from the framework that strictly defines EU foreign policy prerogatives. To be sure, European treaties have long formalized a common foreign and security policy, and talk has sometimes emerged about a "geopolitical EU Commission." Yet the fact remains that there is no such thing as a European foreign policy since decisionmaking is limited to member states and voting subject to unanimity rule.
In the long run, it will be crucial for Europe to adopt a real strategy regarding its southern neighborhood. For now—it is worth noting—migration agreements have become a key area for Europe's cooperation with its East Mediterranean and North African neighbors, but they are governed by short-term considerations.
For the foreseeable future, achieving a common geopolitical vision in the southern neighborhood does not seem likely. This should argue for a cautious approach to strengthening the institutional mechanisms of a geopolitical Europe, in particular by abandoning unanimity rule in favor of decisionmaking by a qualified majority in international matters, as advocated by Germany and like-minded countries. Indeed, institutional reforms that ignore political realities would only serve to deepen and aggravate divisions.
In the meantime, European action in the region will probably continue to unfold in limited formats, as in the case of Iran. In this respect, the post–October 7 phase could see positions of the E3 (France, Germany, and Britain) and United States converge on a tougher line on Iran, an approach Washington has not favored so far.
Selin Uysal is a 2023–2024 visiting fellow at The Washington Institute, in residence from the French Ministry for Europe and Foreign Affairs.