After Baghdadi: How the Islamic State Rebounds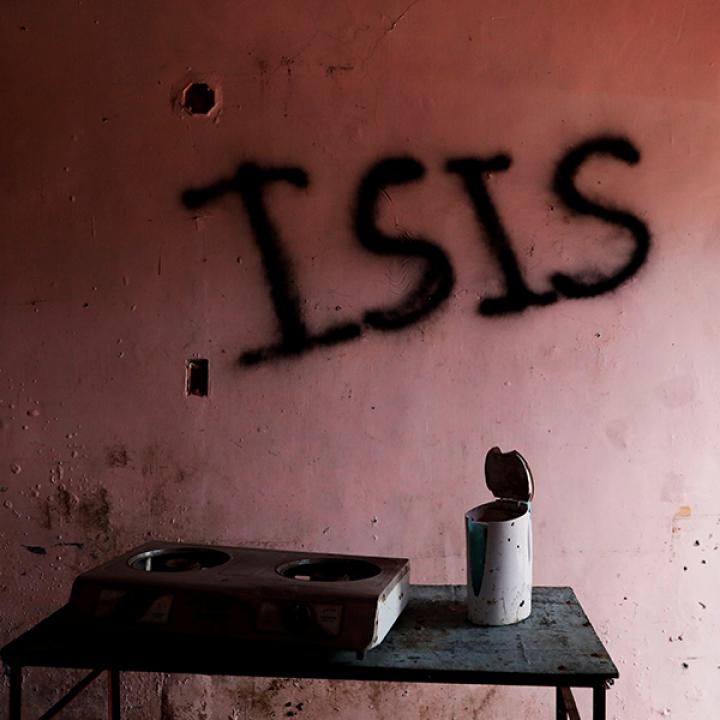 The back-to-back deaths of the IS leader and allegedly one of his likely successors mark a significant counterterrorism accomplishment, but neither high-profile deaths nor the territorial loss of the so-called caliphate will translate into the organization's defeat.
The Islamic State (IS) suffered a crushing blow over an event-filled weekend with the death of its leader, Abu Bakr al-Baghdadi, in Syria's Idlib governorate. The next day, October 27, IS spokesman—and possible Baghdadi successor—Abu al-Hasan al-Muhajir was allegedly killed as well. U.S. Special Forces raided a compound in northwest Syria close to the Turkish border, in the course of which Baghdadi reportedly detonated a suicide-bomb vest, killing himself and several children. Thereafter, Muhajir was reportedly killed when the oil tanker in which he was being smuggled across northern Syria was hit in an airstrike.
One possible replacement for Baghdadi is his deputy, Abu Abdullah al-Hassani (Haji Abdullah). He is rumored to be of Quraysh lineage, which would provide religious cover as a new potential caliph. There were also rumors that Abdullah Qardash, a former Iraqi officer, would succeed Baghdadi. However, the evidence is based on a fake IS statement that was never actually released by the group. Whoever the new leader may be, he will inherit functioning local operational leadership, both on the ground in Iraq and Syria and around the world, where the group's far-flung "provinces" still operate. The group still enjoys a sufficiency of funding, which, together with the persistence of its radical ideology, makes it an enduring terrorist and insurgent threat. Moreover, the withdrawal of most U.S. forces from Syria, the escape of IS prisoners from the country's prison camps, and the pressing problem of dealing with those IS prisoners still detained in camps like al-Hawl all present the jihadist group with opportunities for resurgence.
Persistent IS Threat
Although President Trump has claimed IS has been defeated, its activities on the ground in Iraq and Syria, as well as globally, suggest otherwise. Since IS lost its last vestige of territory in Baghuz, Syria, in late March 2019, the group has conducted hundreds of operations in Iraq and Syria, as of October 24. In Syria, it has claimed 330 attacks in Deir al-Zour, 103 in Hasaka, 99 in Raqqa, 33 in Homs, 10 in Deraa, 9 in Aleppo, and 3 in Damascus governorates. In Iraq, the group has claimed 275 attacks in Diyala, 111 in Kirkuk, 95 in Nineveh, 94 in Anbar, 92 in Baghdad, 46 in Salah al-Din, and 25 in Babil governorates. Outside Iraq and Syria, besides operations in its various external provinces (wilayat), IS has established a new province called Wilayat Wasat Ifriqiya that operates in the Democratic Republic of the Congo and Mozambique, illustrating its continued push into new locales.
Alongside its actual operations, the Islamic State is attempting to break its followers out of prisons and internally displaced persons (IDP) camps in northeast Syria, based on dictates by Baghdadi, who called for this by any means necessary in a mid-September 2019 speech. Relevant sites include al-Hawl, an infamous camp that houses 68,000 women and children, including a foreigners' annex with 11,000 people, some of them extreme elements still loyal to the IS cause. True believers serve as hisba (morality police), running secret courts that have led to the death of many women and children who violate IS rules. This atmosphere has allowed IS adherents to continue to act as if the caliphate still controlled territory. If the Islamic State is able to break its followers out of prisons and IDP camps, it will not only replenish its fighting forces but also help rebuild its caliphate project, which includes fostering a future generation of children as jihadists.
Reserve Financing
Despite the loss of its territorial caliphate and associated lucrative sources of revenue, the Islamic State continues to be well-resourced. According to the UN Sanctions Monitoring Team for IS and al-Qaeda, the group is estimated to have somewhere between $50 million and $300 million in reserves from the caliphate period. Some of those funds were reportedly invested in licit, revenue-generating businesses in Iraq and neighboring countries. Other funds may have been buried underground or otherwise secreted away as cash stores. Although the group has reportedly faced liquidity challenges of late and may be exploring new means to raise funds, IS had been until recently able to fund sleeper cells and other operations in its former core territory—Iraq and Syria—as well as to send modest funds to its provinces. However, most of the IS provinces are largely self-sufficient, having mainly been preexisting organizations with preexisting funding mechanisms before pledging allegiance to Baghdadi. Like the core in Syria and Iraq, IS provinces primarily raised funds locally through extortion and kidnapping for ransom (KFR).
Having now been deprived of territory, the Islamic State is likely to fall back on extortion as a means of raising funds, as did its predecessor, al-Qaeda in Iraq, by tapping into reconstruction projects and taxing the movement of oil. In addition to extortion, the group may revive other forms of fundraising such as KFR, which appeared to decline as a proportion of the group's revenue as higher-value targets such as Western aid workers declined. Even so, the group continued to make money from trafficking of the local population.
IS local cells are also likely sufficiently financed, in part because the group reportedly required cells to be self-sufficient. To this end, seed funding was provided with the expectation that cells would establish revenue-generating enterprises or rely on personal funds.
Continued Ideological Resonance
In March 2019, in an audio recording IS released on the social media platform Telegram after the New Zealand mosque shooting, Muhajir broke a six-month silence to use the Christchurch tragedy to rouse followers to violence. "The scenes of the massacres in the two mosques should wake up those who were fooled, and should incite the supporters of the caliphate to avenge their religion," he said. While pressing the group's remaining fighters in Syria to continue the fight, he also called on IS "soldiers of the caliphate" in the group's provinces to continue to "prepare for war and be diligent about it."
Baghdadi himself made similar entreaties in his April 2019 video—his first appearance since announcing the group's formation from the pulpit of Mosul's Grand Mosque in July 2014—calling for the fight in Syria to go on while praising IS-inspired attacks in Sri Lanka and Saudi Arabia and urging additional overseas operations.
Despite the death of these leaders, such messages will continue to resonate among the group's members, followers, and prospective recruits who are drawn to the group for a combination of reasons unique to each person—from escaping local grievances for which IS provides belonging and empowerment to a belief in establishing a caliphate governed by Islamic law. The underlying conditions that open people up to radical ideologies and violent movements—from poor governance and corruption to discrimination and crackdowns on legitimate and peaceful means of expression—persist across the region, as demonstrated by recent protests in Lebanon and Iraq. In Syria and Iraq in particular, conditions remain ripe for the kinds of disillusionment and desperation that have previously pushed Sunnis into the arms of both al-Qaeda and IS.
Meanwhile, even as IS has reportedly been planning attacks in the West, the dominant terrorist threat posed by the group in Western countries remains the influence of its ideology on homegrown violent extremists—that is, citizens and residents of Western countries. In May, the director of Britain's domestic security service, MI5, said that 80 percent of thwarted terrorist attacks in the West involved individuals inspired by the Islamic State. "The basic assessment has been that organized cells as such are maybe less fundamental than they were and it's the individual radicalization process which is a particular concern," he explained.
According to a U.S. intelligence community Joint Intelligence Bulletin released after Baghdadi's April video, "Most homegrown violent extremists (HVEs) generally do not mobilize to violence in response to specific events and instead are usually influenced by a confluence of sociopolitical, ideological, and personal factors." The report adds, however, that key events—such as Baghdadi's April video or, extrapolating to today, his death—could bolster "those wavering in their commitment to IS." Indeed, in the short term, Baghdadi's death could propel the remaining IS leadership or, more likely, individual IS operatives or HVEs to try to execute attacks to avenge his death and demonstrate the group's continued viability and resilience. 
Conclusion
In the wake of the Baghdadi raid, another factor worth considering is the prospect of HVE attacks driven by "perceived grievance related to U.S. Government actions," according to then director of national intelligence Dan Coats. But the DNI also warned that IS has already developed "a robust insurgency in Iraq and Syria as part of a long-term strategy" to enable a resurgence of its caliphate. At the same time, the DNI forecast that "IS almost certainly will continue to give priority to transnational attacks." And while its funding streams have shrunk considerably since its territorial defeat, the group needs far less money to carry out insurgent and terrorist attacks than it did to run a pseudo country.
Lastly, unlike Osama bin Laden's death, which occurred in an area where al-Qaeda was led by foreigners, the core IS leadership is either Iraqi or Syrian. The Islamic State has always been more embedded locally in Iraq and Syria than al-Qaeda had been in Afghanistan and Pakistan. This suggests that IS will likely be more resilient and have a greater reservoir for recruitment and future leaders than al-Qaeda ever could have, once its original leadership in the Afghanistan and Pakistan region became degraded.
Katherine Bauer is the Blumenstein-Katz Family Fellow at The Washington Institute. Matthew Levitt is the Institute's Fromer-Wexler Fellow and director of its Reinhard Program on Counterterrorism and Intelligence. Aaron Zelin is the Richard Borow Fellow at the Institute.