Will the Trump Administration Force Oman to Choose Sides?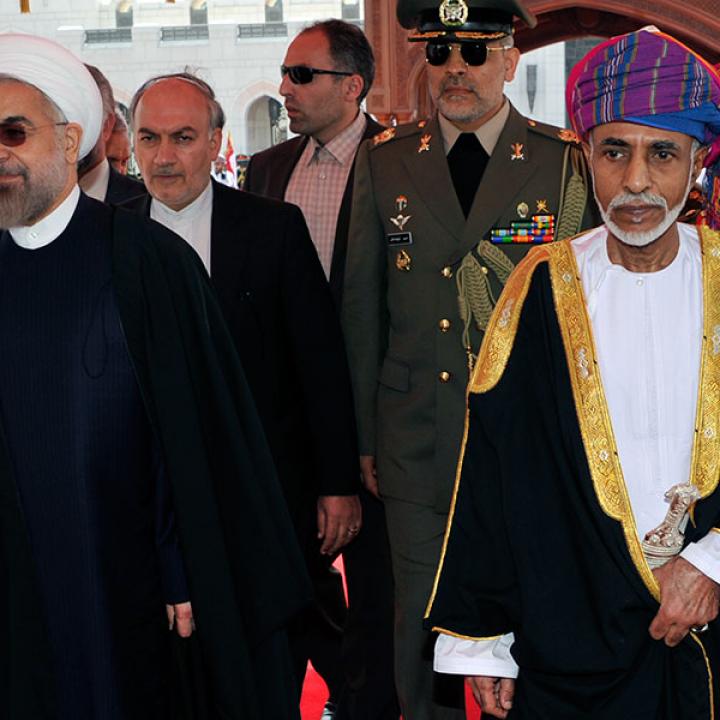 Washington and its Gulf allies are pressuring Oman on weapons smuggling and other issues, but the president should not discount the depth and potential usefulness of the sultan's ties with Tehran.
The sleepy Persian Gulf sultanate of Oman has emerged as a wild card in the Trump administration's push to roll back Iranian power across the Middle East. The country's ruler, Sultan Qaboos bin Said, is in many ways a weathervane for gauging the region's shifting power balance amid Tehran's worsening feud with Saudi Arabia. He has also served as a crucial U.S. ally in recent years, particularly by helping the Obama administration establish a secret diplomatic backchannel with Iran and pursue a negotiated solution to Yemen's civil war. Today, however, President Trump's hardline stance on Iran and his embrace of Saudi crown prince Muhammad bin Salman risk placing Oman in the crosshairs of an escalating proxy feud, according to U.S., Arab, and Israeli officials who work on Gulf affairs.
SERVING U.S. POLICY UNDER OBAMA
Senior Obama administration figures, including Secretary of State John Kerry, say that few people facilitated America's goals in the Middle East during their tenure more than Sultan Qaboos and his inner circle. Just weeks into President Obama's first term, the sultan's emissaries visited Washington and said they could serve as a diplomatic line to Iran. Muscat's bona fides were bolstered when it secured the release of three American hikers captured by Iran's security services in 2009. Oman was also helpful in securing the return of Americans detained by the Iranian-supported Houthi rebels in Yemen.
Perhaps most important, Muscat was the setting for months of secret nuclear negotiations between American and Iranian diplomats beginning in mid-2012. And up until the final weeks of Obama's tenure, Omani officials tried to help the administration broker a ceasefire between Yemen's warring factions, hosting direct talks between Kerry and the Houthis in November 2016. But that process broke down at the end of Obama's term and has not resumed.
PRESSURE BUILDING UNDER TRUMP
In recent months, Riyadh, the United Arab Emirates, and Washington have been pressing Muscat to cut off the flow of Iranian weapons allegedly being smuggled to the Houthis over Oman's territory and through its coastal waters. As such, the sultan's past role as a bridge-builder to Tehran may no longer be an asset. "Gulf countries are increasingly being forced to take sides in the Saudi-Iranian dispute," said a senior U.S. official, and "Oman is not exempted." For example, Riyadh and the UAE imposed an economic blockade on Qatar last year in part because of its cordial relations with Tehran.
Israeli officials have likewise accused Oman of enabling Iran's destabilizing regional activities, citing both the weapons smuggling allegations and Muscat's willingness to warehouse materials used in Iran's nuclear program. Tehran forged an agreement in 2016 under which Oman stores any excess Iranian-produced heavy water beyond the amount permitted under the nuclear agreement. Among other purposes, heavy water can be used inside nuclear reactors to produce plutonium. If such concerns persist, they could undermine Oman's historically good relationship with Israel, for whom the sultan serves as a bridge to Arab leaders.
U.S. officials say they are trying to strike a balance with Oman, maintaining the sultan as a valuable channel to Tehran and its proxies while making sure that he is not too far in Iran's camp. "When we've pressed Oman on the arms issues, they've normally been responsive," said a former official who worked on Yemen.
Yet Oman's centrality to regional diplomacy has clearly diminished since President Trump's election. Neither Tehran nor Washington has shown much interest in resuming the direct talks that became commonplace under Obama. Moreover, the Trump administration's strong embrace of Saudi Arabia and its ascendant crown prince has resulted in greater U.S. logistical and intelligence support for Riyadh's war in Yemen. U.S. and Arab diplomats now say they see little hope for a negotiated settlement to the conflict anytime soon.
SMUGGLING AND ESPIONAGE ACCUSATIONS
Saudi and Emirati criticism of Oman is also on the rise, with both governments questioning Muscat's neutrality on Yemen. In September, the governor of Yemen's northern Marib province told the Saudi-owned newspaper al-Hayat that local authorities had seized three vehicles with Omani license plates attempting to smuggle weapons to the Houthis. A separate article run by the website Intelligence Online quoted Saudi officials who accused Oman of turning a blind eye to smugglers in its western province of Dhofar. According to them, Iranian-supplied weapons were being stored on small islands off Dhofar's coast and flown into the province's airport in Salalah, where Houthis could obtain them.
Omani officials have denied all such accusations. "Weapons do not cross our borders," Foreign Minister Yusuf bin Alawi told the Saudi daily Okaz in October. "We are willing to clarify this for our brothers in Saudi Arabia." Other Omani officials have told reporters that the Yemen war is detrimental to Saudi and Emirati national security interests. In their view, Muscat's diplomacy has solely aimed to help Riyadh and Abu Dhabi extricate themselves from a costly conflict that has displaced hundreds of thousands of people and created famine-like conditions in Yemen.
More broadly, Oman has been wary of Saudi Arabia and the UAE for some time, particularly since they increased their military operations along its border with Yemen. In 2011, Muscat publicly accused the UAE of running a spy ring inside its military and government offices, a charge Abu Dhabi denied. Diplomats believe the operation was focused on learning more about the sultan's close ties to Tehran.
WHICH WAY WILL OMAN TURN?
Oman is being pulled in multiple directions at once, and it is unclear how these oft-competing priorities will affect its posture in the coming months. To the north, Saudi Arabia has tried to woo the resource-poor country into its camp despite their mutual distrust. This month, for example, Riyadh announced it would contribute $210 million to finance an industrial zone in Oman's southern port of Duqm.
At the same time, Oman has continued to coordinate its diplomatic, economic, and military activities with Iran in recent months, building on close bilateral ties that stretch back to the 1970s, when the shah sent thousands of troops and attack helicopters into Dhofar to help put down a tribal uprising. Last October, the commander of Oman's air force met with his counterpart in Tehran as part of a joint military commission. That same month, Iranian foreign minister Mohammad Javad Zarif visited Muscat to discuss a proposed pipeline that would carry Iranian gas to India.
As for the West, official signals seem mixed at the moment. In a sign that Oman remains an important intermediary with Iran, British foreign secretary Boris Johnson visited Muscat last month as part of London's campaign to win the release of a British-Iranian citizen who has been imprisoned in Tehran for nearly two years. Yet ongoing developments in Yemen may soon spur Washington and its partners in Riyadh to increase their pressure on Oman. In recent weeks, Houthi militias have shot ballistic missiles into Saudi Arabia, including against Riyadh's international airport. The Trump administration believes that Iran smuggled these missiles to the Houthis, and while it has not openly accused Oman of involvement in the transfer, clouds are beginning to form over the relationship.
Jay Solomon is the Segal Distinguished Visiting Fellow at The Washington Institute and author of The Iran Wars: Spy Games, Bank Battles, and the Secret Deals That Reshaped the Middle East.