Washington and the Next Arab Spring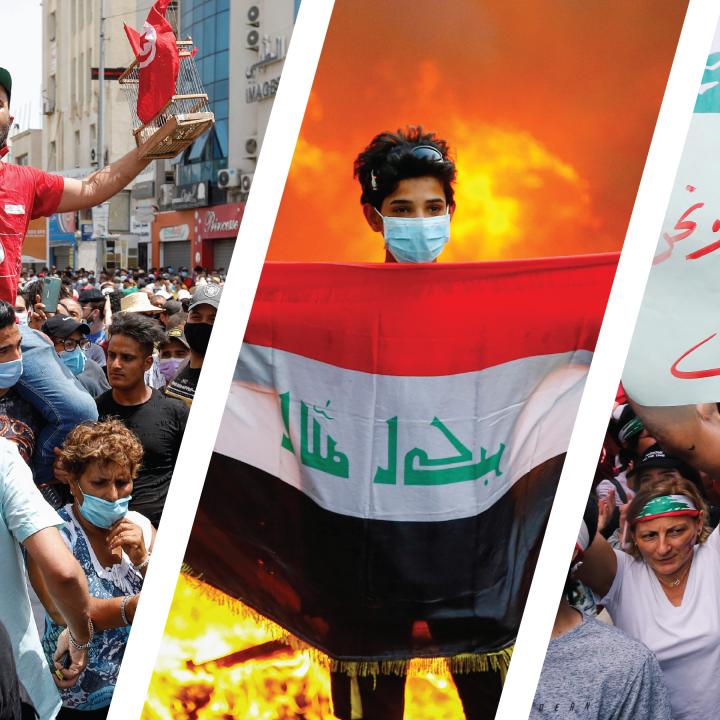 Should protests grow more destabilizing, the United States will need to balance its values and interests regarding bilateral ties, the popular movement in question, broader regional dynamics, and competition with Russia or China.
Against the backdrop of simmering protests, endemic economic challenges, the continuing struggle to contain the Covid-19 pandemic, and fallout from the U.S. Afghanistan withdrawal, The Washington Institute has launched a series of policy papers to help guide the Biden administration's approach on democracy, reform, human rights, and political change across the Middle East and North Africa. 
The series addresses a range of questions: How do changes in the region over the last decade affect the new administration's approach to these issues? How should the administration best prepare for the "new normal" of protests in the region? What are the policy tools at America's disposal, and how might they be improved? How can Washington turn much-needed attention to new areas of focus, such as corruption and public-sector reform? What does public opinion research tell us about what the region's publics want in their countries—and from the United States? And where might enhanced U.S.-EU coordination play a constructive role? The proposed answers will assist policymakers in advancing opportunities for reform, preserving U.S. interests, and navigating Middle East realities in the context of America's global priorities.
In the second essay of the series, Sarah Feuer, David Schenker, and their coauthors discuss the resurgence of protest activity across the region, the result of deteriorating economic circumstances and abysmal governance, worsened by the Covid-19 pandemic. Should protests become more destabilizing, the authors explain, the United States—before taking any action—will need to carefully balance its values and interests with respect to bilateral ties, the protest movement in question, broader regional dynamics, and competition with Russia or China.