Syria's New Protests Highlight Vulnerabilities in Assad's Minority Base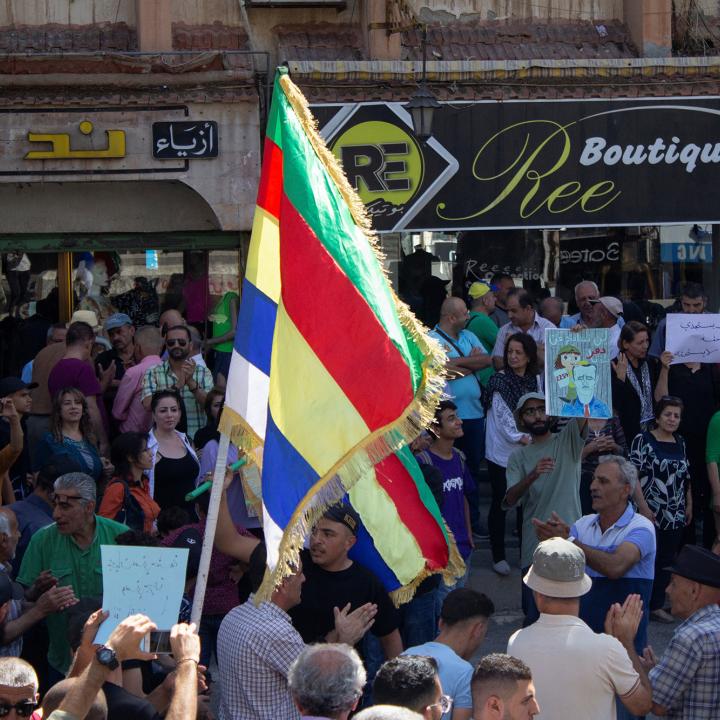 Growing unrest in Suwayda and other traditionally loyal areas may help force Assad's hand on longstanding local, U.S., and allied demands.
Since August 16, Suwayda—a southern Syrian province where 90 percent of the population is Druze—has experienced a wave of protests sparked by economic issues and political stagnation, with locals increasingly rebuking the Assad regime and calling for its ouster. Many of these calls have included the slogan "Al-shaab yurid isqat al-nizam," a major protest chant heard throughout the Middle East during last decade's Arab Spring movement. While only 3 percent of Syria's overall population is Druze, this community has historically played important roles inside the regime and its security establishment.
Elsewhere, smaller protests have broken out in solidarity with the larger demonstrations in Suwayda and Deraa, spreading to Aleppo, Deir al-Zour, Homs, and Jaramana near Damascus, which hosts a significant Druze population. Although previous Jaramana protests earlier this summer focused on currency and economic issues, the latest round has been more pointed in criticizing the regime and calling for an end to the Assad era. The regime has also faced public rebukes from new protest movements among its core Alawite constituency in strongholds along the coast.
Given how important Suwayda and the Druze are to Bashar al-Assad's grip on power, the protests highlight his regime's severe economic vulnerability to international sanctions and other tools. This gives the United States and its partners growing leverage at a time when Damascus is still dragging its feet over negotiating a political settlement to the war.
Suwayda Protests
In south Syria alone, ETANA assesses that over 10,000 people have participated in demonstrations across 200 locations since August 20. Local opposition outlet Suwayda24 reported that 2,000 people attended protests across the province on September 1, calling those daily numbers "unprecedented." Locals have thus far rejected diaspora calls to form new parties and hold a political conference. They have also rejected calls for secession, viewing Suwayda as their rightful homeland within Syria.
On August 15, Assad issued a decision to double public-sector wages and pensions while also cutting gas subsidies. Diesel prices increased 180 percent immediately following the decision, then jumped another 45 percent two weeks later. And even with the pay increase, food costs remain prohibitive for the average Syrian family; inflation is expected to hit 60 percent this year, further eroding their purchasing power. Meanwhile, the Syrian pound hit a historic low of SYP 15,500 to the dollar before rebounding slightly to 14,100—an 80 percent drop in value since May. The situation has shown Syrians that economic decrees from the presidential palace will not improve their lives, pushing many to protest in the streets.
September 4 marked eight years since prominent Druze sheikh Wahid al-Balous was killed—an incident that many locals blame on Assad's forces. During demonstrations held on this anniversary, protesters tore down a poster of Assad and damaged a statue of his late father. Similar anti-regime moves have been witnessed during other protests as well. Photos of Assad were removed throughout Suwayda, including in rural communities such as al-Kafr. And on August 29, protesters in Suwayda City closed off the parliament's provincial office, arguing that their representatives are "of no benefit." Similarly, locals used welding equipment to seal the gates of the city's Baath Party headquarters two days earlier, and other party branches across the province have closed as well.
Another feature of the southern protests has been messaging that invokes Druze nationalism and rejects external interference in local affairs—whether by the regime, Lebanese Hezbollah, Russia, or other actors. In Nimreh, for example, locals raised posters of Sultan al-Atrash, a legendary Druze leader who spearheaded the 1920s campaign against France. Assad's press advisor Luna al-Shibl—herself a Druze from Suwayda—evoked Atrash's legacy in a different way, seemingly arguing that the late leader would not approve of the current demonstrations. Images of Yusuf al-Azma, another historical figure in the campaign against the French, have appeared at protests as well.
The outcry against perceived outside interference has taken multiple forms. Some local posters have accused the Kurdish-led Syrian Democratic Forces (SDF) of robbing locals. Another poster signed by "the descendants of Sultan al-Atrash" mocked Hezbollah secretary-general Hassan Nasrallah, saying, "Your filthy project and your terrorism shall not pass." A protest sign in Suwayda called out Russian aggression, saying, "Syrians and Ukrainian people [are] suffering from the same killers." Another sign read "Our demands: for the regime, Iran, and America to leave." Likewise, the chant "Leave, Bashar, with Iran and Russia" has reportedly become popular during demonstrations, with some protesters calling Assad the "maker of Captagon," referring to the regime's role in rampant drug smuggling.
Moscow is being singled out for helping bring the south back under Assad's control; indeed, units from Russia's military police and Wagner Group remain deployed in the area. For its part, Iran operates at least fifteen military posts in Suwayda and has taken advantage of the south's poor economic situation to recruit individuals for drug smuggling.
Meanwhile, the Mashyakhat al-Aql—the preeminent spiritual body for Druze in Suwayda—is split on the protests. Two of the body's three head clerics, Hikmat al-Hajri and Hamoud al-Hinawi, have offered their support for demonstrations against the regime. Yet the third cleric, Yusuf al-Jarboa, maintains a pro-Assad stance, claiming that "Suwayda will not deviate from the decision of the Syrian state." Far from echoing protest slogans, Jarboa has served as one of the regime's key liaisons in Suwayda. On August 19, he hosted talks between Rif Damascus governor Safwan Suleiman Abu Saada—a Druze from Suwayda—and various local notables in an effort to ease the ongoing tensions.
For his part, Sheikh Hajri met with Suwayda governor Bassam Parsik on August 23 to negotiate an end to the impasse. The next day, a statement from Parsik's office downplayed the prospect that regime security services might employ violence against protesters, calling such rumors "false." Yet despite being Suwayda's governor, Parsik is a Circassian Sunni from Quneitra, so the regime likely views Druze governor Abu Saada as having more credibility with Druze notables on the ground.
Regime Response
Local diplomacy aside, most officials in Damascus have been relatively silent on the protests so far. On August 29, Prime Minister Hussein Arnous hosted a cabinet meeting focusing on the government's interest in increasing "livelihood standards for state employees."
The regime's media strategy approach is (literally) a different story, however. On August 30, the government-aligned newspaper al-Watan reported that flour and fuel levels were supposedly at their "normal" levels in Suwayda. Elsewhere, the paper claimed that "less than 150 people" were involved in a large August 29 protest, then amplified Sheikh Jarboa's comment about "not deviating" from the state's decisions. Luna al-Shibl has likewise used her Facebook page to downplay the size of demonstrations and call protesters "mercenaries."
Regarding the security response, the regime has not fired on Suwayda protesters so far, but tensions are rising. On August 28, some personnel fired warning shots when locals attempted to remove a photo of Assad in Shahba. Given the heated situation, the military leadership has reportedly decided to deny any leave requests from units in the area; moreover, local opposition sources indicate that militia personnel tied to Iran's Islamic Revolutionary Guard Corps may have been surged from Deir al-Zour to locations in the south. It remains to be seen whether the regime will try to wait out these protests or start firing on demonstrators in the hope of defusing the largest popular movement against its rule in recent years. Another potential option is resorting to targeted assassinations of prominent officials who critique the regime.
Suwayda last saw significant protests in December 2022, when hundreds of locals stormed the provincial capital building, set fires inside, and destroyed photos of Assad. Much like the current round, those protests were sparked by a fuel crisis and general economic decay, and both factors have only worsened since then. Damascus was able to tamp down the 2022 uprising through a mix of carrots and sticks. After ordering troops to fire on protesters (resulting in one death), the regime reportedly tasked the prime minister with reassuring local authorities that more diesel and electricity would be sent to Suwayda to ease the shortages. Even if such plans truly existed, it seems unlikely they were ever implemented. And while many Suwayda residents supported the December movement's demands to fix these problems, only some are willing to take actions that risk additional security clampdowns.
U.S. Response
So far, the Biden administration has said little about these developments. The State Department's top Syria official, Ethan Goldrich, mentioned the demonstrations during a meeting with Syrian opposition activists in Turkey on September 4. In Congress, prominent Syria watcher Rep. Joe Wilson (R-SC) stated that the protests "have inspired the world and demonstrate that Syria has no future and will never stabilize under Assad." Wilson is also cosponsoring the new "Assad Regime Anti-Normalization Act."
Yet it may be unwise for U.S. officials to issue public statements in support of the protesters' calls for regime change. As described above, one major theme of the demonstrations has been opposition to external interference, including by the United States. And although the protests are significant and the local suffering should not be ignored, it is unlikely that the regime will fall due to economic problems alone.
That said, the situation does give Washington and its regional partners another window for using economic and sanctions leverage to obtain concessions from Assad at the negotiating table. When responding to the disastrous Syria-Turkey earthquake this February, the U.S. government quickly issued General License 23, which provided a 180-day window of sanctions waivers for transactions related to relief efforts. Unfortunately, the license was written too broadly—it provided no clear definition of "earthquake relief," allowed direct transactions with Assad's government, and led many regional states to conclude they had a green light to normalize with the regime.
Fortunately, Arab leaders have since insisted that Damascus make certain concessions in exchange for this normalization, such as cracking down on Captagon smuggling. Although Assad has paid lip service to these demands, he has shown no real willingness to implement such reforms or otherwise engage Syria's political opposition, thereby unnerving some regional officials and slowing the normalization process. His tendency to rigidly reject concessions has also increased U.S. bipartisan support for renewing the Caesar Act sanctions, which would limit how much wealthy Persian Gulf states can invest in Syria's economy.
As acts of dissent increase in the regime's historically important minority areas in Suwayda and among Alawites on the coast, Assad may be more willing to make significant concessions. One possibility is regional states working with Washington to carve out narrow, project-specific sanctions exemptions for initiatives that help alleviate the people's suffering. But this cannot be agreed to unless Assad carries out his end of the deal—namely, releasing prisoners, conducting negotiations under UN Security Council Resolution 2254 to end the war, and engaging with the Syrian opposition over modifications to the constitution, among other things. Although the regime is unlikely to fall anytime soon, the growing protests in traditionally loyal areas may still force Assad's hand on some matters.
Erik Yavorsky is a research assistant in The Washington Institute's Rubin Program on Arab Politics.