Don't Throw Good Arab Money After Bad in Syria
Also published in
Al Majalla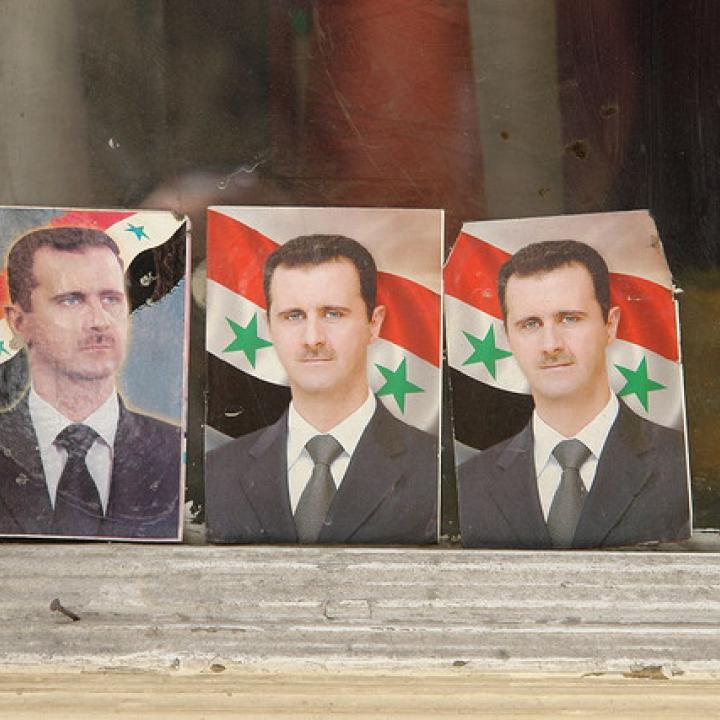 The Gulf states have their own reasons for reaching out to Assad, but they need to understand that Washington will not exempt them from most of its multilayered Syria sanctions without substantial change in the regime's posture.
Two months following the devastating earthquake that rocked southern Turkey and northern Syria on 6 February, Syria is apparently being welcomed back to the "Arab fold." Bashar al-Assad has visited Oman and the United Arab Emirates (including with his wife, Asma), Syrian Foreign Minister Faisal Mekdad has visited Cairo, and Damascus has hosted nine different delegations of Arab officials, including the Foreign Ministers of Egypt, Jordan, and the UAE. There are reports Gulf heavyweight Saudi Arabia may extend an invitation to Bashar to attend the Arab summit in May. Beyond the fold, al-Assad also has visited his allies in Moscow and welcomed Iran's Foreign Minister Amir Abdollahian and Iranian Revolutionary Guard Quds Force commander Esmail Qaani, not one, but two times.
Shortly after US President Biden took office in 2021, Amman and Abu Dhabi launched separate outreach efforts to al-Assad, albeit with slightly different goals in mind. Hobbled by hundreds of thousands of Syrian refugees, on top of refugees from Iraq and elsewhere, and with a closed northern border that restricted lucrative transit traffic from the Levant to the Arab Gulf, Jordan reopened Jaber—their main northern border crossing with Syria.
Amman, together with Egypt, also developed a scheme to move Egyptian and Israeli natural gas and electricity generated in Jordan across Syria to Lebanon, whose energy sector has essentially collapsed. In exchange, al-Assad would receive an 8% in kind payment of gas and electricity, which is in very short supply due to wartime damage and sanctions restricting spare parts.
Both approaches went nowhere. Jordan's northern border was quickly inundated with illicit Captagon and weapons smuggling, leading to several high-profile interdictions in Jordan. The gas and electricity scheme is hung up because Lebanon's politicians failed to agree to reforms necessary to receive World Bank funding.
UAE Outreach
Abu Dhabi's outreach to al-Assad seemed more quixotic, but rooted in what al-Assad really wants—money with few strings attached. Throughout the war, the UAE sought to undermine its rival, Qatar, and Qatar's ally in Syria, Turkey, which holds considerable territory in Syria's northwest. In 2018, Abu Dhabi attempted to reopen its embassy in Damascus with the idea that outreach to al-Assad would make Turkey's position in Syria more untenable.
As tensions with Qatar and Turkey have eased, Abu Dhabi now focuses on reducing Iranian influence—militias and weapons—in Syria. Abu Dhabi understands that Bashar is desperate for the kind of money only an Arab Gulf country can deliver to rebuild Syria. As the logic goes, a little recognition and some petrodollars for reconstruction could be used as carrots to alter Bashar's logic at the negotiating table with the opposition, and perhaps more importantly, reduce its dependence on Iran in favour of Arab interests—many of whom are now aligned with Israel as part of the Abraham Accords.
US Sanctions
Holding back both efforts, of course, are US, European and Arab sanctions on Syria. Arab engagement with al-Assad could lead to Syria being readmitted to the Arab League after being suspended from the body in 2011 for al-Assad's response to the uprising—which could lead to the lifting of Arab sanctions on Syria impeding trade and other issues.
But US and European sanctions are virtually impossible to lift without a fundamental change in al-Assad's behaviour. US sanctions on Syria go back to 1979. The lion's share of US sanctions on Syria are due to the al-Assad regime's response to the uprising.
The most powerful "Caesar" sanctions, named after the brave regime photographer who smuggled hundreds of Syrian state photos of victims tortured in al-Assad's gulags, directly forbid funding for reconstruction activities in Syria. Most importantly, these sanctions have secondary effects, meaning they apply to anyone who touches these activities.
It is clear from the cascade of visits by Arab and other regional officials to Damascus that they see the opportunity of dangling out carrots to al-Assad because of the issuance of a 180-day General License, or temporary sanctions waiver, by the US Treasury Department on 9 February titled "Authorizing Transactions Related to Earthquake Relief Efforts in Syria."
And why shouldn't they—US officials openly said the license was issued in response to requests by "regional governments" who did not want to get hit with sanctions. Washington also allowed earthquake relief transactions, which were not defined, to be carried out directly with the "Government of Syria"—also known as the al-Assad regime.
But this does not mean US Syria policy has changed, or that sanctions are about to be lifted for reconstruction. Not a chance.
The General License expires next August, and while the Caesar Act "sunsets" in 2024, it is almost certainly going to be extended, as shown by a 414-2 vote on a Congressional Resolution on 27 February condemning "efforts by the al-Assad regime to cynically exploit the disaster to evade international pressure and accountability."
Even if Caesar went away, multiple layers of sanctions on Syrian oil exports and designations will remain—no matter which party controls the White House. And new ones are on the way, as the 2023 National Defense Authorization Act requires the Biden Administration to develop an interagency strategy to disrupt and dismantle al-Assad's narcotics production and trafficking.
Seeking Behavioural Change
The only way US sanctions on Syria will be waived—let alone lifted—is if al-Assad fundamentally changes his behaviour. Washington understands that Gulf countries want Bashar to turn off the Captagon stream pouring out of Syria southward into Jordan and the Gulf, which officials say is "addicting a generation."
But Washington has been clear that al-Assad needs to create conditions for Syrians to return home without fear of being conscripted, detained, or disappeared. Al-Assad needs to move forward on the United Nations Security Council Resolution 2254 process, including, but not limited to, movement on the Constitutional Committee.
If there is not progress, the Arab countries normalising with al-Assad and engaging in reconstruction will almost certainly be hit with Treasury designations and other sanctions violations. Unless there are major changes in the way al-Assad rules and does business, including his tolerance of Iranian militias and assets on Syrian soil and Captagon production facilities, this will be yet another exercise of throwing good Arab money after bad to recoup their steady losses against Iran in the Levant.
Andrew Tabler is the Martin J. Gross Senior Fellow at The Washington Institute and former director for Syria on the National Security Council. This article was originally published on Al Majalla's website.