Splitting Civil Society from the Jihadists in Idlib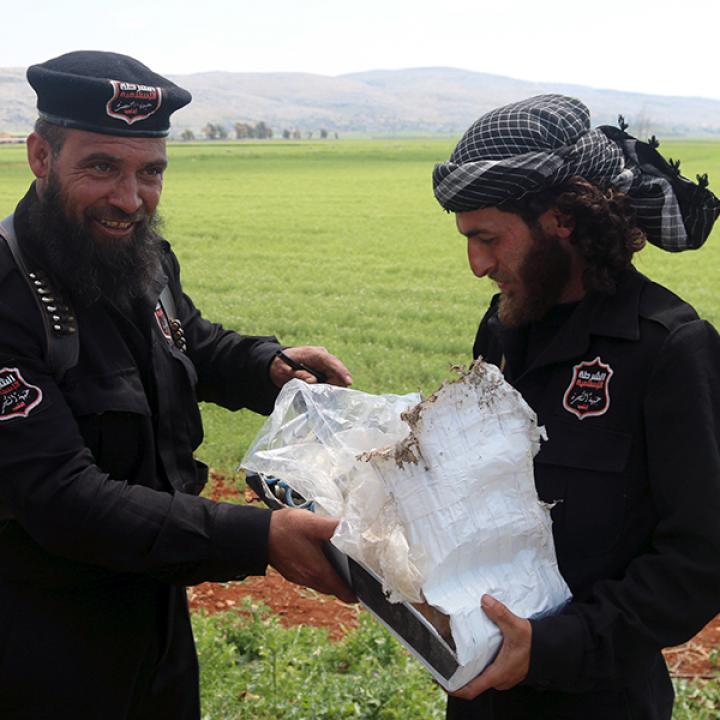 Local knowledge will be central to any U.S. endeavor to persuade Syrian residents against allying with an ascendant -- and ideologically flexible -- HTS.
In recent months, Hayat Tahrir al-Sham (HTS), the al-Qaeda-linked successor group to Jabhat al-Nusra and Jabhat Fatah al-Sham, has established a stronghold in Syria's Idlib province. In order for outside parties to prevent further jihadist control over the province, especially in its northwest section, they will have to split civil society from HTS as well as from another extremist group, Ahrar al-Sham (AS).
Background
Idlib province, which has a current population of some two million, is home to both HTS and AS, two formerly allied Salafi-jihadist groups that are now in competition. Previously, the two groups jointly created the Jaish al-Fatah militia, which controlled most of Idlib province in 2015. Today, whereas HTS is listed as a U.S.-designated terrorist entity, AS has managed to elude placement on the list, despite sharing its peer's extremist ideology and sharia-based vision of governance.
In dramatically tightening its grip on Idlib since 2015, HTS and its predecessor formations have benefited from relocations of fighters from southern and central Syria, among other areas. During its fight with AS earlier in summer 2017, the jihadist group also captured vital territory, military installations, and border crossings such as Atima, Khirbet al-Joz, and Bab al-Hawa. HTS has likewise seized weapons and ammunition from other armed factions, including Jaish al-Mujahedin.
Today, Idlib hosts more than 20,000 Islamist fighters -- by some accounts, as many as 50,000 -- along with their families. The strength of HTS lies not only in its military superiority compared to other military factions but also in its flexibility in negotiating deals such as the ceasefire with AS in summer 2017, wherein both parties agreed to create a civilian-run administration, among other measures. HTS has also experienced modest success in governing Idlib city through sponsorship of economic projects, services, and security, as well as in its public outreach campaign aimed at casting Idlib society as religious and conservative and, in the process, burnishing the group's appeal.
Tensions over Governance
HTS, however, faces resistance from broad strata within Syrian civil society. This is in part because, despite the feats just noted, the group has often prioritized vanquishing its rival AS over providing services. During the conflict with AS, for example, both groups failed to provide residents with basic services such as electricity, even though the Assad regime was allowing free access to its power infrastructure. Regardless of the role played by the jihadist custodians, electricity cannot be apportioned reliably in Idlib, where residents rely on two sources: large generators and the high-voltage electricity provided the regime's infrastructure, which delivers just a few hours a day. Thus, notwithstanding the HTS effort to rebrand itself as a native revolutionary entity, many Idlib residents viewed the electricity scenario as evidence that the group wanted to attain power more than equitable, effective administration of the city. These residents thus continue to regard the group as dangerous, foreign, and unwelcome.
Having prevailed over AS, HTS now controls Idlib's power sources, including the local branch of the official General Electricity Establishment. For each type of electricity provision (generator or regime-provided), Idlib residents pay a fee amounting to around $5 per ampere. According to an Idlib-based NGO and other local Syrian activists, HTS is now seeking control over water, communications, and other services while appearing to wind down its military activities. Such control, the group evidently perceives, will yield more funds and help further solidify its regional presence.
In August, HTS thus sought to launch a "civil administration" to run Idlib's "liberated" areas, thereby acting to sabotage the work of elected U.S.- and British-supported local councils. According to an activist who also works as a contractor for a U.S.-funded NGO, HTS is altogether pursuing more intensive involvement in the political and civil society realms -- and to demonstrate a corresponding aptitude for governance.
Reflecting its desire to control all areas of Idlib life, the group stopped an August street-cleaning project in Idlib city, based on charges it was backed by the United States and linked to a local council. According to another activist, HTS members showed up at a warehouse, where they removed all the cleaning implements and threatened those involved not to continue the project. The activist added that the people of Idlib were not happy generally about HTS encroaching on the civil society sphere.
'Shami' Salafi-Jihadism
Although HTS and AS subscribe to similar schools of thought, the former group earned its terrorist designation thanks to an earlier pledge of allegiance (during the Jabhat al-Nusra period) to al-Qaeda and its leader, Ayman al-Zawahiri. According to some analysts, such as Rami Dalati, a "moderate" Syrian Islamist based in Turkey, another difference is that AS does not believe in global jihad -- or the use of armed conflict to expand the Islamic world.

In Idlib, meanwhile, a new Salafi-jihadist trend is emerging with a focus on al-Sham (Greater Syria), as compared to "Nejdi Salafi-jihadism," which is tied to the Saudi kingdom. (Nejd is the region of Saudi Arabia most closely associated with the kingdom's Salafism.) This Syrian-nationalist Salafism has indeed attracted a majority of Islamists and militia leaders operating in Idlib, mainly from HTS and AS. According to several studies, such as Salafism, Jihadism, and the Definition of Sunni Islam, published in 2017 by Rob J. Williams, one way in which "Shami Salafism" differs from Wahhabism entails the greater proximity of the former to Sufism. Wahhabism, of course, has also been the basis of Salafi-jihadist philosophy embraced by terrorist groups such as al-Qaeda and the Islamic State.
The ideology of Shami Salafism, for its part, has been influenced by various "reformist" Islamic scholars, such as Ali al-Tantawi (1909-99), Muhammad Bahjat al-Bitar (1894-1976), and Issam al-Attar (b. 1927). Attar, who formerly led the Muslim Brotherhood in Syria, is considered a Shami Salafi thinker because he rejected the extreme interpretation of Quran and sunna -- or hadith of Muhammad -- espoused by traditional scholars. According to Rami Dalati, "Issam al-Attar [is] a Salafist, but his political program was Ikhwani [linked to the Muslim Brotherhood]. Shami Salafism believes in gradual change. It believes that the application of sharia should come from bottom to top, just like the Muslim Brotherhood does. Al-Qaeda and Wahhabi thinking rejects gradual change."
Among the specific deviations promoted by Shami Salafism is a ban on most forms of hudoud -- which refers to corporal punishment for crimes against God -- and on beheading, a contrast with Islamic State practice. In Dalati's view, Nejdi Salafism rushes to impose hudoud punishment, while Shami Salafism states that hudoud should be reserved for those who commit a clear violation of God's law as determined by a very specific and "thorough" process.
Former AS representative Labib al-Nahhas does not buy into the notion of an emergent Shami Salafism. Instead, he believes HTS and its leader, Abu Muhammad al-Julani, will seek to create a "nationalized" group distinct from al-Qaeda that could eventually put the transnational parent and its Syrian offspring into conflict. In an online interview, Nahhas called Julani a "charlatan" who "never really cared about al-Qaeda or jihadism," only power. In Nahhas's view, a nationalized HTS will backfire on Julani, leading to confrontations with a number of other powerful, extreme Islamist groups that Julani previously enlisted to serve his own interests.
U.S. Policy
The overlaps between Hayat Tahrir al-Sham and Ahrar al-Sham can be quite confusing to Western audiences, especially considering that the various leaders in both groups seldom speak proficient English. The distancing from Nejdi Salafism -- and the flexibility and pragmatism therein -- is cause for further confusion.
In principle, the weakening of HTS will require a minimal U.S. military presence, including some Special Forces, the possible use of U.S. drones to target specific extremist leaders, and the cultivation of new factions to serve as local partners and boots on the ground. These fighters will ultimately be called upon to go village to village to track down the most dangerous extremists and their supporters.
In any broader endeavor aimed at fully defeating HTS in Idlib, the United States probably will not garner much assistance from other powers. One potential partner, Turkey, is unlikely to intervene, given existing struggles in Syria and a focus on Kurdish forces backed by the Democratic Union Party (PYD). Indeed, Washington might have to apply diplomatic pressure to prevent Ankara from turning a blind eye to, or even assisting, HTS as a means of stopping PYD progress. The more ambitious objective of eliminating HTS in Idlib would likewise require a much larger U.S. military intervention, including the deployment of heavy arms and direct combat support for local vetted factions. Areas liberated from HTS, finally, will need a civil administration, presumably built by the local councils already being funded by the United States and Britain.
Whatever form a prospective U.S. intervention takes, identifying new local partners, especially in the context of an emergent Shami Salafism, will require creative methods, as well as expertise from both local and Western experts regarding what parties are promoting what ends.
Ruwan Rujouleh, who holds a master's degree in global development and peace from the University of Bridgeport, has authored more than twenty-five reports on violent extremist groups, with an emphasis on her native Syria.