Simmering Trouble in Oil-Rich Shia Area Complicates Riyadh's Concerns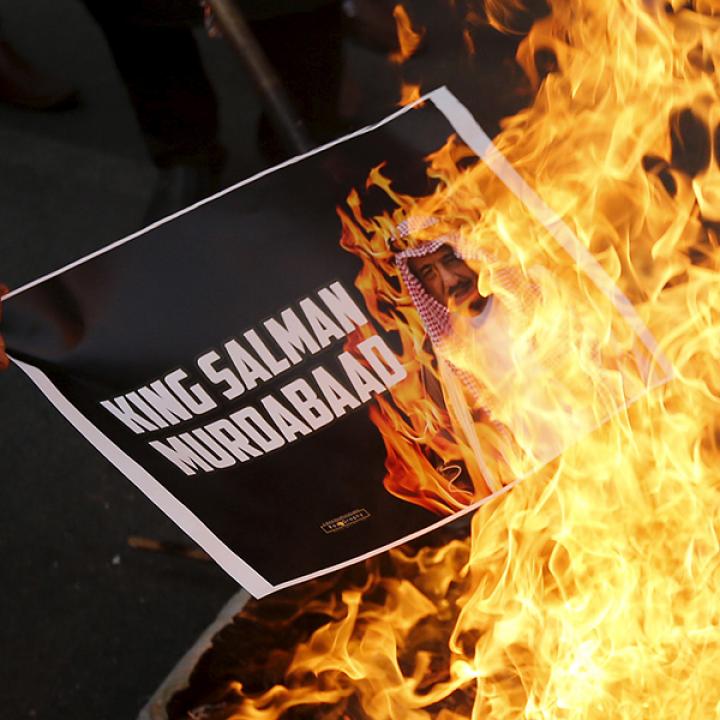 Incidents in the town of al-Awamiyah are creating headaches for the Saudi leadership and adding to regional tensions.
The killing of a Saudi security officer in a July 4 rocket-propelled grenade (RPG) attack in which three others were injured marks the latest in a series of recent clashes in al-Awamiyah -- part of the coastal conurbation of Qatif -- between security forces and Shia activists. The current atmosphere is at least partially attributable to government efforts to redevelop an old part of al-Awamiyah, supposedly to improve local amenities but also making the area easier to police.  The larger context, however, is that Shia in al-Awamiyah, which is close to the kingdom's oil-export infrastructure, feel marginalized and discriminated against in Saudi society, and their sympathy toward Iran scares the Saudis authorities.
Although building on centuries of religious antagonism, the latest tensions date back to early 2016, when the Saudis executed Nimr al-Nimr, a Shia cleric accused of incitement. In response, angry Iranians ransacked the Saudi embassy in Tehran, leading to a break in relations. More recent events are as follows:
In March, Saudi Ministry of Interior forces killed two "terrorists," identifiable by their names as Shia, and arrested four others during a raid on a farm that authorities said was linked to terrorist attacks planned for al-Awamiyah. Explosive material, machine guns, and ammunition were seized.
In mid-May, a Saudi special forces soldier was killed and five of his colleagues were injured when their patrol came under fire in al-Masoura, the area of al-Awamiyah being redeveloped.  A photo published in the Saudi media showed the neat hole punched through the side of an armored vehicle by an RPG.
At the end of May, two Saudi security men were injured by an improvised explosive device while patrolling in part of al-Awamiyah.
At the beginning of June, two Shia, described as "wanted terrorists," died when their SUV exploded as the vehicle was traveling down a shopping street in the area. Saudi media speculated that the men had been on their way to plant a bomb when it pre-detonated.
Before the July 4 incident, the Washington Post reported that at least six security personnel, six terrorists, and a number of civilians had been killed so far this year in skirmishes in and around al-Awamiyah.
The level of violence could prompt an even harsher Saudi crackdown or an escalation by Shia activists in other areas, including on the neighboring island-state of Bahrain, which hosts the headquarters of the U.S. Navy's Fifth Fleet. So far, U.S. military or diplomatic personnel have not been caught up in the trouble, but they would be vulnerable if targeted. The consulate in Dhahran, a few miles from al-Awamiyah, functions as a mini-embassy. Meanwhile, the weapons being used by Saudi Shia are presumed to have come from Iran or from southern Iraq, another Shia area. Although Tehran's support for Shia in the conservative Arab states of the Gulf is mainly verbal, supplies of weapons and explosives have been intercepted en route to militant groups.
Given the current Qatar crisis, the latest incident comes at an embarrassing time for Saudi Arabia. (No Qatari link to the al-Awamiyah troubles has been reported.) Also, the continuing losses in Saudi security forces could harm unit morale, which may well have already been affected detrimentally by the removal last month of Crown Prince Muhammad bin Nayef, who was also the interior minister. MbN, as he is known, is reportedly confined to his palace in Jeddah because of fears he may lead opposition to his replacement, Muhammad bin Salman, known as MbS.
It could be significant that neither King Salman nor MbS is attending the G20 world economic summit being held in Hamburg, Germany, on July 7 and 8. Instead, the kingdom is being represented by a former finance minister, not even the current minister. The G20 summit would have been an excellent occasion for MbS to show off the progress demonstrated so far by his Vision 2030 plan to transform the kingdom's economy -- and his leadership role in the project. MbS's absence will be noted.

Simon Henderson is the Baker Fellow and director of the Gulf and Energy Policy Program at The Washington Institute, and coauthor of its 2017 Transition Paper Rebuilding Alliances and Countering Threats in the Gulf.