Is Saudi Arabia's Counterterrorism Approach Shifting?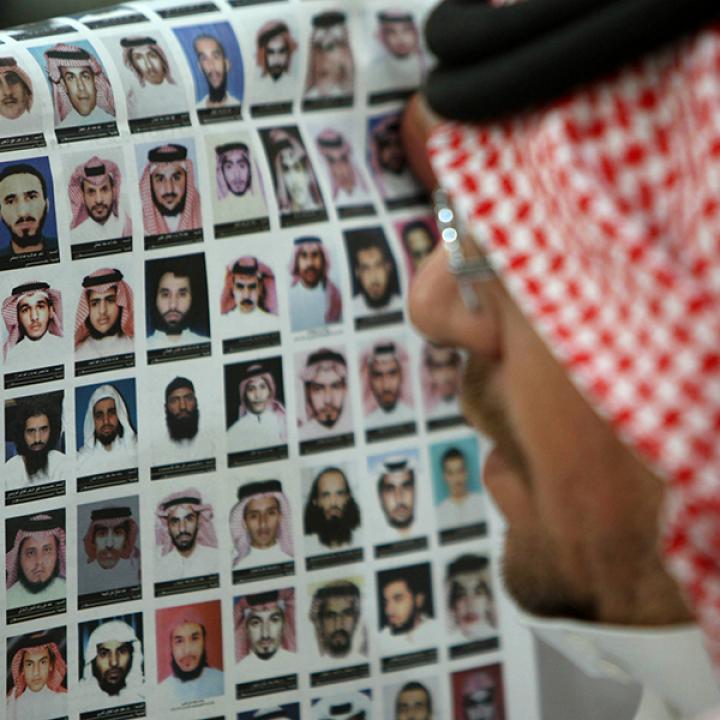 Signs of an evolution in the way Riyadh views the terrorism problem provide an opening for the United States to encourage broader and deeper change in this area.
Last month, Saudi crown prince Muhammad bin Salman and other officials spoke with a Washington Institute delegation in Riyadh about how the leadership is mobilizing against the terrorism threat. While foiling plots and deterring terrorist support inside the kingdom have been policy priorities for more than a decade, there is a palpable change in the way the Saudi leadership is talking about and addressing the terrorism challenge, with potentially significant implications for U.S. interests.
BACKGROUND
The history of Saudi efforts to combat terrorism is mixed, but Riyadh has become a close U.S. partner on that front in recent years. A deadly series of al-Qaeda attacks inside the kingdom beginning in 2003 drove the Saudis to pursue more aggressive counterterror policies. Today, Washington and Riyadh see eye to eye on the Islamic State (IS) threat—of which the Saudis have been major victims themselves. The kingdom has also become a cooperative partner on counter-terrorist financing, which is important because of the vast sums of private money that have been funneled to terrorist groups from inside its borders.
Washington has expressed a strong desire to see much more from the Saudis when it comes to groups like al-Qaeda and IS. This includes more vigorous delegitimizing of religious extremist ideology, as well as more candid acknowledgment that the kingdom has been part of the terrorist problem itself. Yet even in the context of U.S. concerns over some Saudi policies, Riyadh may be turning a corner as a result of changing perceptions about its own interests.
NEW LANGUAGE AND INITIATIVES
Recently, the Saudi leadership has expressed a desire to break with the past regarding religious extremism. At a Riyadh economic forum in October, Crown Prince Muhammed bin Salman pledged to "eradicate the remnants of extremism very soon," then told the audience, "We will not spend the next thirty years of our lives dealing with destructive ideas." During a newspaper interview after the conference, he referred to the Saudi "problem spread[ing] all over the world," apparently referring to the kingdom's past culpability in fomenting extremism. "Now is the time to get rid of it," he said.
Muhammad al-Issa, the new secretary-general of the Mecca-based Muslim World League, echoed these sentiments in a November interview. Declaring that "the past and what was said, is in the past," he said the organization's current mission is to "wipe out extremist thinking" and "annihilate religious…extremism, which is the entry point to terrorism." This language is a startling contrast to the league's past agenda of promoting an extremist interpretation of Islam across the globe, which in turn helped fuel the terrorism problem.
In December, Saudi officials told the Washington Institute's Riyadh delegation about their accelerated policies to counter extremism. According to one well-informed official, the number of extremists in the kingdom's religious institutions had been reduced from a solid majority to a minority during the previous two years, and plans were in place to shrink their presence even further, in line with Riyadh's years-long efforts to dismiss clerics for incitement.
Along with the new language and progress reports, several government bodies have recently been tasked with addressing extremism and promoting a different interpretation of Islam. Two of the most active are the Global Center for Combating Extremist Ideology (aka Etidal, Arabic for "moderation") and the Ideological Warfare Center.
President Trump participated in a formal opening ceremony for Etidal last May. When officials from the organization met with the Washington Institute delegation last month, they noted that the root of the extremism problem was ideological, and that the fight against terrorism had to go beyond simply treating the symptom (i.e.,  violence).
The Ideological Warfare Center is part of the Saudi Defense Ministry and was established in 2016 to counter IS ideology. Its mandate was expanded last April to include broader counter-extremist operations.
Questions remain about whether these and related developments should be viewed through a public relations lens. U.S. and European officials have been asking Riyadh to combat terrorist ideology more aggressively for years and have received numerous assurances in this regard. President Trump, with whom the Saudis have sought to consolidate ties, has shown a special interest in countering religious extremist ideology that feeds terrorism. The first item on the agenda of the bilateral Joint Strategic Vision announced in May is "new initiatives to counter violent extremist messaging."
ASSESSMENT
While the influence of international appeals on the image-conscious Saudi leadership should not be dismissed, the latest counterterrorism developments are best understood in the context of Riyadh's evolving views about its own security interests. The leadership has come to regard certain social aspects of religious extremism and political Islamist ideology as serious threats to security and stability. Just like Riyadh's keen interest in disrupting IS and al-Qaeda plots, its desire to weaken at least some extremist influences and Islamist forces is self-driven.
This growing interest in pushing back against various social manifestations of religious extremism forms part of a larger agenda of "normalizing" society to foster greater economic and social opportunities for citizens. Ultimately, this is about rewriting the Saudi social contract for an era in which significantly less oil income is available for funding public benefits. Other components of this normalizing effort have included reducing the powers of the religious police and promising that women will be permitted to drive in the kingdom beginning this June. As the crown prince stated in October, Saudis "want to live a normal life" so that they can "coexist...with the world."
Meanwhile, Riyadh has toughened its approach toward Islamists as part of a strategy of preventing political interference with its far-reaching agenda. Sunni Islamists, including Muslim Brotherhood associates, have represented the kingdom's largest group of activists over the years. Etidal and the Ideological Warfare Center are now mobilized against these elements, with messaging aimed at the Brotherhood along with al-Qaeda and IS. This fits with Riyadh's designation of the Brotherhood as a terrorist organization since 2014.
IMPLICATIONS FOR U.S. POLICY
Apparent shifts in the way Riyadh is approaching the terrorism challenge present opportunities for the United States to encourage broader and deeper changes that address longstanding American interests. One area to support is continued tightening of Saudi supervision over religious figures traveling internationally for work, over religious and educational materials sent abroad by Saudi institutions, and over religious figures doing media work—all toward the goal of restricting the export of extremist ideology. A related interest is accelerated removal of extremist content that remains in Saudi schoolbooks. Another area to support is added transparency and measurable advancement in new training, supervision, and reeducation of religious figures and teachers (or, if necessary, dismissal). The kingdom has already registered successes in these areas and is now building on them; further progress could be discussed during the first annual meeting of the U.S.-Saudi Strategic Joint Consultative Group expected later this year. Finally, given the divergence between U.S. and Saudi views on the Muslim Brotherhood as a terrorist group, Washington should work closely with its Saudi partners in Etidal to track the quantity, quality, and reach of content against top U.S.-designated groups such as IS and al-Qaeda.
Lori Plotkin Boghardt is the Barbara Kay Family Fellow at The Washington Institute.