Saraya Ababeel Claims Baghdad Drone and Rocket Attacks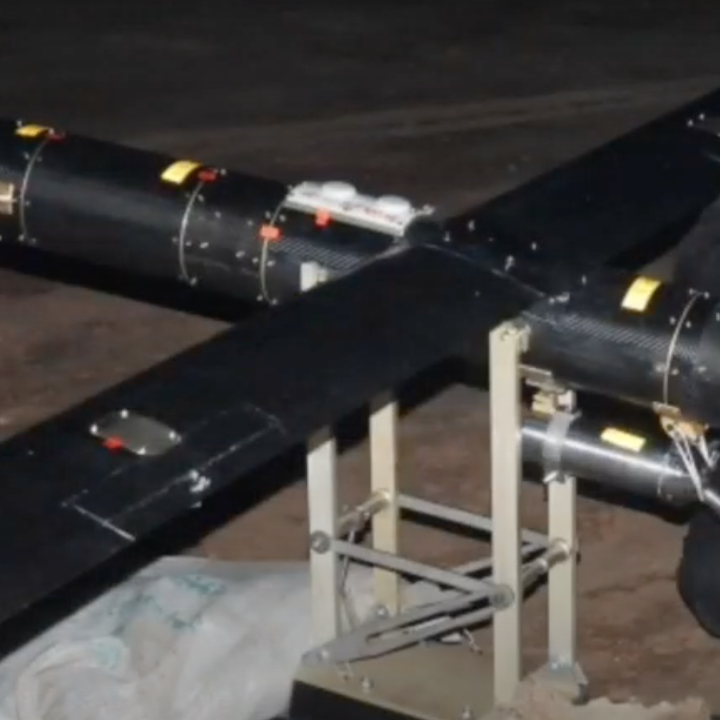 A minor sub-group took credit for recent airport strikes, indicating a return to the "facade" strategy and a role for AAH in the latest escalation.
On January 7, Saraya Ababeel (SA) claimed responsibility for two drone attacks and one rocket attack on U.S. positions at Baghdad International Airport. The claim was made via a video clip and Telegram post by Sabereen News (Figure 1). The video mentions two drone attacks on January 4-5 and a rocket attack using two 240 mm munitions on January 4.
Sabereen posted the video at 09:43 Baghdad time on January 7. The footage was reposted by many other muqawama (resistance) Telegram channels, but major Kataib Hezbollah (KH) channels remained silent, including Unit 10,000 and Kaf.
The video carried the SA logo. Sabereen's caption noted that the video shows "the targeting of [U.S. forces at Baghdad Airport] by fixed-wing 'Murad-5' drones by an unknown group calling itself Saraya Ababeel."
"Saraya Ababeel" was first used as a facade name on September 1, 2021. The group has previously claimed attacks on U.S. convoys in a video carrying the same SA logo as the January 7 footage. 
SA is also associated with the Telegram channel Radea ("Deterrence"), created on September 1, 2021. The channel launched with an explicit statement that its mission is to broadcast SA. It has since released a number of items that indicate an affinity for Asaib Ahl al-Haq (AAH), including a video showing that militia's rocket capabilities. 
Analysis
Limited evidence indicates that SA is a facade group run by AAH. For one thing, Ababeel is the name of an improvised rocket-assisted munition (IRAM) manufactured by AAH and unveiled in 2015 by Qais al-Khazali, the militia's leader (Figure 2).
Telegram Channel
SA's name first appeared on September 1, the same day the Telegram channel Radea was created. The channel's first post read "Radea's platform...is launched by broadcasting a clip of...Saraya Ababeel" (Figure 3).
Around an hour later, a clip showing purported convoy attacks in Baghdad, Fallujah, and Salah al-Din province was posted on Radea (Figure 4). This clearly indicates that Radea is a Telegram platform created to promote SA.
Logos
Radea and SA have unique logos (Figure 5) that are very different from the usual muqawama logos (which tend to contain elements similar to the logo of Iran's Islamic Revolutionary Guard Corps). The round shape in the Radea and SA logos seems to represent a clock or target, with crosshairs/hour markers around the edge. This design element might have been chosen due to the groups posting about the countdown to a December 31, 2021, deadline for U.S. troops to leave Iraq. Both logos also incorporate stylized shapes representing bird wings, seemingly an allusion to the miraculous flock of birds (ababeel) described in the Quran as protecting the Kaaba by dropping stones on an army invading Mecca.
Radea's Content
A number of Radea's posts about the Iraqi muqawama relate to AAH. These include a clip of the group's Ababeel IRAM, posted November 20 (Figure 6).
In another clip posted September 3, a group of AAH fighters in Syria are seen reading Islamic recitations (Figure 7). Radea introduces them as "Ikhwat Zainab" (Zainab's brothers), the name that AAH fighters in Syria call themselves based on one of their declared reasons for fighting there: to protect the shrine of Zainab, the Imam Hussein's sister, in Damascus (a justification cited by other Iraqi militias as well).
Radea does not post frequently, but when it does, it never mentions other major Iraqi muqawama groups such as KH or Harakat Hezbollah al-Nujaba.
Initial Conclusions
A possible return to the facade strategy. The January 7 attribution of drone and rocket strikes marks the second time in a week that facade groups have been used to claim an indirect fire attack on U.S. positions (the first was Qasem al-Jabbarin's claim of a rocket attack on al-Asad Air Base on January 5). While once common, the use of facade groups to publicize such attacks while avoiding retaliation became rarer in the second half of 2021, so the latest claims may indicate a return to that strategy.

Figure 6: Radea's post showing AAH's Ababil IRAM, November 20, 2021.

Saraya Ababeel is likely linked to AAH. This conclusion is based on links between SA's media channel and AAH content, and the lack of interest that KH channels have shown in the latest SA attack claim (by comparison, the Qasem al-Jabbarin claim was well publicized by KH channels). Although this does not preclude the attack being carried out by another group, it indicates a likely AAH role in related information operations. Militia Spotlight has previously reported on similar AAH activity.
The video is part of wider information operations and misinformation efforts. Notably, the January 7 video claims that the drone attack targeting Baghdad Airport occurred on January 4. Some muqawama media channels had previously claimed that drones targeted Baghdad Airport on January 4, but these claims were unsubstantiated (two drones were shot down on the approach to al-Asad Air Base in Anbar on that date, and four 240 mm short-range rockets were fired at Baghdad Airport on the night of January 4). On January 2, however, two drones were shot down on the approach to Baghdad Airport, and the drones depicted in the January 7 video appear to match that failed attack. The muqawama may have used the January 4 date to give the appearance that at least one of their drone attacks succeeded, when in reality all of their fixed-wing drones were countered.

Figure 7: Radea posting about Ikhwat Zainab, September 3, 2021.