Russia in Syria (Part 2): Military Implications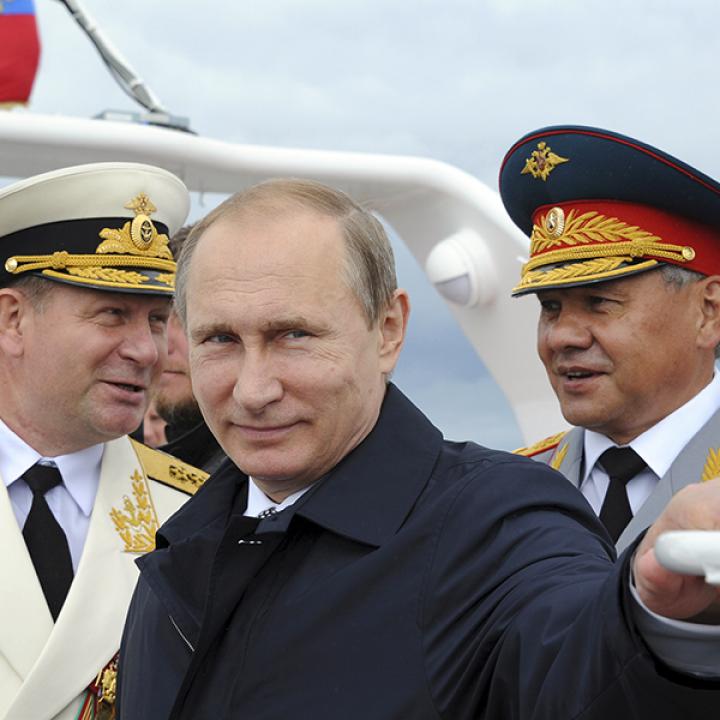 As Moscow builds up a reportedly substantial presence in the coastal provinces, Washington and its allies need to consider how the intervention could affect the Assad regime's prospects of survival and the future of the campaign against ISIS.
Read Part 1 of this PolicyWatch, which discussed Russia's declining military capabilities and how they might affect the Kremlin's policies in Syria, Ukraine, and elsewhere.
Russia appears to have begun a significant, direct military intervention in Syria. Extensive reporting, including some attributed to U.S. government and intelligence sources, indicates that Russia is building a joint air-ground expeditionary force in Latakia and Tartus provinces along the northwestern coast, far surpassing the scope of its longstanding advisory and arms-supply role. If this force develops along the reported lines, it could be a game-changer in the war. It could also have major implications for Israel's ability to conduct air operations over western Syria and Lebanon, and for U.S./coalition operations against the "Islamic State"/ISIS and other terrorist organizations in Syria.
Moreover, if the Russian presence becomes established, it will be increasingly difficult to remove. As in Crimea and Ukraine, the United States -- much less any other country -- seems unlikely to challenge Russian forces militarily. And while these forces will probably suffer casualties and could become bogged down in Syria, Moscow may well accept that as the cost of keeping the Assad regime in power and frustrating Washington.
DECISION, PREPARATIONS, AND BUILDUP
Russia's moves in Syria are seemingly based on a larger geopolitical strategy that counts on little interference from the United States and its coalition allies. The intervention appears to be a deliberate strategic effort to support the regime with direct military force, most likely spurred by the assessment that Bashar al-Assad's forces are failing and that the support provided by Hezbollah and Iran is inadequate. The decision was likely made in coordination with Tehran, which is reportedly boosting its own military assistance to the regime. Other probable goals include safeguarding the regime's western heartland, protecting and expanding Russian naval and air access to Syria, and increasing Moscow's overall influence on the situation. More broadly, Russia appears committed to exercising its influence in the Middle East, and Syria provides an opportunity.
In some ways, the deployment looks like Russia's 2014 seizure of Crimea: ambiguous early moves cloaked by misleading leadership statements on their purpose, accompanied by an incremental buildup of forces using cover provided by preexisting Russian activities and facilities in Syria. Moscow has used both ships (including naval landing craft) and fifteen transport planes (AN-124/Condors and IL-62s) to move new materiel and combat forces into the country. These planes have used multiple air routes from Russia to Latakia, and flight activity continues under the cover of humanitarian aid missions. 
The equipment and materiel brought in as part of the ongoing operation apparently include combat vehicles (six T-90 tanks, thirty-five armored personnel carriers), fifteen artillery pieces, military trucks and utility vehicles, prefabricated housing units (for around 1,500 personnel), and a mobile air-traffic control center. Commercial satellite photography has also identified efforts to expand Bassel al-Assad Airport. Under the current circumstances, Russia would have access to the airport as well as the ports of Latakia and Tartus to support its operations. 
Thus far, some 200 Russian marines -- probably from the 810th Independent Naval Infantry Brigade based in Sevastopol -- have reportedly been deployed to Latakia to protect Russian facilities. Elements of the 363rd Naval Infantry Brigade have also been reported in Syria. According to U.S.-government-attributed sources, advanced SA-22 surface-to-air missiles and combat aircraft (fighter, strike) are headed for the country as well. In short, the deployment looks very much like a joint expeditionary force in the making.
MISSIONS
Potential missions for the projected Russian force include supplementing the regime's declining air force in strike operations against the rebels, providing air defense to Russian forces and the regime heartland via the SA-22s and combat aircraft, and conducting a range of ground combat and support missions, including offensive and defensive operations as well as training and advisory roles. Limited evidence suggests that Russian forces are already taking part in some ground actions -- one video showed a BTR-82A in action with a purportedly Russian-speaking crew, and some reports have mentioned a Russian military casualty in Syria. Numerous unconfirmed reports also suggest that small numbers of Russian troops are active at several points outside the coastal region, engaged in combat and ground reconnaissance missions.
The emphasis of the Russian mission (whether offensive, defensive, training, or advisory) will become clearer as the size and types of forces are determined. The arrival of strike aircraft would further signal offensive intent, as the reported presence of T-90s already does. Whatever the mission, a buildup of Russian command-and-control and intelligence capabilities should be expected.
IMPLICATIONS FOR SYRIA
If developed along the lines laid out above, the Russian intervention would have major implications for the military situation in Syria. Russian combat forces would presumably cooperate with regime forces, providing increased firepower, air support, and combat effectiveness. If assigned to training and advisory roles, they could improve the military skills of Syrian units. They could also conduct independent combat missions against important targets.
Substantial Russian forces could give the regime a decisive edge on battlefields where they are employed, allowing key positions to be taken or held and increasing attrition on rebel forces. Their appearance would also be a major morale booster for the regime, while simultaneously disheartening rebel forces. Opposition units are capable of defeating regime forces under some circumstances, but this is unlikely when Russian forces are present and active in any numbers. The rebels could inflict some casualties on Russian units but are largely incapable of defeating them in serious combat, despite the hopes of those who recall Moscow's experience in Afghanistan. The rebels would lack the coordination, cohesion, discipline, and firepower to defeat the Russians consistently or win larger-scale actions against them.
IMPLICATIONS FOR ISRAEL
Russian intervention could have a significant limiting effect on Israeli air operations over Syria and Lebanon. In particular, the presence of Russian-manned air-defense systems and aircraft in Syria could spur Israel to reconsider strikes in areas where Russian forces are deployed, potentially allowing Iran or even Moscow to deliver more advanced weapons systems to the Assad regime and Hezbollah. Israel has reportedly struck weapons deliveries in the Latakia area in the past, but that would be a very dangerous action with Russian forces present. If the Russian air and air-defense presence expands beyond the coastal region, which seems likely, there would be increased risk of clashes with any intruding Israeli aircraft. 
IMPLICATIONS FOR TURKEY
Increased Russian military engagement in favor of the Assad regime would further consolidate U.S.-Turkish cooperation in Syria. Ankara sees Moscow as a historic adversary -- the Ottoman Turks fought at least seventeen winless campaigns against the Russians. Therefore, Turkey will likely align itself closely with U.S. policy in Syria in order to avoid military confrontation against Russia in that theatre.
IMPLICATIONS FOR THE UNITED STATES
Russia's move is a clear challenge to Washington, exploiting what Moscow presumably sees as U.S. reluctance to act in Syria. The administration's tepid reaction so far (statements of concern, phone calls to Foreign Minister Sergei Lavrov, efforts to block Russian air traffic to Syria) is probably encouraging to the Russians, and they are likely to press on.
Moreover, the presence of Russian combat forces could complicate U.S./coalition air operations. Although most of these operations are conducted far from the coastal areas where Moscow appears to be deploying, any Russian expansion to the east or north would create the potential for adjacent or overlapping areas of operation. Russia has already raised the possibility of inadvertent clashes and mentioned the need to establish means of deconfliction.
Russian operations could also complicate U.S. plans to support ground operations in Syria. While ISIS would be the focus of any U.S.-backed campaign, Syria's complex battlefields often feature a mix of rebel, ISIS, and regime forces operating in close proximity or even actively engaged with one another. Under these circumstances, Russian operations in support of regime forces could lead to attacks on U.S.-backed forces, whether by design or accident. Aleppo and Deraa provinces would be prime areas for such incidents.
Of course, Moscow has argued for an international military effort against ISIS, and in theory, Russian forces could add to the weight of coalition attacks on the group, increase the attrition of its forces, and damage its infrastructure. In all likelihood, however, the primary intent of Moscow's intervention is to bolster the regime, not to fight ISIS. The main threat to the regime comes not from the ISIS strongholds in eastern and central Syria, but from the kluge of rebel groups that pose a growing danger in western areas key to the regime's survival, especially northern Latakia, Idlib, north Hama, and south of Damascus. Indeed, the regime has never made ISIS its top priority for military operations, at various times cooperating with or fighting the group based on pragmatic assessments of the military situation at the time. 
CONCLUSION
Although the full scope and purpose of the Russian action in Syria is unclear at present, it appears to be significant. Like Hezbollah's open entry into the war in 2013, it is a potential military game-changer, potentially halting or, if large enough, even reversing the decline of Assad's forces, bolstering the regime's staying power, and restricting the ability of Israeli and U.S. forces to operate there. The intervention may prove problematic for the Russians, but Moscow seems willing to take some risk to pursue its goal of regime survival and to score one on Washington.
A Russian combat presence will also give pause to the Syrian opposition and those who support it, particularly governments whose support is wobbling. The prospect of getting involved in a military contest with Russia is not what most of these actors seek, and it may encourage them to support a political solution instead of a military one. Russian intervention also bolsters the argument that there can be no solution to the conflict without Moscow's involvement. With forces on the ground, Russia's influence on any outcome grows. And as long as the Kremlin continues to support him, the idea that Assad will leave power recedes even more. 
The weakness and vacillation that the United States and others have shown in supporting the rebellion, coupled with the rise of ISIS, have given Russia an opportunity to move boldly in pursuit of its goals in Syria. Moscow has made clear that it will continue providing "military-technical" assistance to Assad. If the Russian presence develops into a significant combat force, there is probably not much that Washington and its allies can do about it. They will not risk a military confrontation, and traditional instruments of policy (diplomatic protests, sanctions, UN action) are likely to be ineffective or thwarted by Russia. The West is in a reactive mode and has demonstrated little willingness to confront Moscow in other areas when risks of military clashes exist. 
Jeffrey White is a defense fellow at The Washington Institute and a former senior defense intelligence officer. He would like to thank Institute senior fellow Soner Cagaptay for his contributions to this article.