Qatar's Not-So-Charitable Record on Terror Finance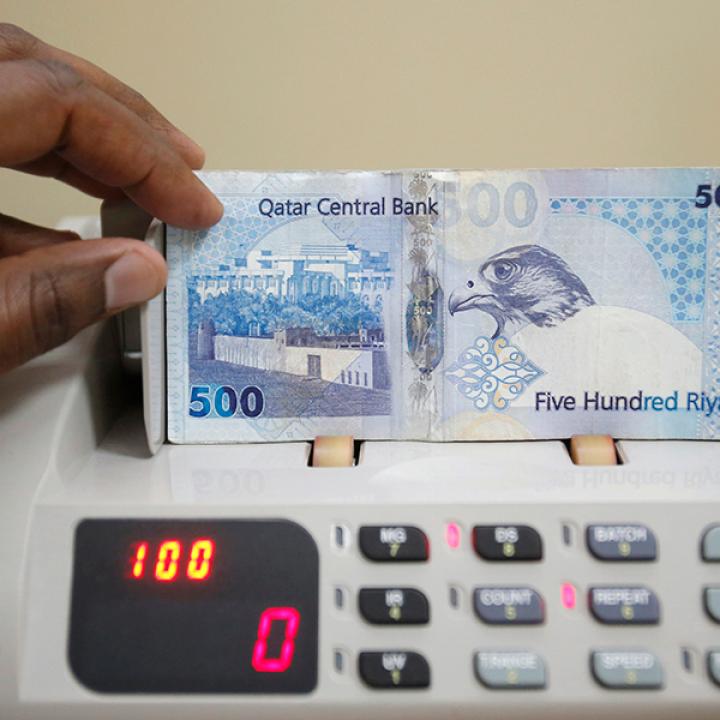 A newly created agency aimed at curbing the flow of money to terrorists will not amount to anything unless Qatar actually implements and enforces the relevant laws.
As the United States cobbles together an international coalition of the willing to take the fight to the Islamic State in Iraq and Syria (ISIS, which now calls itself the Islamic State), senior U.S. officials have stressed the importance of employing soft power tools alongside military airstrikes. In particular, any effort to confront and ultimately defeat ISIS will have to include renewed focus on tackling ISIS financing. This, however, demands a truly international effort that will be only as successful as its least effective partner.
Enter Qatar, a tiny but wealthy Gulf state with a penchant for coddling up to Islamist movements from Palestinian Hamas and Libyan Islamist militias to the Afghan Taliban. In March, Department of the Treasury Under Secretary David Cohen singled out Qatar as an especially "permissive jurisdiction" for terrorist financing. Qatari oversight is so lax, Cohen noted, that "several major Qatar-based fundraisers act as local representatives for larger terrorist fundraising networks that are based in Kuwait." Not wanting to expose sensitive intelligence, Cohen pointed to press reports that Qatar supports not only Hamas but also extremist groups operating in Syria. "To say the least," he concluded, "this threatens to aggravate an already volatile situation in a particularly dangerous and unwelcome manner."
Now, under steadily increasing pressure over charges that Qatar continues to fund extremists in Syria and Iraq, Qatari Emir Sheikh Tamim bin Hammad al Thani took it upon himself to personally assure German Chancellor Angela Merkel that his regime does no such thing. But even he conceded that "such organizations are partly financed from abroad," so Qatar has now issued a new law creating a new agency empowered to regulate charities in the kingdom that are engaged in politics, send money overseas or receive foreign contributions.
This, of course, is a welcome first step in the right direction, but it will only amount to anything if the new law is actually implemented and enforced. Unfortunately, Qatar -- like several other Gulf countries -- has a history of introducing such laws with great fanfare but little or no follow-through or enforcement.
In 2004, Qatar passed a law criminalizing terror financing, established a Financial Intelligence Unit (FIU), and founded the Qatari Authority for Charitable Activities (QACA). Another law, passed in 2006, expanded charitable oversight and gave additional authorities to the Ministry of Civil Service and Housing Affairs. All positive steps, but by the time an International Monetary Fund (IMF) mutual evaluation team came to inspect Qatar's anti-money laundering and counter-terror finance (AML/CFT) regime two years later, it found significant problems. The IMF reported that terrorist financing was criminalized in Qatar, "but in a limited way." The administrative order creating the FIU, it transpired, was inconsistent with Qatar's anti-money laundering law. A system requiring the disclosure of currency transported across the border was assessed by the IMF as being "neither implemented nor effective." And despite having authority to confiscate, freeze or seize funds tied to money laundering or terror finance, not a single confiscation had been ordered because not a single money laundering charge had been brought before the courts. To the contrary: The IMF reported that it appeared that "on one occasion, the [Qatari] authorities offered safe harbor to a person designated under [United Nations terrorism designation list] UNSCR 1267. No actions were taken with respect to this person's funds or other assets."
In a surreal encounter in 2009, this author experienced firsthand Qatar's penchant for passing legislation and considering the matter closed without any implementation or enforcement. In a meeting with Qatari officials in Doha, this author asked how the Qatari FIU assessed the compliance of local Hawalas (informal money transfer businesses common in the region) with a then-new law requiring Hawalas to register with the government or shut down. The official explained -- with a straight face -- that there appeared to be no Hawalas operating in the country since none had registered with the authorities as required under the new law. In fact, the official had an identical conversation with IMF assessors just a few weeks earlier. Highly skeptical that not a single Hawala operated in the country, IMF experts returned to their hotels and asked expatriate foreign workers how they sent money back to their families in their home countries. Their answers were hardly surprising: "Hawalas." The IMF team returned to the official with a long list of Hawalas operating openly in Qatar, required the government to submit an updated section of its report on this issue to the IMF, and stressed the need to actually implement and enforce new laws.
The following year Qatar passed still another AML/CFT law, this time specifically requiring prosecutors to freeze funds of U.N.-designated terrorist organizations. A National Anti-Terrorism Committee (NATC) was empowered to designate terrorists independently of the U.N., but no designations were made as of 2013. While Qatar requires financial institutions to file suspicious transaction reports, Qatar's FIU has referred to the public prosecutor a grand total of one case for investigation as of November 2013.
Fast forward to Qatar's latest recommitment to provide regulatory oversight of its charitable sector. This law was ready in draft form last year, but was only passed now under significant international pressure. Last year, the State Department noted that "formally" the Qatari Ministry of Labor and Social Affairs monitors and licenses nongovernmental charitable organizations and requires their foreign partners to submit to a vetting and licensing process. Formally. In fact, this has not happened, in part because so long as charities operated within the Qatar Financial Center (QFC), they were exempt from having to register or be subject to supervision.
In its latest annual report on terrorism trends, the State Department politely described Qatar's oversight of local donations to foreign organizations as "inconsistent" and more bluntly characterized implementation of the country's AML/CFT law as "lacking" and marred by "significant gaps." In the words of one U.S. official, the Qatari attitude to date is often that "a law has been passed, and therefore the problem has been solved." It should therefore not surprise that last December the Treasury Department added Abd al-Rahman al-Nu'aymi, a Qatari academic and businessman, to its terror list, noting he "ordered the transfer of nearly $600,000 to al-Qa'ida via al-Qa'ida's representative in Syria, Abu-Khalid al-Suri, and intended to transfer nearly $50,000 more." Treasury reported that al-Nu'aymi, an equal opportunity terror financier, also sent funds to al-Qaeda in Iraq (now called ISIS), to al-Qaeda in the Arabian Peninsula (AQAP) and to al-Shabaab in Somalia.
To date, implementation and enforcement have not been a component of Qatar's approach to these issues. Instead, Qatar routinely stresses to investors and critics alike the passage of laws that, on paper, appear robust but are almost never implemented or enforced.
In and of itself, the passage of this latest law is therefore unremarkable. Qatar has passed similar laws in the past, without acting on any of the authorities the laws gave to its departments and agencies. It was the day after announcing the new law that the Qatari emir informed the German chancellor that "Qatar has never supported and will never support terrorist organizations." Having the charity regulations on the books is an essential first step; however, it must be implemented. The proof in the pudding will not be when Qatar opens the doors of a new charity oversight agency, but rather when that agency takes action against the terror financing that is indeed taking place within the country.