Qatar's New Leader Replaces Long-Serving Prime Minister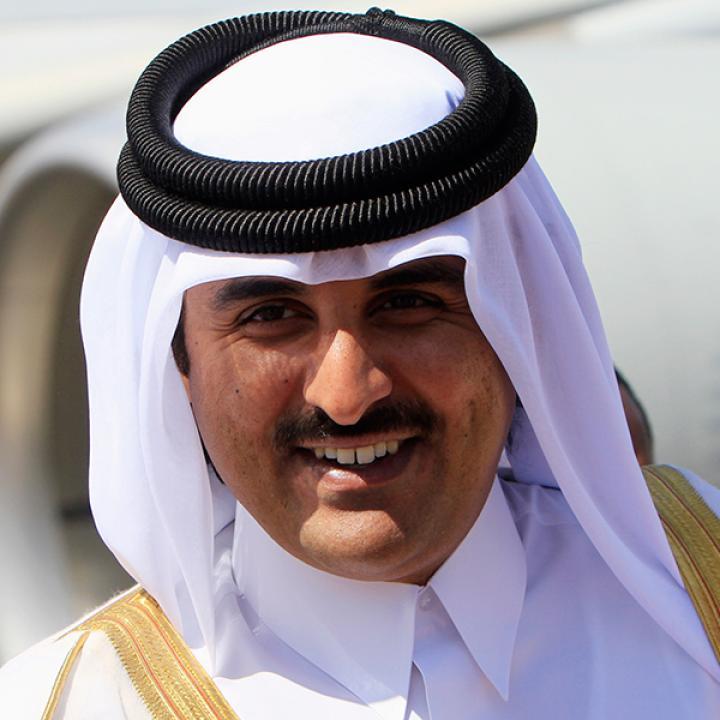 The emirate's transition to a new generation of younger leaders continues, with uncertain implications for Doha's foreign policy and relations with Washington.
The new ruler of the strategically important Gulf state of Qatar, Sheikh Tamim bin Hamad al-Thani, has moved swiftly to replace the prime minister and foreign minister, Sheikh Hamad bin Jassim al-Thani (a.k.a. HBJ), a longtime interlocutor with Washington. The change, which follows yesterday's abdication by Emir Tamim's father, Hamad bin Khalifa al-Thani, will be watched closely to see whether it affects Qatar's activist policy toward Syria, its backing of Hamas in Gaza, its financial support for the Morsi government in Egypt, and its high-profile international investments. Washington will also be concerned about retaining access to the giant al-Udeid Air Base outside the capital, which is extensively used by the U.S. Air Force.
Speaking on national television today, Tamim stated that he would follow in the path of his father, and that his country would not "take direction" in foreign affairs. He also noted that Qatar would respect "the sovereignty and integrity of all Arab lands" while remaining committed to the Palestinians in their struggle with Israel. He made no mention of the conflict in Syria.
The new prime minister, Sheikh Abdullah bin Nasser bin Khalifa al-Thani, has a security background and formerly served as minister of state for interior (a cabinet-level post). In his new role, he will also take on the more senior portfolio of interior minister. The new foreign minister is Khalid bin Mohammad al-Attiyah, who previously served as minister of state for foreign affairs (another cabinet-level post) and is widely regarded as the point man for the country's support of opposition fighters in Syria.
Like the new emir, who is only thirty-three years old, the new prime minister and foreign minister represent a new generation of leadership in a state that has the highest per capita income in the world, a consequence of huge natural gas reserves that include an offshore field shared with Iran. Another new appointment is Ali Sherif al-Emadi as minister of finance and economy; he comes to the post after working as chairman and chief executive of Qatar National Bank. The minister of energy and industry -- Saleh al-Sada, the key man on gas -- is unchanged.
It is not clear whether HBJ, the outgoing prime minister, will remain chief executive of the state-owned Qatar Investment Authority, the emirate's sovereign wealth fund. Chaired by Emir Tamim, the QIA holds more than $100 billion in assets, including stakes in Qatar National Bank, the London store Harrods, the oil company Royal Dutch Shell, a French soccer team, and prominent new buildings in major cities, including the Shard in London.
The leadership changes continue to be depicted as an evolutionary transition between father and son, though reports persist of concern for the outgoing emir's health. In addition, differences had apparently emerged between Tamim and HBJ, who had assumed a dominant presence in the Qatari government and was often mistaken by foreigners as the ruler. While Emir Hamad regarded such confusion as amusing, the joke is now clearly over.
Simon Henderson is the Baker fellow and director of the Gulf and Energy Policy Program at The Washington Institute.