Qatar Rift Overshadows Riyadh Summit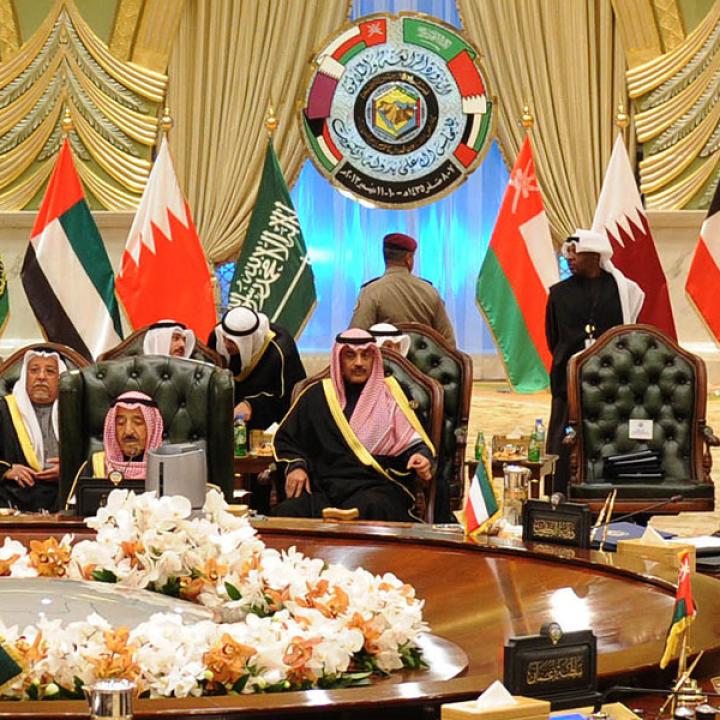 Given the potential for sideline progress toward healing the rift and refocusing on Iran, this year's diplomatic theater will be more closely watched than usual.
On December 10, leaders of the Gulf Cooperation Council will hold their fortieth annual summit in Saudi Arabia amid wide speculation that the long-festering rift over member state Qatar may be closing. Originally established in 1981 as a way of avoiding regional fallout from the Iran-Iraq War, GCC summits were often little more than a photo-op for Gulf officials—a reputation that has not changed much in recent years with the council riven by discord over relations with Qatar, among other issues. Member states Saudi Arabia, the United Arab Emirates, and Bahrain have not had diplomatic or commercial ties with Doha since mid-2017, while Kuwait and Oman have avoided taking sides in the ongoing dispute. Yet all six members are scheduled to be represented in Riyadh this week.
The main stated reasons for isolating Qatar—its alleged support for terrorism and interference in the domestic affairs of its neighbors—still appear to be concerns. Much to Washington's relief, however, GCC leaders seem to realize that dealing with the challenges posed by Iran's regional activities is a higher priority. Qatari foreign minister Muhammad bin Abdulrahman al-Thani's unannounced trip to Riyadh in October may have been crucial to facilitating the rumored detente. More recently, all member states sent soccer teams to Doha to take part in the Arabian Gulf Cup, which ended yesterday with the country's emir awarding the cup to Bahrain. Whether the blockading states won concessions in return for participating in the tournament is unknown.
Whatever the case, the Qatar rift is not believed to be an official agenda item for this week's summit; any diplomacy regarding the issue will presumably take place on the sidelines. Observers will therefore have to look at other indicators to gauge the meeting's success or failure:
Who shows up. By definition, a summit describes meetings between heads of state, but the Qatar quandary has made that criterion difficult to fulfill recently. In 2017, the year the rift began, Bahrain, Saudi Arabia, and the UAE sent lesser representatives. For last year's Riyadh summit, Emir Tamim of Qatar sent a minister in his place, apparently miffed by the manner in which he had received his invitation. He is visiting Africa this week so is unlikely to attend, perhaps because no formal deal for repairing the rift is ready. One certain absentee is the ailing Sultan Qaboos of Oman, who was flown to Belgium this week for medical treatment. The health of ninety-year-old Emir Sabah al-Ahmad al-Sabah of Kuwait is uncertain as well, though he has been very involved in efforts to mediate the Qatar dispute and is expected to attend.
Optics. While the summit's host will be eighty-three-year-old King Salman of Saudi Arabia, the real power in the room will lie with Crown Prince Muhammad bin Salman (though he will likely be careful not to overshadow his father). One key factor behind the recent GCC diplomacy is believed to be the prince's realization that the Qatar rift should not distract any further from the Iranian threat, especially after the September attacks on Saudi Aramco's oil facilities at Abqaiq.
His Emirati counterpart, Crown Prince Muhammad bin Zayed al-Nahyan, will likely not attend—little surprise given his visceral views against Qatar. But he has a diplomatic excuse: the UAE may instead be represented by the ruler of Dubai, Sheikh Muhammad bin Rashid. The summit was originally supposed to be held in the UAE capital, so the shift to Riyadh may suggest that the Emiratis want to avoid rapprochement with Qatar. Whether they can block other moves toward reconciliation is debatable, however.
The lineup for the official summit photograph could also be revealing. If the Bahraini, Saudi, and Emirati representatives are grouped together, it may suggest they are still at odds with not only Qatar, but also Kuwait and Oman, who are viewed as sympathetic to Doha.
Final communique. The language of the closing statement has no doubt already been written and agreed to by GCC officials. The past two statements made no mention of the Qatar rift, so it is unlikely to be included this time. The most significant paragraphs usually refer to Iran, Islamic terrorism, and the Israeli-Palestinian issue in varying order. Yet the wording usually errs on the side of caution in order to ensure consensus, so significant policy shifts in one direction or another should not be expected.
Simon Henderson is the Baker Fellow and director of the Bernstein Program on Gulf and Energy Policy at The Washington Institute.