Profile: Kataib Aimmat al-Baqi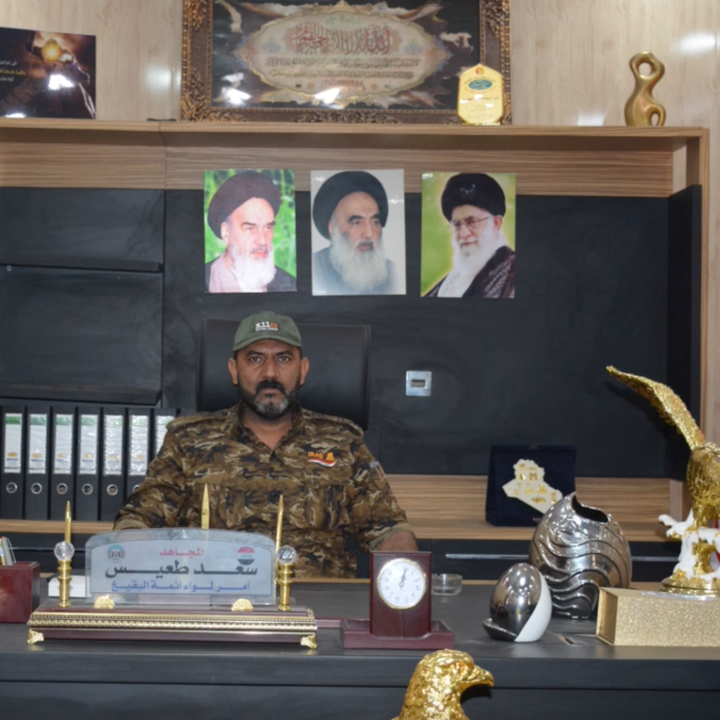 A Diyala-based militia that offered its services to Nouri al-Maliki on a leaked audiotape from July 2022.
Name: Kataib Aimmat al-Baqi (Brigades of the Imams of al-Baqi, or KAB), aka Liwa Aimmat al-Baqi
Type of movement: Armed group
History and objectives:
KAB

was established in late 2014 by Saad Taees al-Tamini (aka Abu Mujahid al-Tamimi

and Jihad al-Tamimi

).

KAB is part of the so-called Hashd al-Difa, an umbrella organization raised in parallel to the

Popular Mobilization Forces (Hashd al-Shabi) in 2014-15 but more associated with the Ministry of Defense than the PMF Commission.

KAB and other

Hashd al-Difa militias have been campaigning for years to be accepted as paid members of the

better-resourced PMF,

to no avail.

KAB's main area of operations is

Diyala province, where it imposes royalties on cargo trucks and religious pilgrims passing from the north to Baghdad. It may also control border crossings.

The group came to greater attention on July 22, 2022, when sources leaked a forty-eight-minute recorded conversation between Tamimi and former prime minister Nouri al-Maliki. During the discussion, Tamimi asked Maliki to help fund the militia by linking it up with Iran's Islamic Revolutionary Guard Corps (IRGC). In return, he expressed his willingness to help Maliki stage a coup in Iraq if necessary.

KAB

is part of the larger group Ummat al-Akhayr (The Good People). Not much is known about this broader group, but it may 

include non-Iraqi militias affiliated with the IRGC,

such as the Husseiniyoun

Brigade (

formed by IRGC-affiliated Shia figures from Azerbaijan) and the Fatemiyoun Brigade (an Afghan unit).

KAB has demonstrable ties with both of these militias (see below).
In June 2022, KAB's d

eputy secretary-general (name

unknown

) was reportedly seen giving two speeches in Iran marking the anniversary of the Iraqi PMF's founding. He spoke very fluent Farsi without any foreign accent. At the first event, a

Fatemiyoun flag was visible next to him (Figure 1). At the second event,

flags for 

Husseiniyoun, Fatemiyoun, and Lebanese Hezbollah could be seen behind him (Figure 1), indicating that these militias organized the event. Also, KAB's Telegram channel posted a message from Tawhid Ebrahimi, the secretary-general of 

Husseiniyoun, celebrating the PMF anniversary. The 

channel did not post messages from the many other more prominent muqawama (resistance) leaders who issued similar statements, indicating a special relationship between KAB and

Husseiniyoun

.
To boost its legitimacy, KAB has often portrayed itself as a PMF unit in past years as well, causing friction with t

he PMF Commission

.

In May 2019, the commission issued a statement denying any links with

KAB, calling it a "fake brigade," and denouncing it for "sectarian behavior, harassment of the people, and doing business in the name of the Hashd." Emphasizing that the group had never participated in any military operations, the statement revealed that KAB's offices had been shut down by PMF security units. According to media reports, these units also arrested 

Tamimi, spurring

KAB fighters to retaliate by cutting the Baquba-

Khanaqin highway in

Diyala. In the audio leaked this July, Tamimi proudly talks about his encounter with PMF security, claiming that he opened fire at them and forced them to flee.
Chain of command:
KAB is considered a member of the Hashd al-Difa but does not appear to have any meaningful links to the Defense Ministry. In fact, it does not have any clear chain of command. Even so, it has managed to forge ties with various militiamen, political groups, and clergy in Iraq and Iran.
Affiliate relationships:
Husseiniyoun

Brigade

Fatemiyoun Brigade
Subordinate elements:
KAB has an active Telegram channel and Facebook page.

Some KAB regiments run their own Facebook pages.

A few KAB soldiers run Facebook pages under their personal names but post only KAB-related content.